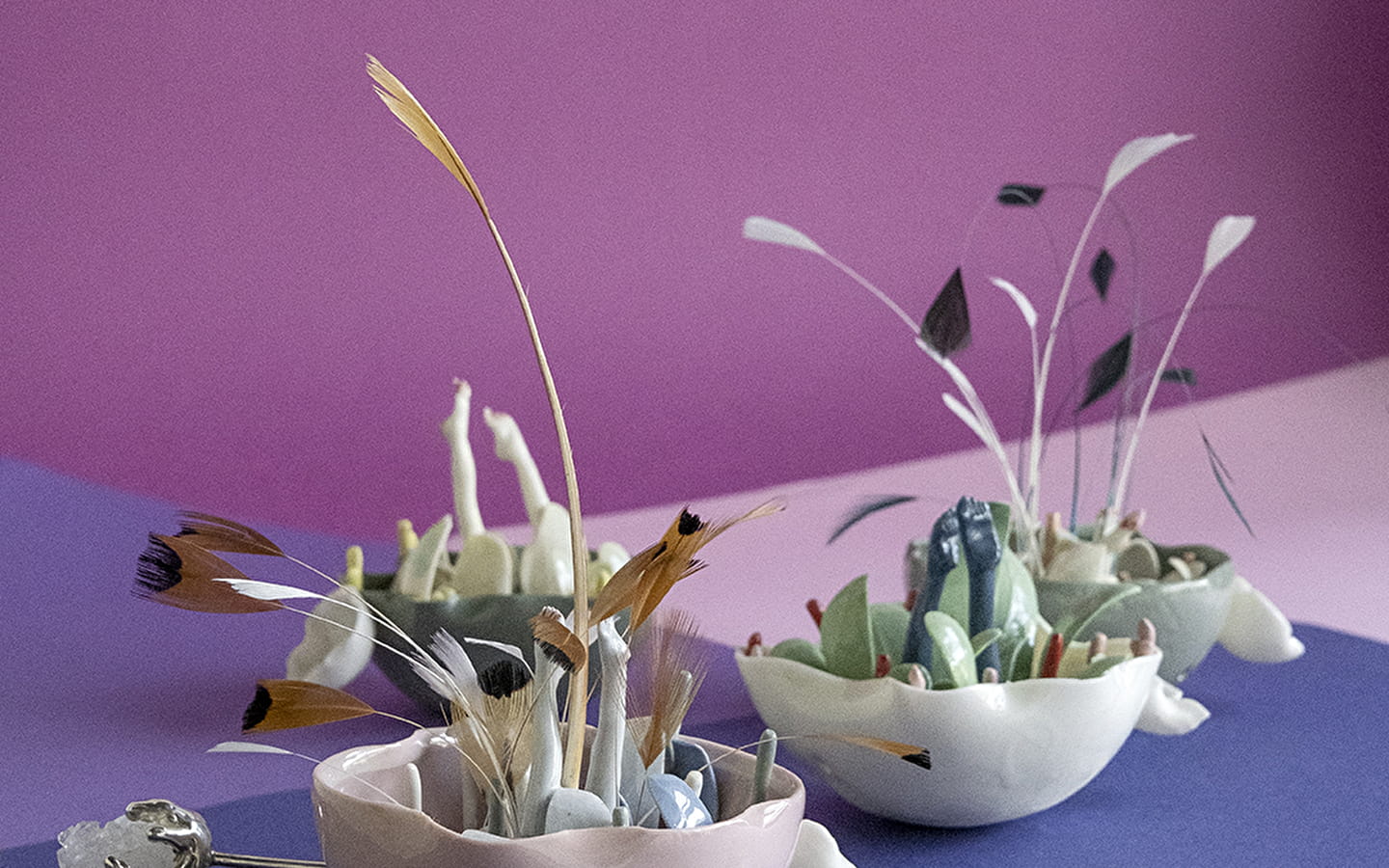 -
The artist worked with DNMade jewellery students to produce small series of jewellery pieces combining porcelain and silver. Working with the artist, the students designed the silver settings for each ceramic piece, transforming them into a ring, brooch or necklace - a real technical and aesthetic challenge. Here, the imposing and unusual dimensions of the jewellery contrast with the finesse of the work and the almost miniature size of the porcelain elements. But for Lulu Zhang, these are much more than jewels; they are micro-sculptures whose support is the human body.

In Lulu Zhang's poetic, rich, strange and delicate world, body parts are often associated with plants. The outstretched limbs that emerge here and there reveal bodies that are hiding, seeking refuge, seeming to conceal themselves under a new carapace. Inflamed, irritated and bloodied human skin symbolises human fragility and suffering.

This hybridity, imbued with phobias and madness, is made up of moss, sea urchins, feathers, mushrooms, leaves and plants that evoke the earth, the air and the underwater world. The place of human beings in this universe raises questions about our present-day societies and their responsibility for these pathologies and for the flight of others. Lulu Zhang's work is not about therapy or treatment, but it is about the images and offbeat, almost strange situations that social phobia generates.

The students were able to discover and appropriate this formal and artistic universe to create their own jewellery.

Coproduction: Frac Franche-Comté / Lycée Edgar Faure Morteau, as part of the "Excellence Métiers d'Art" label, Rectorat and Direction régionale des affaires culturelles de Bourgogne-Franche-Comté.
Lulu Zhang, There was a dust in the air Frac Franche-Comté2 Passage des Arts25000 BESANCON
Prices & Schedules
Wednesday to Friday, 2pm to 6pm. Weekends from 2pm to 7pm
Brochures edited by Montagnes du Jura