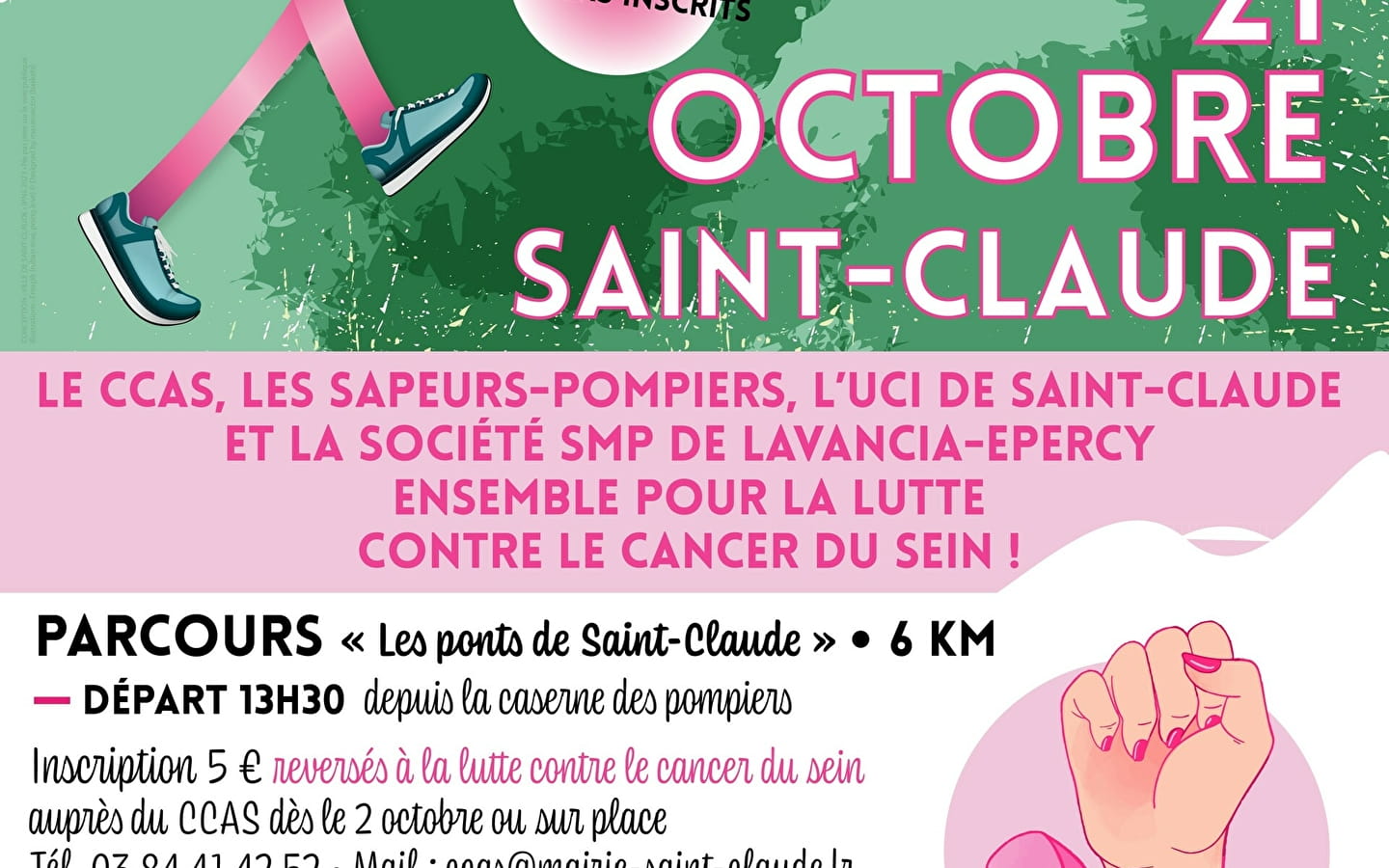 -
Ville de Saint-Claude - Pink Walk as part of the Pink October campaign

Saturday 21st October 2023
in Saint-Claude

Come and walk for the fight against breast cancer

As part of the annual Pink October campaign to raise awareness of breast cancer screening and raise funds for research and support for patients, the Centre Communal d'Action Sociale de la Ville de Saint-Claude, the Comité des Œuvres Sociales des Sapeurs-pompiers de Saint-Claude, the Union des Commerçants Indépendants de Saint-Claude and the company SMP de Lavancia-Epercy have joined forces to organise a Pink Walk.

PINK WALK
Saturday 21st October 2023

- Les ponts de Saint-Claude" route - 6 km
Starts at 1.30pm from the Saint-Claude fire station
Parking nearby: cité Chabot, Saint-Blaise car park, Carnot car park

? Participation: €5 donated to the fight against breast cancer.

- Information stands
- Drinks offered by the COS of the Saint-Claude fire brigade


Information and registration at the CCAS from 2 October (or on site on the day):
1, rue Rosset, Saint-Claude - Tel. 03 84 41 42 52 - ccas@mairie-saint-claude.fr
Free goodies for the first to register!

Ville de Saint-Claude - Pink Walk as part of the Pink October campaign Caserne des pompiersRue du Commandant Vallin39200 SAINT-CLAUDE
Brochures edited by Montagnes du Jura