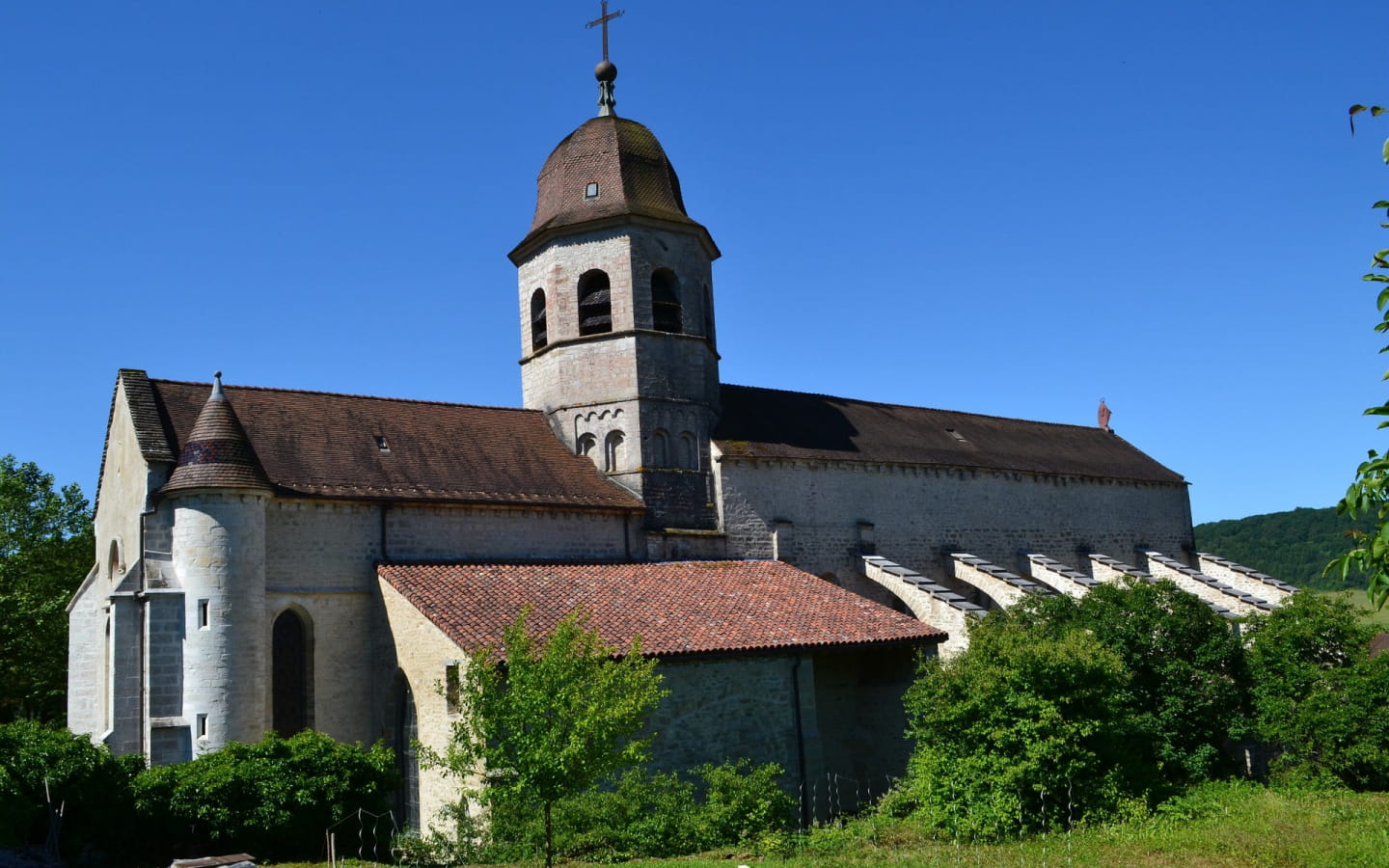 -
You will leave from the "ABBATIALE DE GIGNY", reaching the square by the passage in the refectory house (on your left when you are facing the church.
The different buildings of the abbey are presented on a signpost.
You will walk up the village past a fountain and the old wash house. The wash house was transformed into a water tower in 1939.
You will leave the village by taking the old Roman road linking Gigny to Orgelet via Pimorin.
After a climb, with a meadow on one side and a copse on the other, you will reach the "BELVEDERE DU FAYS".
This viewpoint overlooks the cliff. It offers a view of the Suran valley.
You will be able to see several caves below, one of which is an archaeological site, another was inhabited by a hermit.
You will then go down to the crossroads "Les Bramans" where, rather than going straight back down to the village, you will go to the left to return through alternating forest and meadow.
After passing the hamlet of Villard, you will go down for a while on the road.
You will then follow the path along a stream before going up by a path in the wood.
You will arrive just above the village before descending to the Abbey Church.

Do not hesitate to visit the church, explanatory panels are present inside.
The old clockwork (restored) is also on display inside.
Around 890, Gigny was an abbey founded by Bernon at the end of the 9th century, a noble of the County of Burgundy.
It lost this title at the end of the 11th century to become a simple priory attached to Cluny.
It is composed of Romanesque and Gothic parts.

Recommendations:

- Bring walking shoes and clothes appropriate to the weather conditions.
- Inform your friends and family of your route and time of return.
- Be prepared and do not overestimate your strength.
- Remember that the area is shared by all: farmers, foresters, hunters, walkers, mountain bikers, horse riders.
- Respect crops and private property.
- Do not frighten the herds, do not leave your dogs unattended and close the fences.
- Do not leave the marked paths.
- Do not leave any rubbish in the open.
- Be careful when crossing busy roads.


For more informations
Belvedere of the Fays, Gigny Abbey
Brochures edited by Montagnes du Jura