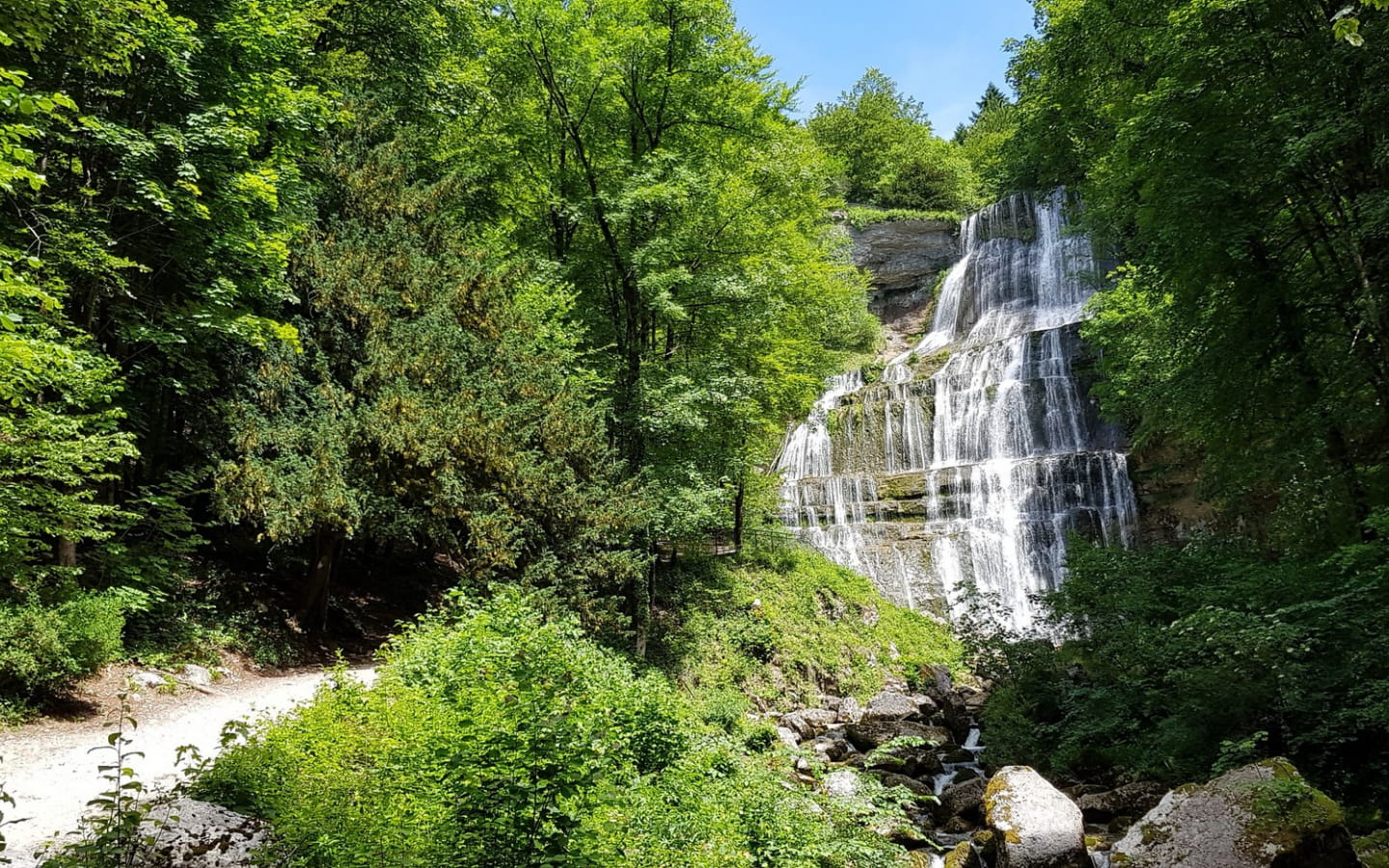 -
The Hérisson valley is one of the largest natural sites in Franche-Comté!
In the heart of the lake region, the "Hérisson" river rises at Saut Girard.
This torrent, formed from the waters of the Bonlieu and Ilay lakes, offers no less than 31 jumps and 7 waterfalls.
Let yourself be surprised by the magic of the place and the discovery, with each step, of an ever more magical spectacle.

From the car park of the belvedere of l'Eventail along the D39, take the path on the right towards Menetrux en Joux, follow the cliff, the path goes into the woods and then crosses the D39. Follow it for 250 m and take the path on the right that leads back to the village of Ménétrux-en-Joux.

At the sign "Chapelle de Ménétrux", towards the chapel, turn right onto a path that winds along the cliffside and arrives at a car park at the foot of the waterfalls.
At the Maison des Cascades post, follow the waterfall path which passes in front of the Maison des Cascades museum and you arrive at the foot of the Eventail waterfall (65 m high). Continue up to the "Passerelle Sarazine" post and on to the Grand Saut (60 m high). Take the time to stop and admire the view of the Hérisson valley before continuing upwards (passage over a footbridge, stairs...).

At the "Château Garnier" post, continue straight on.
Reach the "Moulin Jeunet" post, turn right and continue for 800 m to reach the "Chaux Louvière" post and then the Saut Girard post (35 m high) and its ruins of old mills and forges.
Cross the bridge and at the "Saut Girard Nord" post, turn left to go up to the "La Fromagerie - Parking" post. If you have time, make a short stop at the Boissellerie du Hérisson to admire the wooden wonders made in the Jura and why not bring back a small souvenir.

Go back to the D39 and continue for 100 m. Turn left, pass the oratory and then go down the path on the left.
Cross the D39 again and go down into the forest to reach the "Moulin Jeunet" post.
Cross the footbridge and continue downhill on the right to the Château Garnier post.

Cross a second footbridge and go up to the left through the woods. Continue along the path until you reach the belvedere of l'Eventail to reach the car park.
For more informations
Le tour des cascades du Hérisson
Brochures edited by Montagnes du Jura