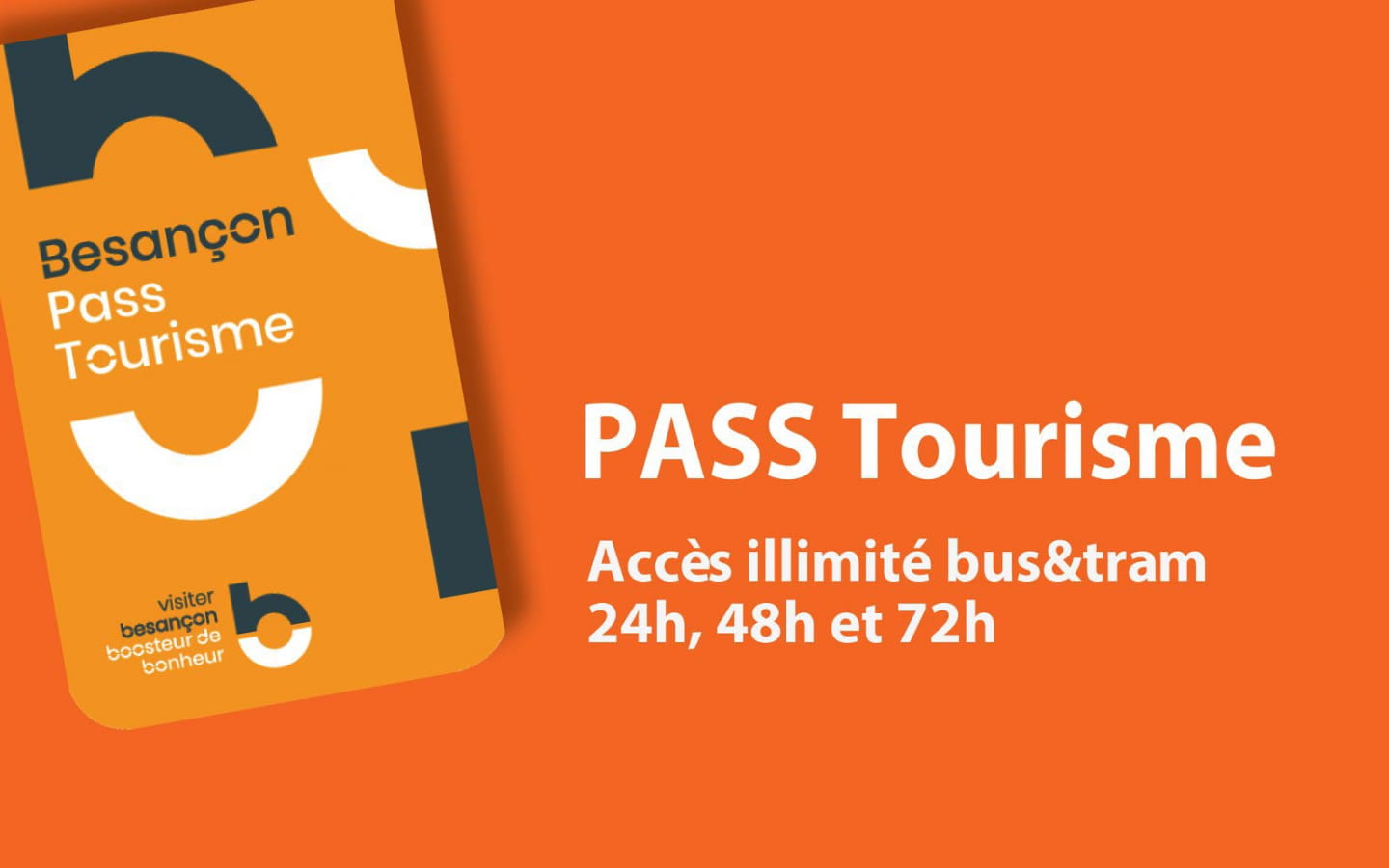 -
A bus&tram PASS: unlimited travel, from the first validation, for 24, 48 or 72 hours!
Includes admission to the 4 must-see sites in Besançon: the Citadel*, the Museum of Fine Arts and Archaeology, the Victor Hugo Museum and the Museum of Time (for 24, 48 or 72 hours)

The pass also includes reduced rates at the Fonds Régional d'Art Contemporain (FRAC) in Besançon, at the Musée-parc des maisons comtoises in Nancray, at the Base de loisirs d'Osselle in Osselle-Routelle. And a discount on the hire of an electrically assisted bicycle from MyCycle (106, grande rue in Besançon) for a ride in the city or a short break on the Eurovélo6.

* Citadelle: free parking in the Chamars car park! Ticket to leave the car park given on request at the Citadelle ticket office, on presentation of the Besançon PASS Tourisme and the car park ticket

3 formulas and rates to choose from
FORMULA FULL RATE REDUCED RATE TRIBE RATE
24 HOURS €14.90 €10.90 €29.90
48 HOURS 19.90€ 14.90€ 35.90
72 HOURS 24.90€ 19.90€ 44.90

Reduced rate: 4 years old to under 18 years old, job seekers, students, reduced rate cards
Tribe rate: two adults and up to three minors
The above rates do not include the cost of the rechargeable Travel Card (0.20€), which is required to load the Besançon PASS Tourisme.

On public transport:
Present your PASS in front of the validator each time you board the bus or tram.
To travel in order: I get on, I validate, even in connection!

In museums:
Simply present your Besançon PASS Tourisme at the ticket office.

Where to buy the Besançon PASS Tourisme?
The Besançon PASS Tourisme is on sale :
- online at www.ginko.voyage/boutique (sent by post within 7 working days)
- at vending machines (tramway and L3 line stops - payment by credit card or cash only / tickets not accepted)
- at the Ginko shop (Place de la Révolution, 29 rue des Boucheries - open Monday to Friday from 9am to 6pm and 5pm on Saturdays).
- in the Relais Ginko
- at the Besançon Tourist Office.
For more informations
Besançon pass tourisme
Brochures edited by Montagnes du Jura