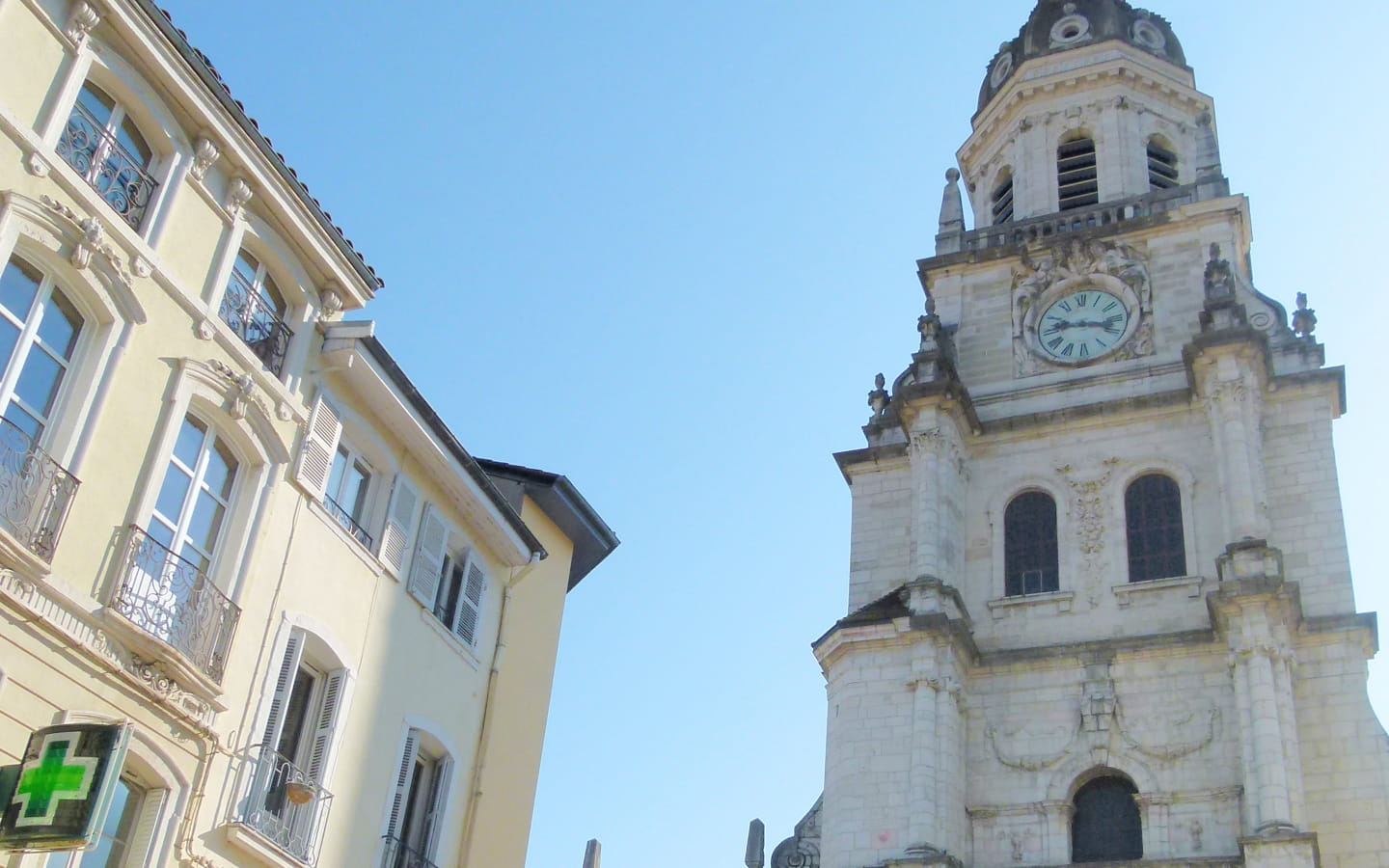 -
Parish church of Bourg-en-Bresse.
The exact title of this church is "collegiate co-cathedral of Notre-Dame de l'Annonciation". The term co-cathedral was officially given in 1992, to define Notre-Dame as the secondary seat of the bishopric of Belley.
The beginnings of its construction are rather vague, but it is thought to have been built at the end of the 14th century; the aim was to enlarge and embellish a Romanesque pilgrimage chapel located on this site, already dedicated to the Virgin (Sainte-Marie chapel) and whose origins date back to the 13th century. Indeed, a legend tells that in this place, a shepherd found an icon representing Mary, which despite being deposited in the parish church of the time, systematically returned to the place of discovery! It was as if Mary wanted to show the Burgundians of the Middle Ages that she wanted to be venerated here. Inside, a chapel is dedicated to the Black Madonna, or Our Lady of Bourg, the town's patron saint. The statue's clothes are changed according to the religious calendar.
Many items of furniture are remarkable, such as the triptych of the Chichon family (1523), the stalls (1511-1519), the old white marble high altar decorated with enamels and gilded bronzes (19th century), the pulpit (1760), the organs (17th century)... Also worth seeing is the keystone in the choir, the stained glass window of Saint-Crépin and Saint-Crépinien (1530), and the contemporary stained glass windows (1920s and 1960s).
The bell tower, decapitated during the Terror, was rebuilt in reinforced concrete by the departmental architect Tony Ferret between 1911 and 1913. The entrance portal is crowned by a statue of the Virgin (1855).
Co-cathédrale Notre-Dame
N°PCUBFC000V507RV6
10 place Clémenceau01000 BOURG-EN-BRESSE
Prices & Schedules
Opening :
From 01/01/22 To 31/12/22 Of 07:00 To 19:30
Brochures edited by Montagnes du Jura