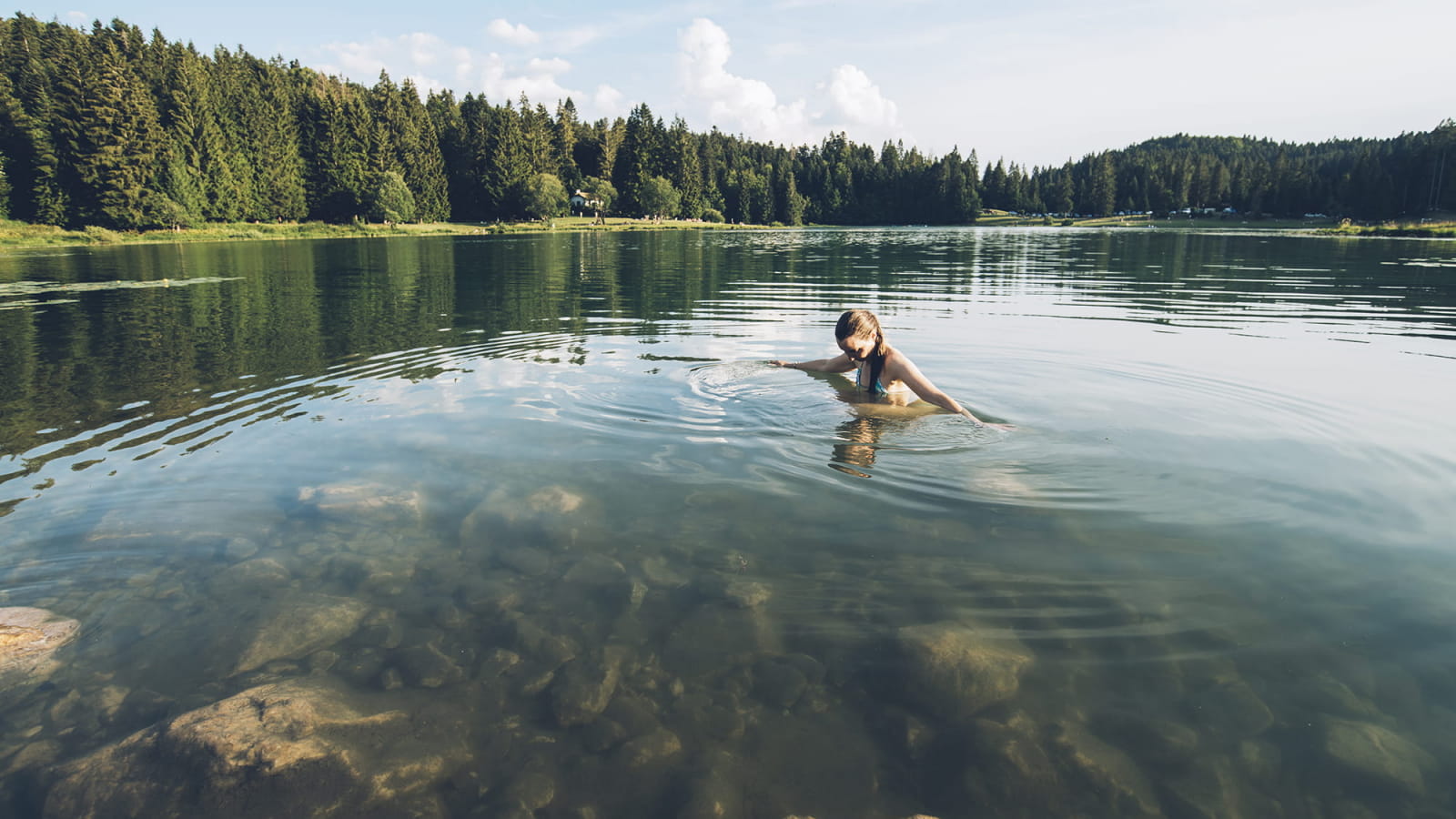 The Jura Mountains have plenty of places to swim! In the summer heat, you'll be spoilt for choice when you want to cool off. Make the most of the lakes and rivers, or relax any time of year in the heated pools and spa baths. Brave enough to dip in the cold rivers? Prefer the lifeguarded beach of a turquoise lake, or just want to unwind in a whirlpool bath? Whatever your preference you'll find it here!
For children and adults
The joys of swimming with the family
Saint-Point, Chalain, Clairvaux, Nantua… the tones of blue of the lakes beckon you to go for a swim.
At some of the most natural sites you'll find beach facilities and activities to keep everyone happy, just a stone's throw from the towns and resorts.
In the heart of the Jura Mountains, you can imagine you're swimming in a Canadian lake (Genin Lake) or in the turquoise waters of a Pacific island (Vouglans Lake).
Our lakes invite you to enjoy moments of relaxation and swimming with the family, or why not try the wide range of watersports available.
Lakes for family
Re-energise
A cool summer by the lake
The mountains of Jura have plenty of refreshing lakes, and mountain lakes are perfect for re-energising far from the hustle and bustle.
This summer, enjoy bathing in the transparent waters of a mountain lake. Here's our selection!
Best lakes for staying cool in summer
Discover lakes with bathing facilities
Here you'll find lakes equipped for bathing, with sandy beaches or grass areas, lifeguards and high-quality water, where everything is done to ensure you spend a pleasant moment at the lakeside, be it a natural or manmade lake.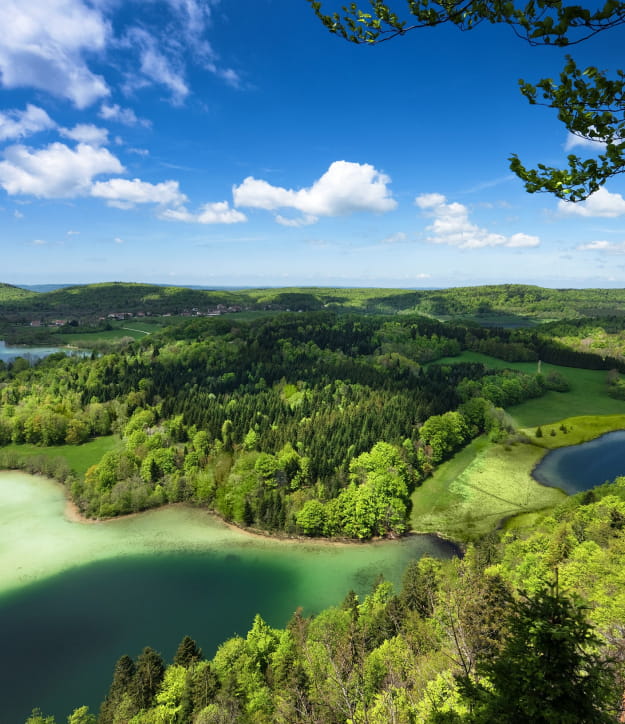 Prolong the experience
Spend your summer holidays in the Jura Mountains
Discover a larger-than-life playground and cosy accommodation for an unforgettable summer experience
Unwinding at the thermal baths
Fancy relaxing in the water in the middle of winter? Take advantage of the soothing waters of our 3 spa resorts: Lons-le-Saunier, Salins-les-Bains and Divonne-les-Bains
Thermal water
3 wellness resorts
The resorts of Salins-les-Bains, Divonne-les-Bains and Lons-le-Saunier invite you to enjoy the benefits of their thermal waters, in the tranquillity of a swimming pool, a jacuzzi and, for a sense of total wellbeing, perhaps even a massage parlour.
Spa resorts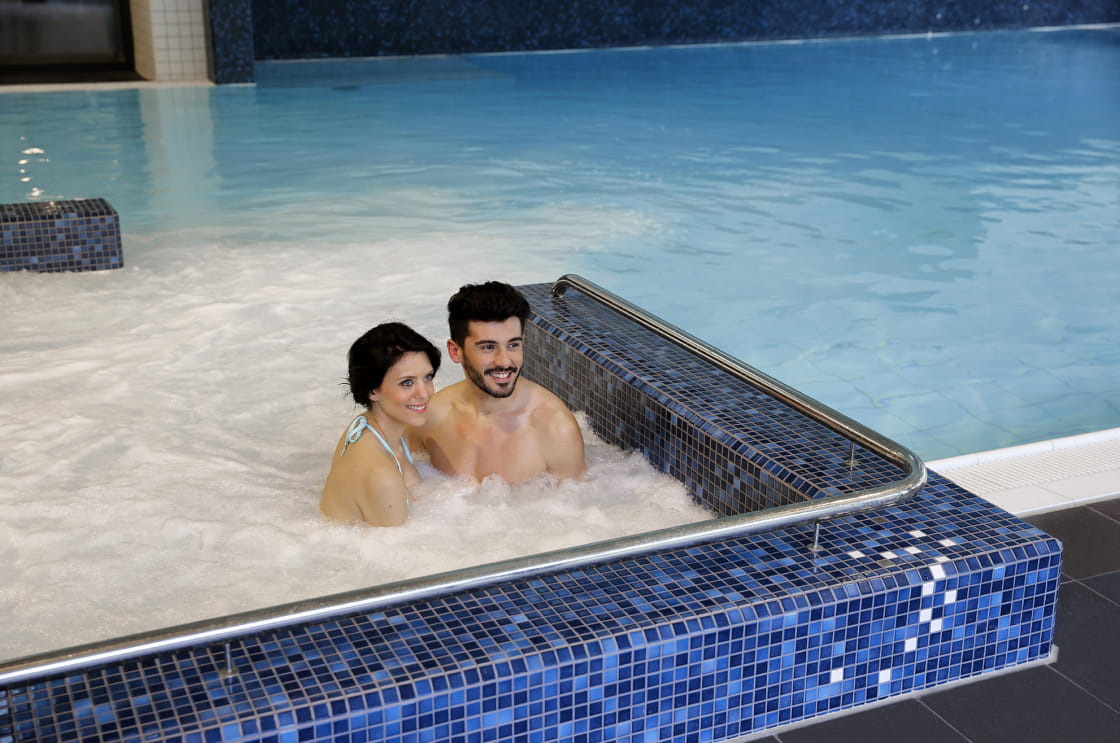 Anything but the sea
Other freshwater pleasures in the mountains of Jura