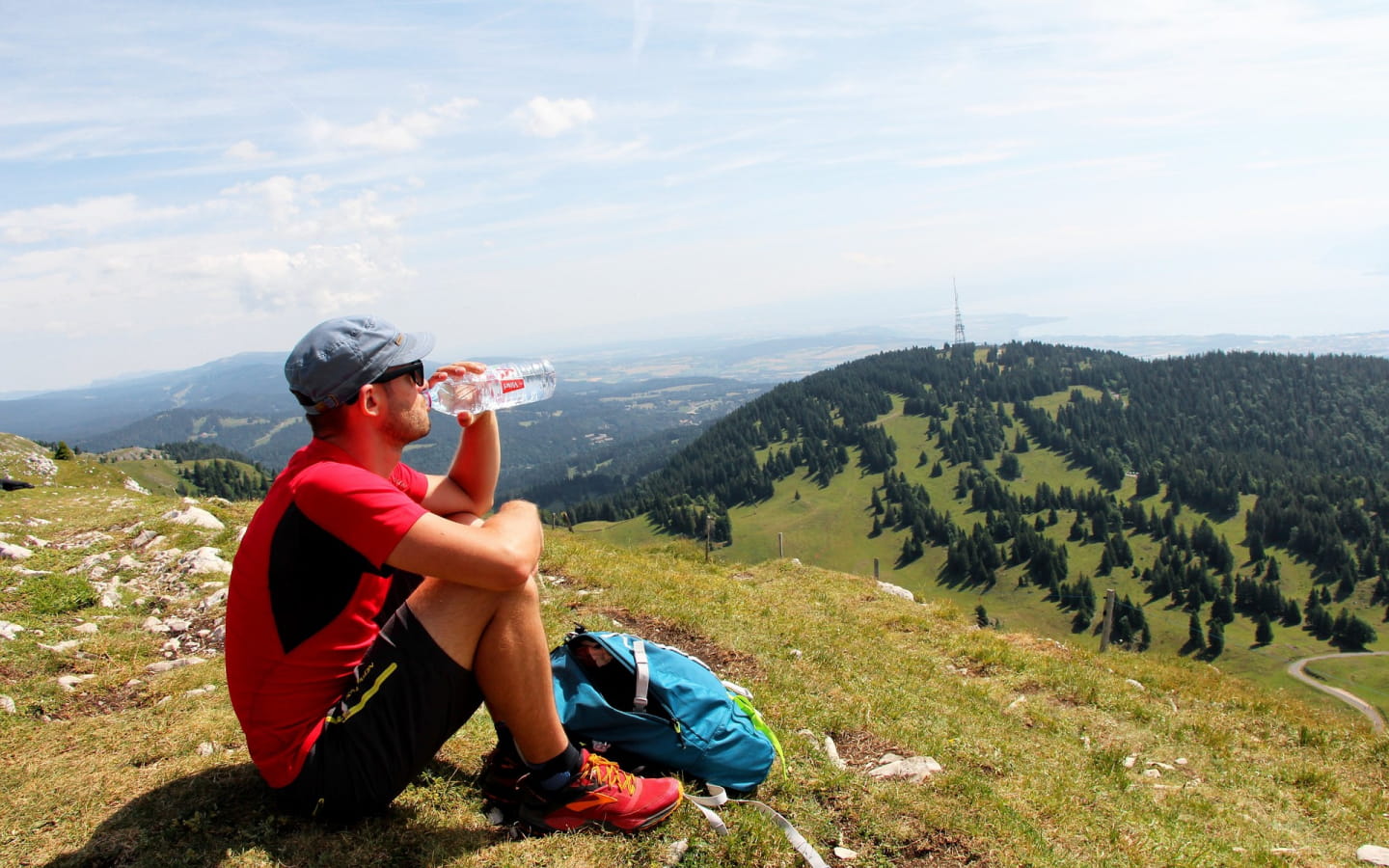 -
Recognisable by its "white ball" (weather station and radar), the summit of La Dôle reaches an altitude of 1677 metres. The highest peak in the Swiss Jura Mountains, La Dôle is also an ideal site for hiking with its pastures, its preserved fauna and its breathtaking views of Lake Geneva, the city of Geneva and above all the Mont Blanc massif.

From the Dappes car park (next to the Dôle-Les Dappes ski rental), go down the slope on the left and pass the turnstile following the yellow markings. You are now in Switzerland. Continue slightly to the right, cross the low stone wall and start to climb the massif, passing the start of the Couvaloup ski lift.

At Couvaloup de Crans, cross the small tarmac road and go up the path on your right. After 300m, turn left and then right to return to the gravel track. Follow it to the left and turn around to enjoy the view of Les Rousses and the Bief de la Chaille valley. Follow the path with the summit of the Dôle (the white ball) as a reference point.

At the top of the "Dappes - Dôle" chairlift, go up to the left under the ball and cross the passage in the low wall to reach the summit of La Dôle, 1677m.

Continue towards the Chalet de la Dôle, taking advantage of the path on the ridge.

Turn left to descend into the pastures and reach the hollow of the cirque. You may see some chamois.

At the Chalet de la Dôle, continue on the path which gradually climbs to the left to the Col de Porte, at 1557m.

At the Col de Porte, switch to the other side (French side) towards Couvaloup de Crans. At the Poêle Chaud farm, turn left towards a cement reservoir following the yellow markings. After 400m, fork left in a passage in a stone wall and go up to the right to join 200m further the gravel path used for the outward journey. Follow the route taken on the outward journey to return to the Dappes car park.
For more informations
La Dôle
Brochures edited by Montagnes du Jura