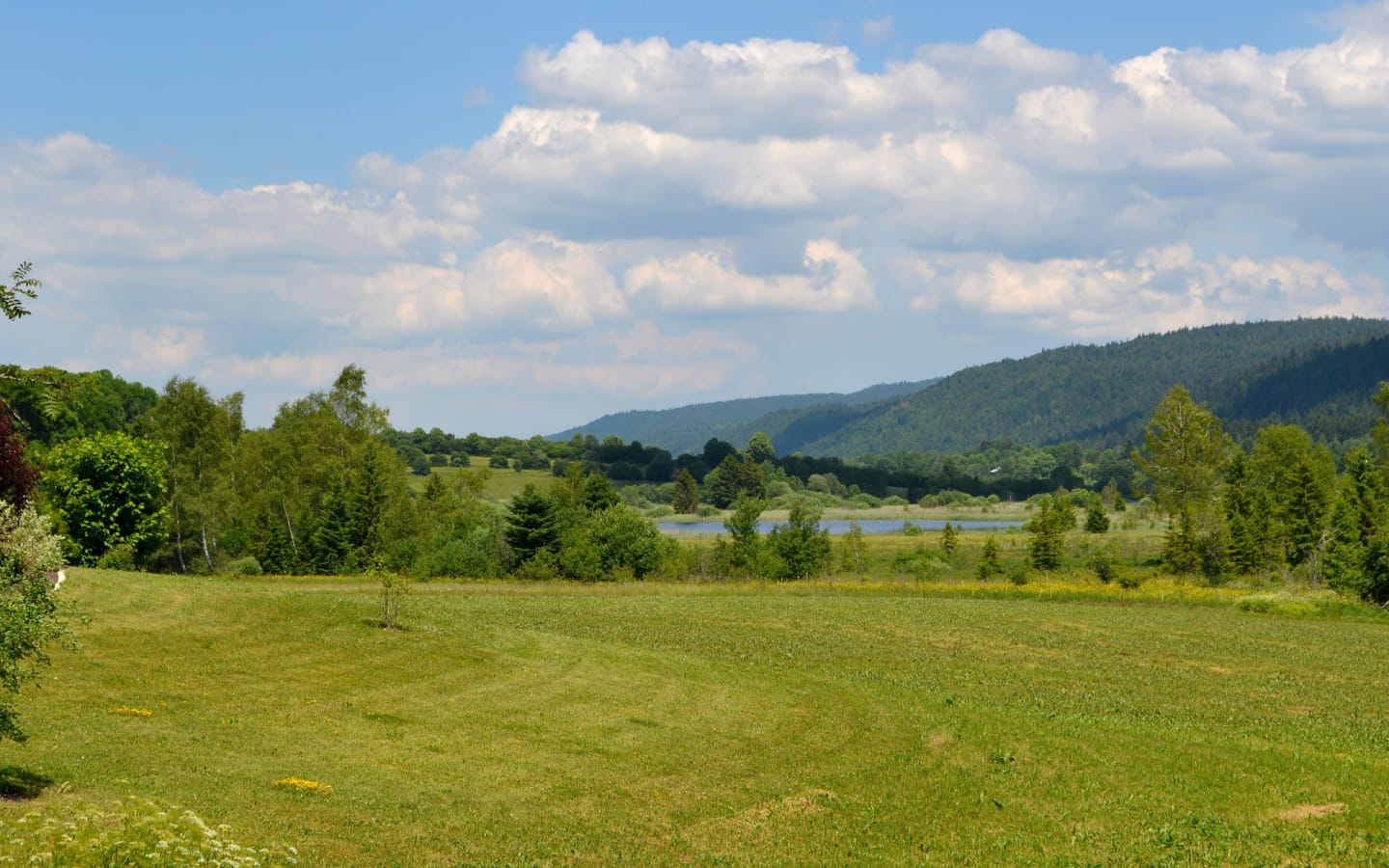 -
Discover a "Grandvallier" landscape where meadows, forests, pastures, hamlets, a lake and peat bogs alternate. All this is served by the old tramway.

At the start of "Bugnon", turn left. The track leads to "Fontaine aux Cernois" and "Sous le Mont Noir". Take the road to the left and arrive at the post "Le Maréchet".

> Tour of the Rouges-Truites lake (short variant: very easy level, 6 km, 2 h): take the gravelled track on the left (former tramway track). It runs along the stream, the lake and the peat bog site. Take the D 437 on the left for 170 m and find "La Gare". Turn right to reach the car park.

Turn right and stay on the less visible old tramway for 200 m to cross the D 437. Continue along the municipal road opposite.
It curves to the right. At the milestone, go up the path on the left in the meadow towards "Crêt Pelé". Continue northwards, cross the passage in the border, go down the côte des Genissets and take the D62 on the right.
Pass "Les Genissets". At the bend in the road, continue along the path opposite.

At the "Les Fumey" post, turn left, cross the D62 and continue along the road. It crosses Les Fumey.

Continue on the road that goes around the Lac à la Dame. After 1.7 km, turn right onto the hedge-lined path and reach "Les Monnets". Take the left-hand side street, then turn left and go down to "Les Voigneurs". After 100 m, turn right onto the path that climbs to the right.

At "La Corne", follow the ridge line to the right (view of the two valleys). At the reservoir, a milestone marks the entrance to the Bois des Crêts. Continue along the ridge and reach the post "Le Crêt".

Take the road on the left to reach the Mairie crossroads, go down the rue des Thévenins to "La Gare".

Continue straight on to the Chalet du Bugnon.

For more informations
Lac des Rouges-Truites et lac à la Dame
Brochures edited by Montagnes du Jura