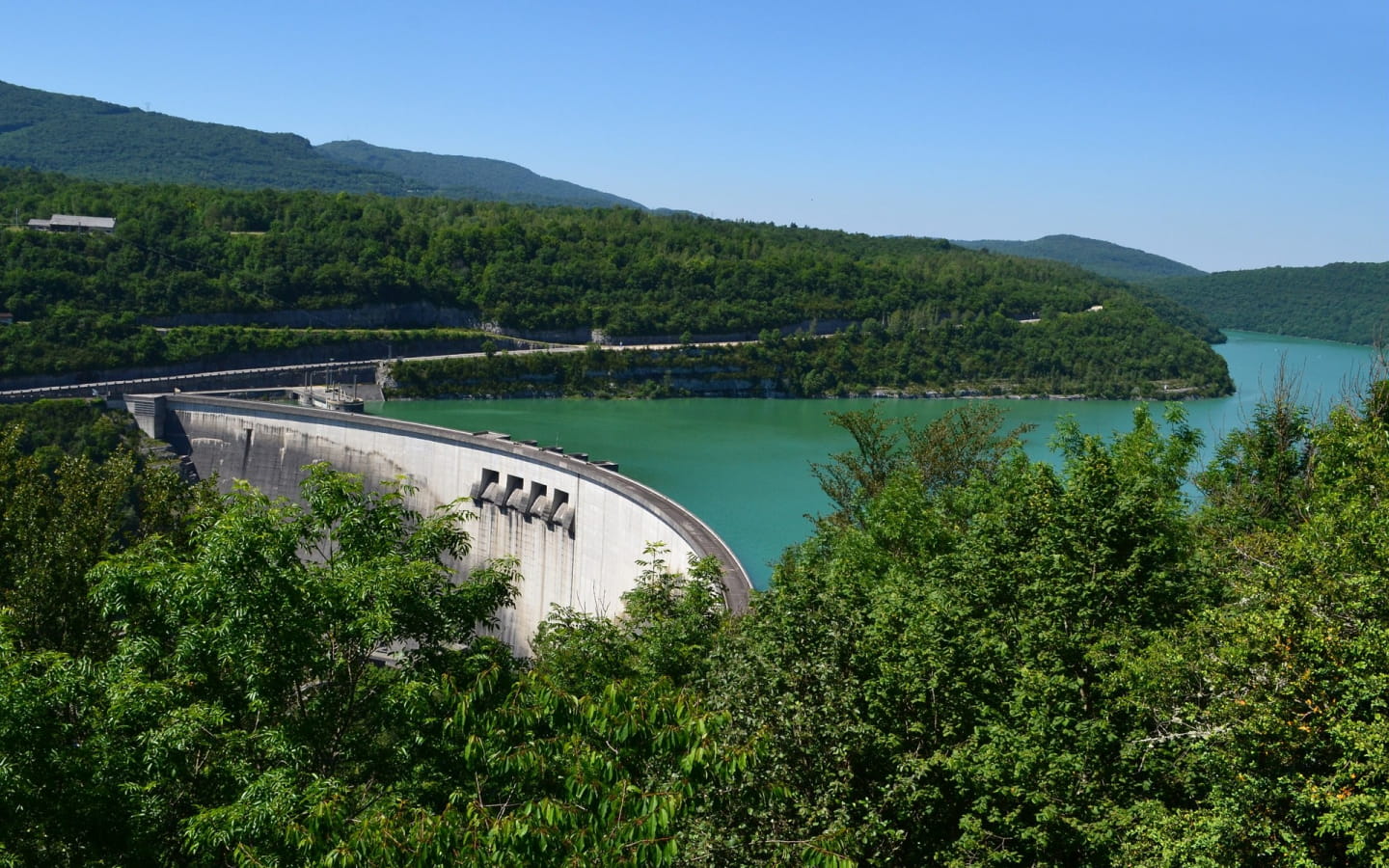 -
From Vouglans lake to the dry grasslands of Lect, the route overlooks the Ain valley. Its open horizons are a good representation of the landscapes of the western part of the Haut-Jura Regional Nature Park.

Take the lane between the houses that leads out of the village.

Climb to the right along the grassy and then rocky path through the boxwoods (the Mass path was used by Vouglans parishioners who went to religious services in the church of Lect). After a steady climb, the path climbs to the right up about fifty steps cut into the stone and leads to the top of a small rocky bar protected by "sagoureiles".

Follow the road to the left for 500 m and reach the Barrage lookout (viewpoint on the Vouglans dam and lake).

Go back on your steps.

Leave the road and turn left onto the good farm track, bordered by low dry stone walls. It leads to the first houses in Lect.

Cross the village on the left (houses with galleries used to dry the corn; grown in the past, its flour was used as food). At the top of Lect, pass a turning workshop (another local speciality that has developed today through the toy industry), and take the small road to the left towards Les Plans for 150 m.

Take the path on the right, through the meadows. Between the sheep pastures, pass a breeding farm (view of the Petite Montagne and its villages on the right bank of the Ain). The path descends then enters the forest and reaches Les Plans.

Go down to the left on the path that crosses a fir tree forest, then ford the small stream of the Huilerie.

> On the right, you can reach the edge of the lake (equipped for boats) in 5 minutes.

Turn left onto the good, gently sloping path that overlooks the lake (viewpoints) and leads back to Vouglans.
For more informations
Vouglans Lake and its dam
Brochures edited by Montagnes du Jura