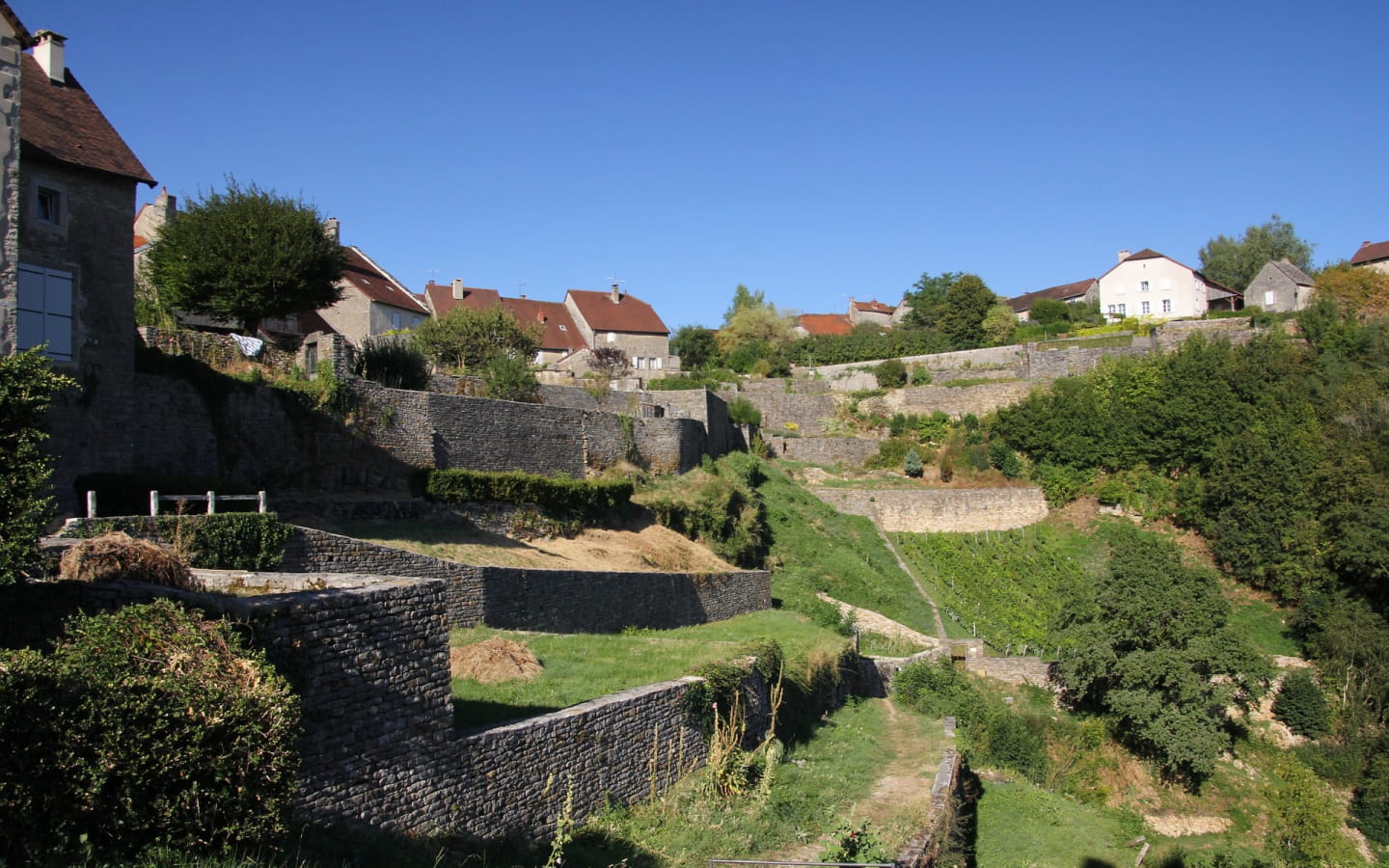 -
A superb itinerary through the vineyards of the Château-Chalon and Côtes du Jura Appellations d'Origine Contrôlée. Between the winegrower's hillside, the Most Beautiful Villages in France of Château-Chalon, the old Roman road and the unmissable viewpoints over the Haute-Seille valley... There are many points of interest along this walk!

From the car park, at the "Ménétru le Vignoble" post, continue to the left towards "La Fontaine".
Take the road on the left for 400 m and, in the bend, the Gaillardon path on the left. It goes down into the undergrowth and then into the vineyards. At "Sous les vignes", take the D 205 to the left.

Pass "Le Rouillard" and "Le Moulin". Do not cross the "Pont de Mézieres", but cross the D70 and follow the Maizières road. Turn right onto the path along the wall of the park.

At the post "Les Grevillettes", turn left. Pass "Aux Chaises", then turn left towards "Les Niods". There, follow the road to the left.

At "Puits Saint Pierre", go up the road on the left into the vineyards and climb the path that leads to Château-Chalon.

On the left, pass "La Maison de la Haute Seille" and, by the rue de la Roche (Take time to walk through the village's viewpoints and appreciate the winegrowers' houses in the village streets),


At the "Château Chalon" post, cross the D5 and go down the lane. At "Aux Vergers", continue to the right towards "voie romaine". At the post, take the path on the left and walk along the edge of the plateau (nice view of the valley).
From the post "Le Latet de Ménétru", go to the "Croix de Beaumont". Follow the edge of the plateau, then go down to the left into the wood.

> Possibility to extend the itinerary by taking the "Sentier des Châteaux" (hamlet of Vau, castles of Frontenay and Blandans)
(total route of difficult level, 5 h 30, 17 km, difference in altitude of 440 m, yellow markings): from the post "Ménetru le Vignoble", pass "Le Grapot", "Granges de Ménétru", "Fougnet". At "Oratoire", turn left towards "Le Clos (Haut)", "Château de Frontenay" (grave of the Jura writer Bernard Clavel), "Lavoir". At "Haut des Rignardes" leave the road for "Le Cuart", "Château de Blandans", "Haut de la Rampe", "Domblans Arboretum". Continue to the left in the Seille valley until "Rouillard".
For more informations
Le Vignoble du Château-Chalon
Brochures edited by Montagnes du Jura