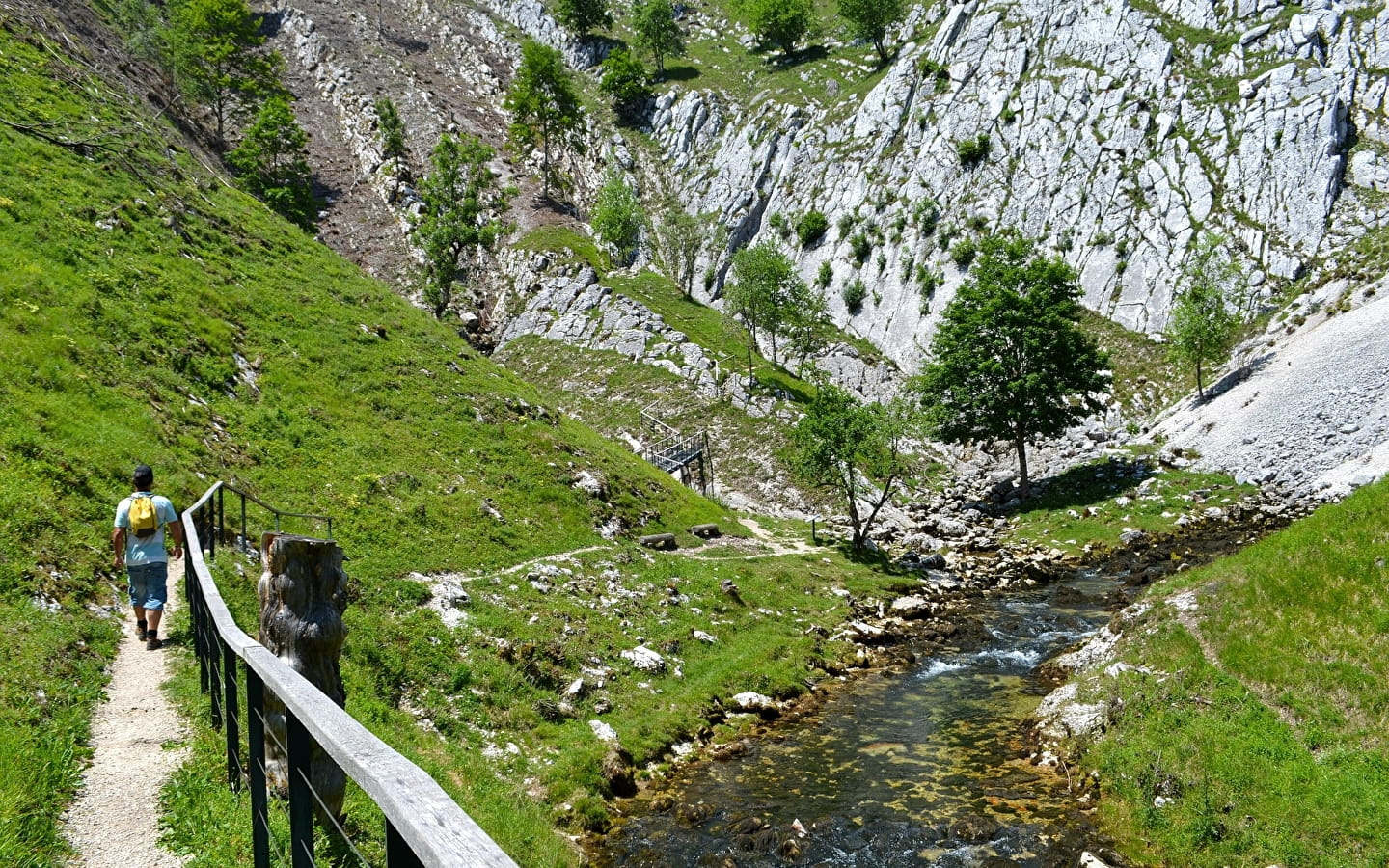 -
The Saine valley is home to a wealth of natural treasures. We invite you to discover its source, a resurgence with a wild but accessible character, a real jewel in the Upper Saine Valley listed site.

Just a short distance from Foncine-le-Haut, in the shelter of its limestone amphitheatre, the Saine rises in complete privacy, before sculpting the distinctive landscape of the Malvaux gorges. This hike invites you not only to take advantage of the healthy energy that emanates from this place to recharge your batteries, but also to get up high and contemplate the imposing and unusual landscape from the Roche Fendue lookout.

From the former FONCINE-LE-HAUT information point, the route winds its way up the Grande Rue for 150m to the Place Le Village (shops and fountain).
It branches off to the left (white and red markings) and runs alongside the River Saine, then follows the road to Chez Vallet.

At the end of the hamlet, the shady path lined with low walls turns right and leads up to Pâture-du-Bayard.

The SOURCE DE LA SAINE can be reached (yellow signs) in 15 minutes round trip (interpretation panels - La source de la Saine). On returning from the spring, a path climbs to the right (yellow and red markings) towards Bayard. The route runs alongside a pasture overlooking the Foncine valley, then follows a grassy path.

At Sous-le-Bayard, the stony path forks right and climbs steeply to reach Vie-Romaine. The path then climbs gradually to the left to reach the BAYARD botanical trail.

The small road on the right takes you 50 metres to La Combette aux Loups. On the left, the path leads to the lookout point at LA ROCHE FENDUE in pleasant undergrowth.

Retrace your steps a few metres and continue right along the ridge to Côte Bayard, where you fork right and take a long, gradual descent through juniper trees to reach the Renvers des Ruines pass.

The Belvédère du Couillou is a 5-minute round trip on the right. Back at the pass, turn right down the Chemin du Col and then (yellow markings) through the hamlet of LES RUINES (18th-century chapel).

At the end of the hamlet, the country lane turns right and leads to the Grange-Charnoz, then rejoins the road at an oratory (dated 1747) to reach Le Bas-de-Ville.

Follow the road to the left, then a track towards La Vie-à-Gayet. The route turns right, crosses the road, descends to a sawmill, and crosses the D 437 at Moulin Choudet.

Continue straight ahead to join the river Saine and cross it at Pont du Thiémont. Follow the path to the left towards Les Isles, along the left bank of the river, to get back to the start.
For more informations
Source of the Saine
Brochures edited by Montagnes du Jura