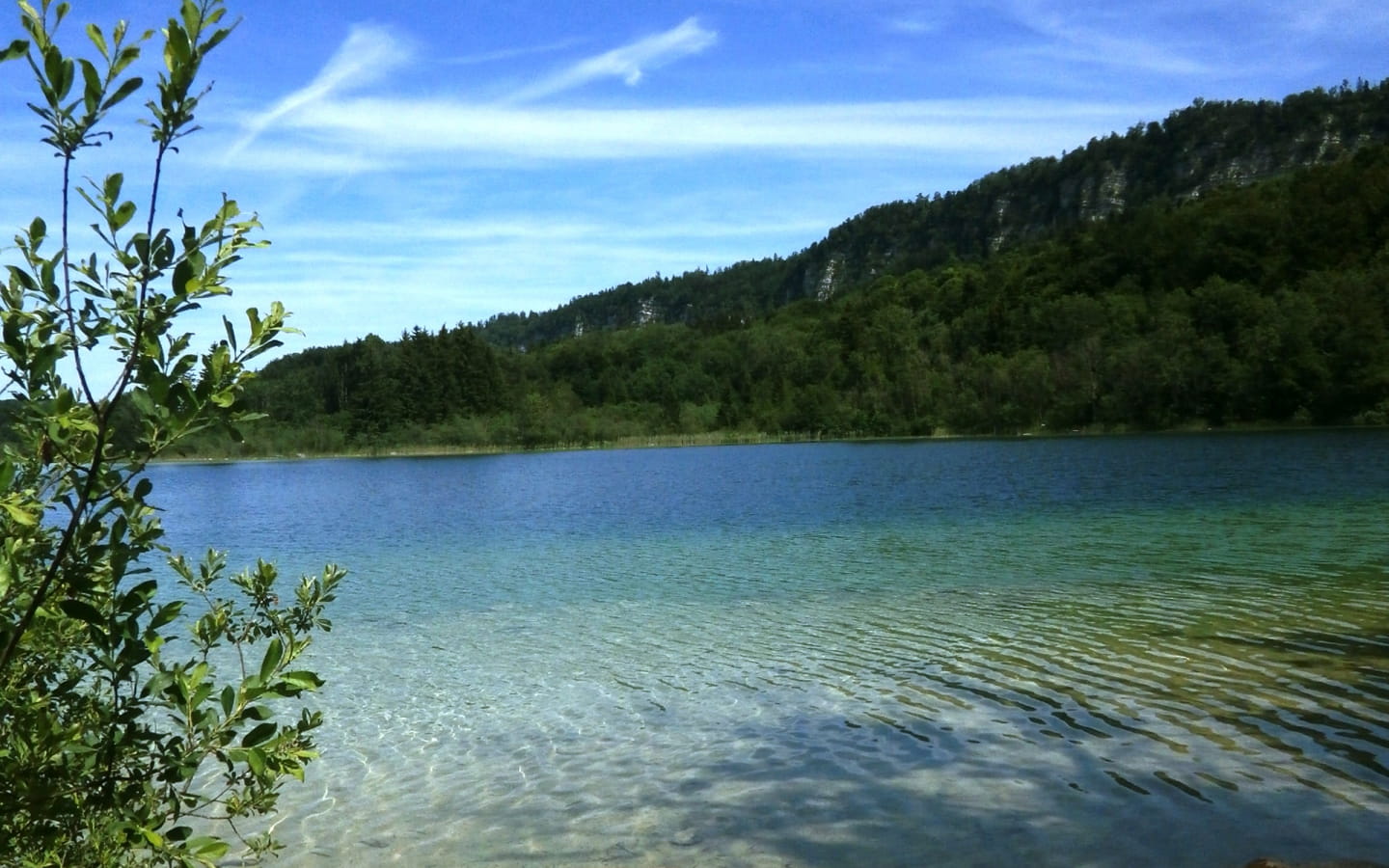 -
An enchanting place! Three natural lakes with turquoise and emerald waters in a green setting, bordered by exceptional wetlands for a family-friendly walk.
The lakes intrigue, refresh and soothe. Surrounded by a remarkable natural and historical heritage, they invite you to walk around them to discover it: ponds, reed beds, marshes, dry grasslands... so much diversity!
From the car park, carefully cross the D75 road (yellow markings) and reach the Monts des Ifs crossroads.
Follow the path to the right below the road and reach the head of the LAC DU PETIT MACLU.
Take the good gravel path that runs alongside the lakes, namely Petit Maclu, Grand Maclu and then, after a small wooded area, leads to the edge of Lake Ilay before joining the Chemin des lacs.
Continue on the right-hand side of the path (white-red markings) until you reach Lac d'Ilay.
Continue along the right side of the D 75 road (yellow markings), pass a pasture (fences to contain the cattle) and find below the road the grassy path that leads to the entrance of the village of Frasnois, at the Chemin des Bornes crossroads.
Take the right-hand path for 350 metres, bordered by meadows. At the crow's feet, take the path on the left which joins the D 75 road.
Take a path on the right which leaves the road to reach Mont des Ifs.
Cross the road again (be careful) to find the Monts des Ifs car park.
Recommendations:
Take care when crossing the road at the start, to reach the Mont des Ifs junction.
The wetlands surrounding the lakes are protected and fragile natural areas. Please stay on the marked paths and respect the peace and quiet of the area.
Cows and horses maintain these areas and change parks during the season. These animals are very hardy: please do not try to approach or feed them, as this may affect their health and your safety.
Wild flowers are beautiful, can be rare and protected and often wither quickly. Do not pick them! They will delight the next hiker.
Please keep your dog on a lead if you have one.
For more informations
Tour des 3 lacs
Brochures edited by Montagnes du Jura