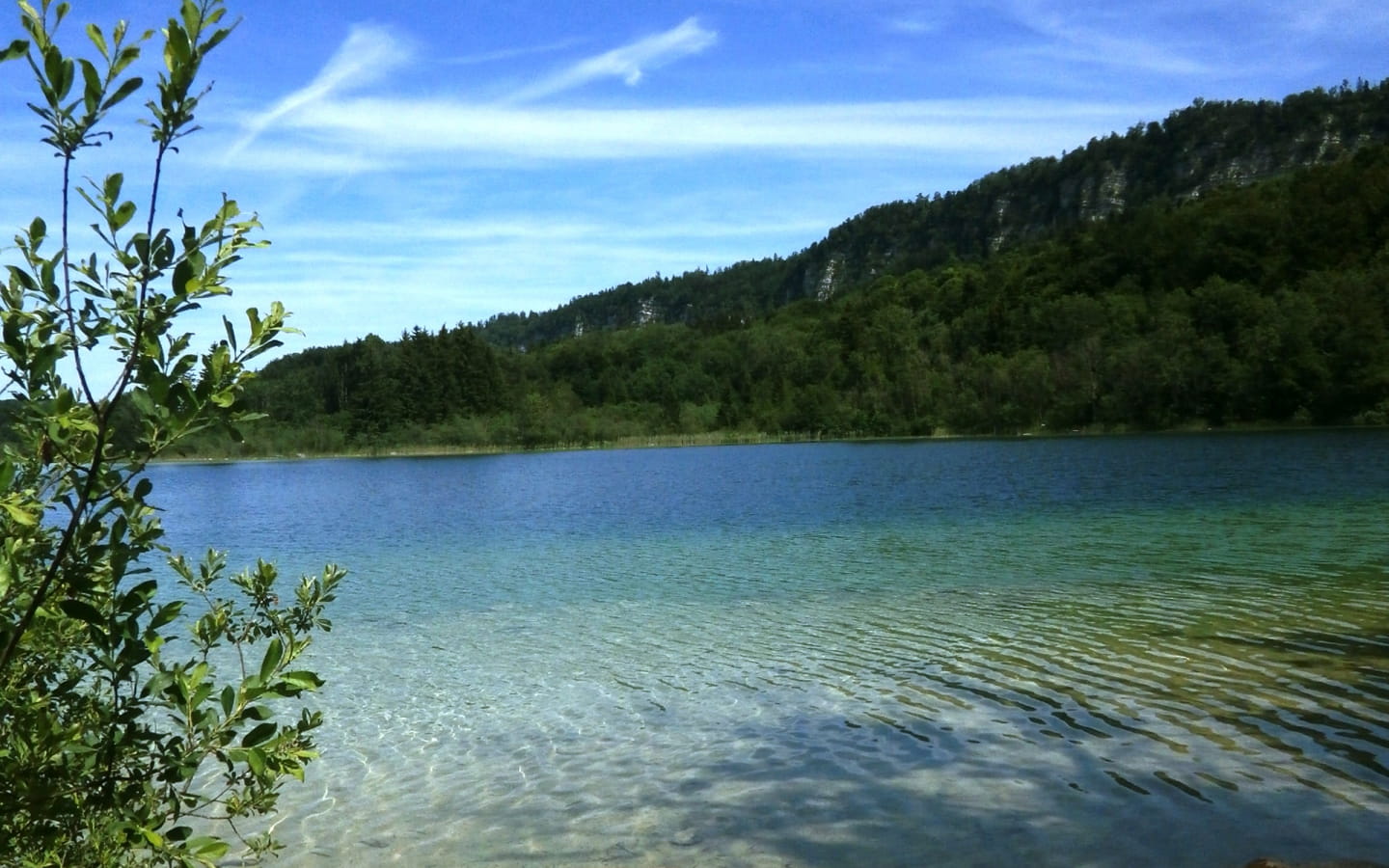 -
Petit and Grand Maclu, Ilay and Narlay, four lakes that are emblematic of the Jura lake landscape, often referred to as "Little Scotland".
Families with young children will choose the shorter Three Lakes tour, which has only one road crossing;

Parking :
Mont des Ifs car park, on the side of the RD 75 between Le Frasnois and the Pont de la Chaux.

From the car park, carefully cross the D 75 road (yellow markings) and reach the Monts des Ifs crossroads.
Follow the path to the right below the road and reach the head of the LAC DU PETIT MACLU.
Take the good gravel path that runs alongside the Petit Maclu and Grand Maclu lakes and then, after a small wooded area, leads to the edge of Lake Ilay before joining the Chemin des lacs.
Continue on the right-hand side of the path (white-red markings) until you reach Lac d'Ilay.
(If you wish to shorten the circuit to walk only around the three lakes, turn right to join the Chemin des Bornes and then the Mont des Ifs).
From the Lac d'Ilay crossroads, carefully cross the D 75 road to follow a wooded path that leads to the hamlet of LA FROMAGERIE.
Turn right (yellow markings) on a long wooded path lined with hedges that leads to the Raffour and then right to the village of LE FRASNOIS.
Turn left. The Chemin de la Vierge runs along the back of the village to find the D75 road on the right.
Take the road on the left, past the church and the town hall to find the road leading to Narlay lake.
At the Vers Narlay crossroads, continue along the road to the left, and join the houses at the bottom of the hamlet.
Follow the gravel path which skirts the lake on the left. The path goes up to the Monts des Ifs car park.
For more informations
Tour des 4 lacs
Brochures edited by Montagnes du Jura