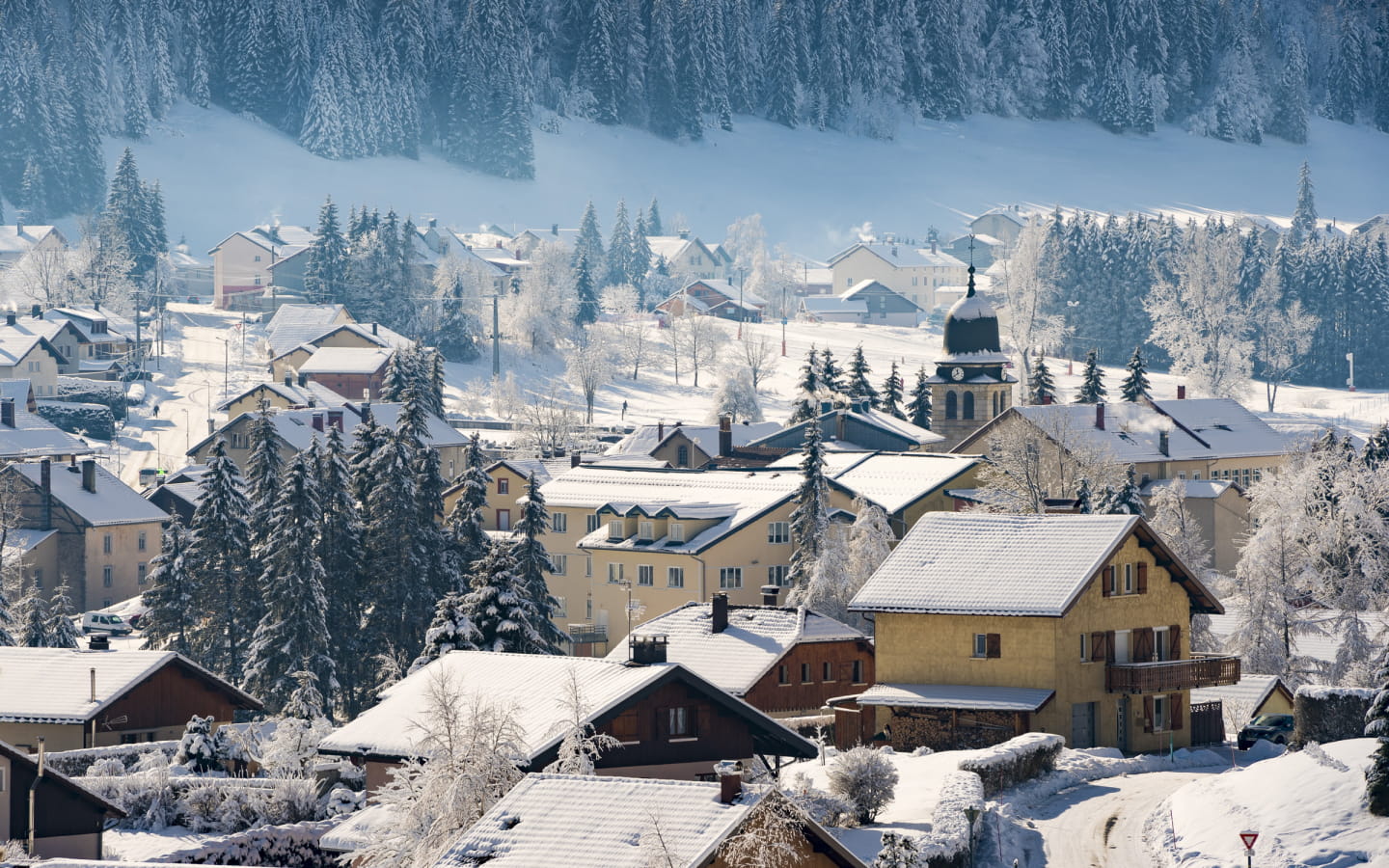 -
Welcome to Bois d'Amont, one of the 4 villages of the Station des Rousses. The Resort is recognized for the quality of the services offered through several labels: Green Flake, Tourism and Handicap, Tourism Quality, ..
Located in the heart of the Jura Mountains, at an altitude of 1,100 metres, Bois d'Amont is the last village before passing through Switzerland. Coming to Bois d'Amont is the guarantee of a stay punctuated by the diversity of activities, the beauty of the landscapes and the calm of the mountains
A family territory, you can enjoy many Nordic activities: cross-country skiing, snowshoe hiking, musher walks, tobogganing or snowtubing buoys, Nordic ski touring, walking on one of the pedestrian itineraries, ... the list is long!
The Haut-Jura benefits from an extremely dense network of slopes: from Bois d'Amont you can not only reach Bellefontaine, through a superb walk in the Risoux, but also the villages of the resort of Les Rousses, along the Noirmont forest. These two connections are made both by cross-country skiing and snowshoeing, and make it possible to take the famous route of the Grande Traversée du Jura
Bois d'Amont is also a major crossing point for the Transjurassienne race which made the crossing through the Risoux famous, passing by the Chalet des Ministres, to reach the Grand Remblai, after almost 10 km of tracks through the woods
You can of course discover the first slides, from the centre of the village, on the recreational area "Les Marmousets". Everything is done there to learn to ski in a fun and recreational way with a toboggan run with free access, a fun area with paid access (free up to 5 years old), closed and secure for an introduction to skiing combining technical learning and fun in different workshops.
The piste start in Bois d'Amont: l'Orbe (village centre): the most easily accessible start from the village, with easy runs suitable for beginners
Services: tourist information point, shops, accommodation, restaurants, ski school, ski school, ski room, play area, equipment hire, illuminated piste, public transport, camper van area, sale of royalties
Another departure is possible, from Les Combettes: here you will have access to the slopes of the Risoux forest, with slightly more difficult runs
Services: bag-free room and sale of royalties

Caution : Risoux forest = biotope zone : please respect the access conditions.
Site Nordique de Bois d'Amont - Station des Rousses Les Combettes39220 BOIS-D'AMONT
Acheter son forfait
Track info
//= $data['description']['totalAlpin'] ?> //= $data['description']['totalKmAlpin'] ?> //= $data['repartition']['vert'] ?> //= $data['repartition']['bleu'] ?> //= $data['repartition']['rouge'] ?> //= $data['repartition']['noire'] ?>
Cross-country skiing :
5 Track
(that is 27.5 km)
Snowshoes :
3Track
(that is 18.4 km)
3 itinéraires
Consult snow information
Prices & Schedules
Opening :
Prices :
Base rate :

9.6€

Youth rate :

6.7€

Base rate :

5€

Base rate :

3.3€
Brochures edited by Montagnes du Jura