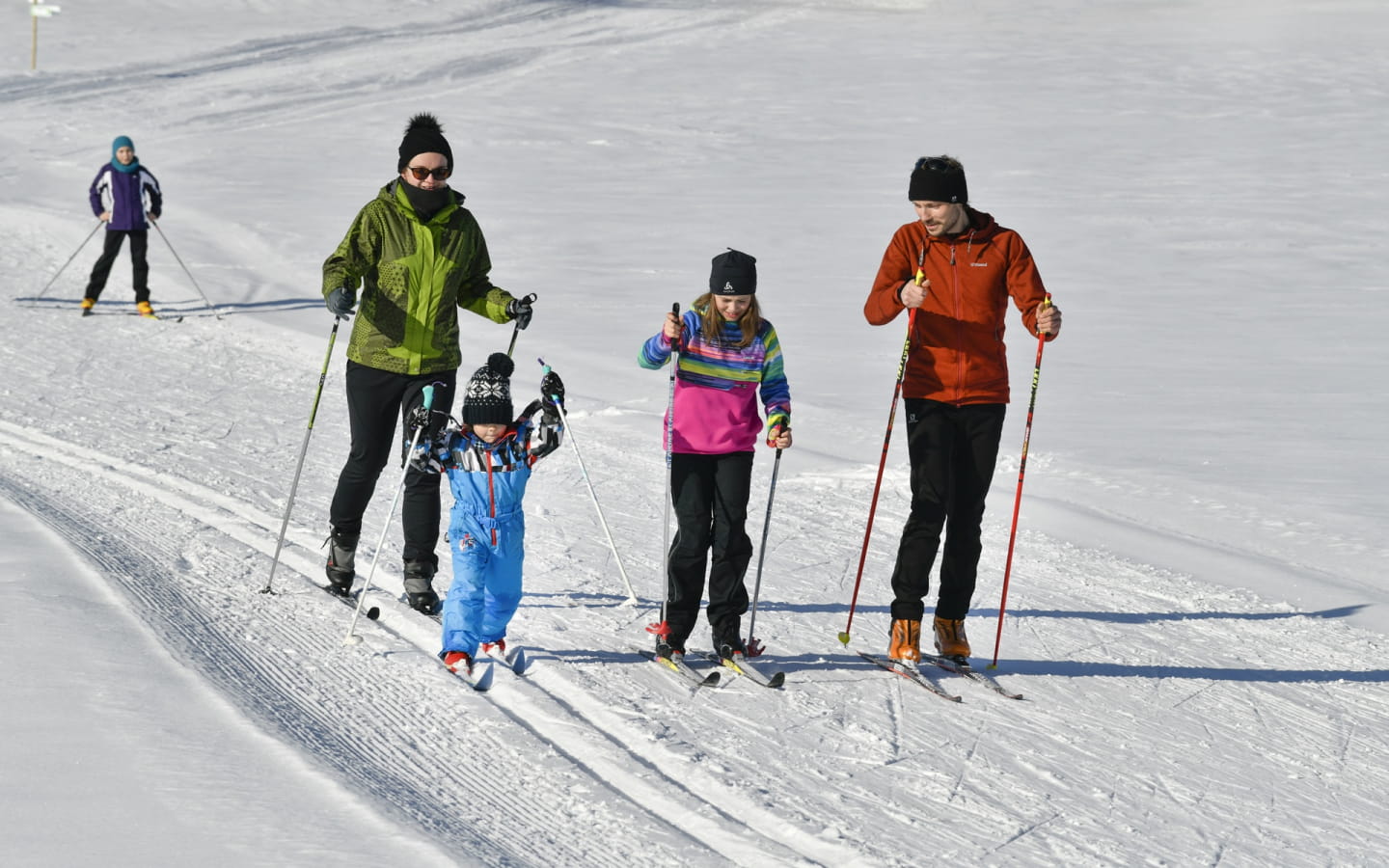 -
Located in the Haut-Doubs, in the heart of the Jura Massif, about 10km from Pontarlier and less than 10min from Montbenoit, the Nordic area of the Haut Saugeais Blanc is the site giving access to the GTJ network (and to all the cross-country ski resorts that make it up) closest to Besançon without having to cross the Pontarlier agglomeration. It extends over the communes of Hauterive-la-Fresse and des Alliés and Ville-du-Pont, but also benefits from a border position and provides access to neighbouring Switzerland.
Nestling in the setting of the Partridge site, the start of the slopes is organised around the nerve centre of the domain and headquarters of the association: the Haut Saugeais Blanc gîte d'étape. Equipped with a car park and all the necessary services (rental, fees, accommodation, catering...), the gîte is the starting point for your ski or snowshoe excursions.
With 25km of marked cross-country ski trails and several snowshoe itineraries of its own, the Nordic area has various connections with the rest of the Jura Nordic network; namely a link with the site of La Malmaison (Pontarlier) and a GTJ link (Grande Traversée du Jura) allowing you to reach Switzerland in a small kilometre and a vast ski area serving the sites of the Val de Morteau (via Charopey, les Seignes), the Vallée de la Brévine (CH) and Le Larmont (Pontarlier) via the tracks of the Swiss Romanesque cross-country skiing network of Les Cernets (CH).
Track info
//= $data['description']['totalAlpin'] ?> //= $data['description']['totalKmAlpin'] ?> //= $data['repartition']['vert'] ?> //= $data['repartition']['bleu'] ?> //= $data['repartition']['rouge'] ?> //= $data['repartition']['noire'] ?>
Snowshoes :
2Track
(that is 4 km)
2 itinéraires
Consult snow information
Prices & Schedules
Opening :
From 01/12/22 to 30/04/23
Date subject to change depending on snow conditions
Prices :
Brochures edited by Montagnes du Jura