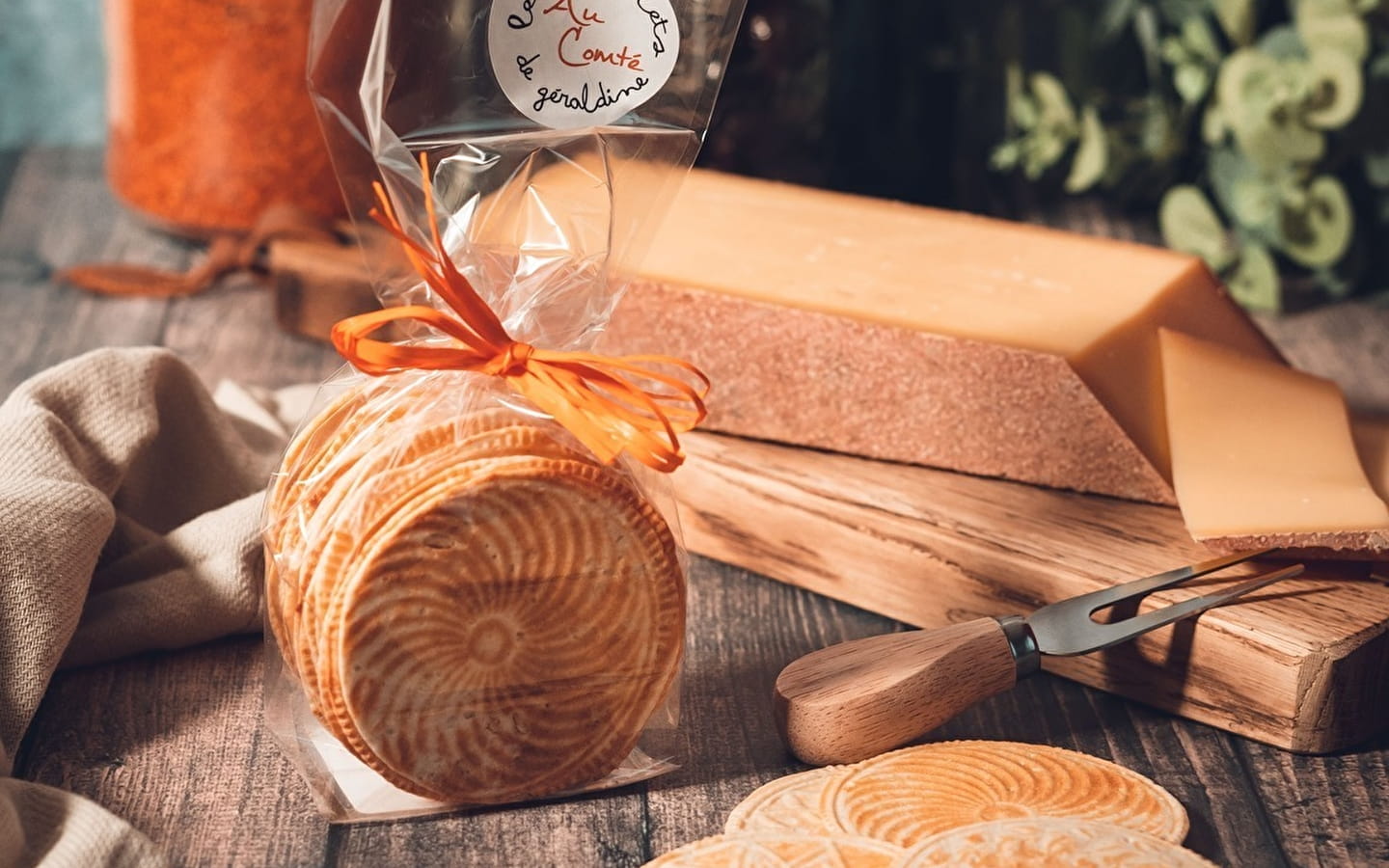 -
Since 2018, the Atelier de Géraldine has been reviving these Swiss sweets, which were already made in Saint-Amour in the 1960s.

As a child, Géraldine remembers making good bricelets with her grandmother and her cousins at Christmas time.

Today, she makes these Swiss biscuits entirely by hand in authentic Swiss bricelet irons according to tradition.

> Deliciously flavoured sweet bricelets: walnut and honey, vanilla, lemon, cinnamon, chocolate, blueberry, almond, raspberry, coffee, orange.
> A range of savoury bricelets is also available: comté, persillade, Nyons olives, goat's cheese, Bleu de Gex, Bresse pepper.


Géraldine is keen to work with local, quality products:
- PDO butter,
- flour from the local flour mill,
- eggs from free-range chickens
- fruit from organic farming
- working with local producers

The vast majority of products are carefully selected locally or in France.
Products from the Jura and Bresse regions are highlighted: bricelets with Comté cheese (Balanod cheese factory), Bresse pepper, Bleu de Gex or walnut and honey (Gaec Ecuyer in Digna)!

The laboratory is also committed to an eco-responsible approach by operating largely independently thanks to solar panels.
O waste: the broken bricelets are recovered and offered for sale... also nice for the aperitif!

>> Visit the workshop every Friday afternoon from 2pm to 5pm on reservation <<
>> Online shop <<


A little background information:
Bricelets are biscuits that are part of the Swiss culinary heritage and are made in bricelet irons or "ovens" that can only be found in Switzerland.
In the 1960s, Mr Mottet, who had acquired the recipe and equipment for the bricelets, set up his workshop in Saint-Amour. Many Saint-Amour residents still remember the smell of these biscuits!
Others tell how they used to go with their parents to buy the broken biscuits to soak in a good bowl of milk.
Biscuiterie - L'Atelier de Géraldine 5 Rue du PlateauAllonal39160 SAINT-AMOUR
French
Credit card, Payment cards, Cheques and postal orders, Cash
Pets not allowed
Amenities
Services
Product type
Other Bourgogne-Franche-Comté Specialities
Bread & cakes
Prices & Schedules
Opening :
Free visit of the workshop every Friday afternoon from 2 to 5 pm. By reservation only.
Brochures edited by Montagnes du Jura