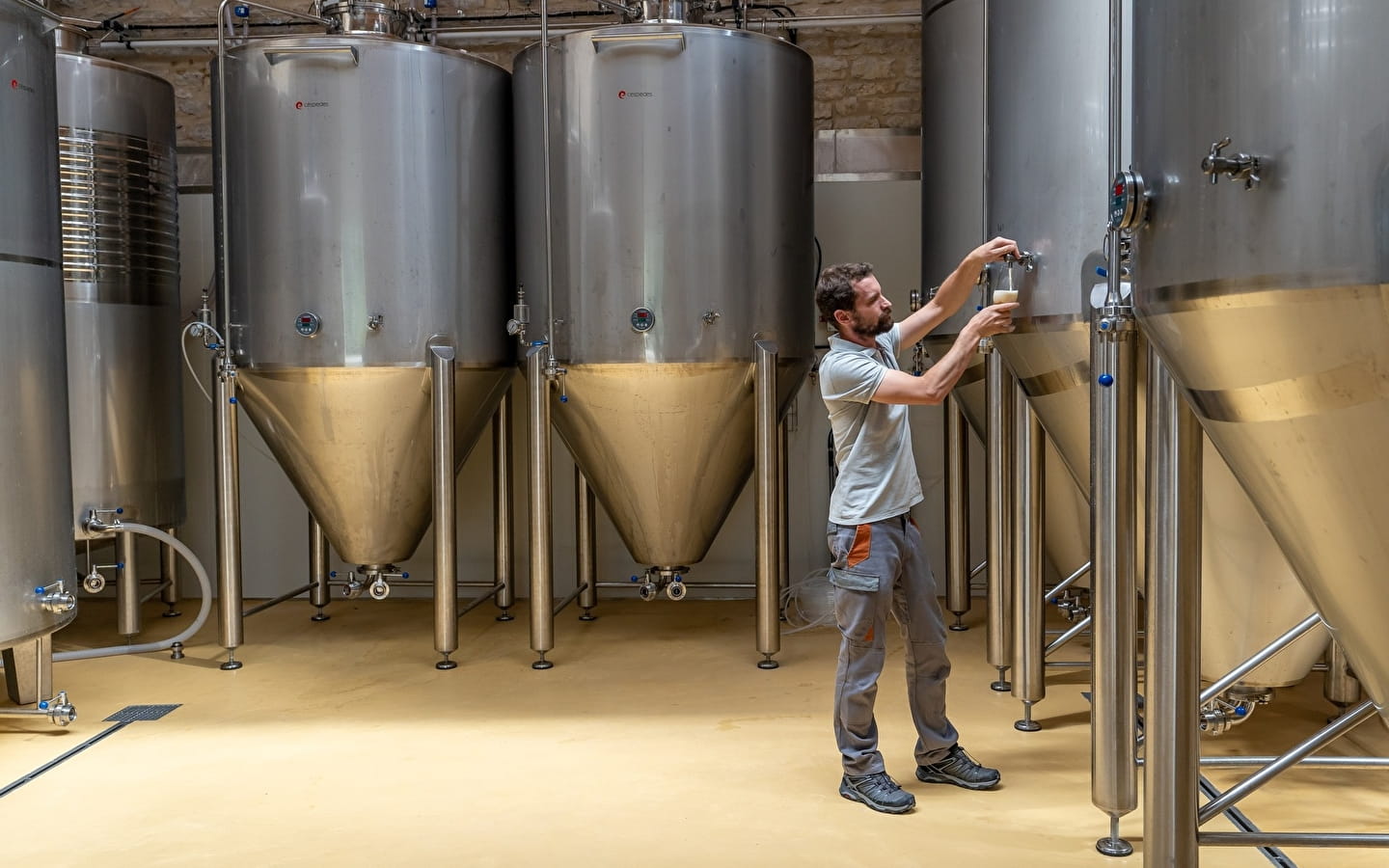 -
ATMOSPHERE°, the expression of creativity!

The Atmosphère° brewery puts all its knowledge and skills into the production of organic and creative beers.

Natural ingredients, 100% organic, are carefully selected for an impeccable quality and for the creation of original and innovative recipes.

Edouard, Master Brewer, is close to the products for the creation, the brewing, the packaging and offers you beers of an irreproachable quality with flavours respecting everyone's taste.

The team masters the entire process, from production to packaging.

The brewery is located in a historic site, a former marble factory.

The range includes eclectic styles, from the great Belgian and German classics to the Raspberry Sour and Crafts beers such as our IPA or our white beer with American hops, as well as a brown and a black beer.

Blonde, white, amber, copper, brown, black ...

PERMANENT RANGE

400 Blonde Session Pale Ale

0 Blonde Micro IPA / 1 Blonde Pale Ale / 2 Blanche American Wheat Ale / 3 Amber Ale / 4 Blonde East Coast IPA / 5 Blonde Belgian Blond Ale / 6 Amber Dubble / 7 Blanche Hefeweizen / 8 Fruity Sour Raspberry / 9 Brown Porter / 10 Black Oatmeal Stout

EPHEMERE RANGE

ATMOSPHÈRE° 12 - Cuivrée Winter Ale (Alc. 7.9% vol.)
A beautiful copper beer, winter beer par excellence! High fermentation. Slightly spicy with Timut berry and sweet orange peel. Nice aromatic intensity, not too round for the style.

ATMOSPHERE° 14 - Summer Ale (Alc. 4.0% vol.)
Light and thirst-quenching wheat beer with Sicilian lemon juice and ginger.

ATMOSPHERE° 13 - Blonde Bressane Lager (Alc. 4.0% vol.)
Blonde beer, of low fermentation, brewed with gaude flour and Bresse pepper.


...and many others to discover and to come!


>> Gift boxes and customised products made to order according to the volumes required.

>> Visit and tasting on Fridays from 4pm to 7pm. The visit is on reservation according to the production schedule. By appointment during the week.

>> Evenings are also regularly offered.

>> Art exhibitions are also presented throughout the year.

Brasserie Atmosphère°
400 Route de Saint-Amour39160 BALANOD
French, English
Payment cards, Cheques and postal orders, Cash
Pets welcome
Amenities
Services
Shop
Click and Collect
Wireless service
Product type
Prices & Schedules
Opening :
From 01/01/23 to 31/12/23
Open on Friday from 4pm to 7pm.
By appointment during the week.
Tours of the brewery by appointment.
Brochures edited by Montagnes du Jura