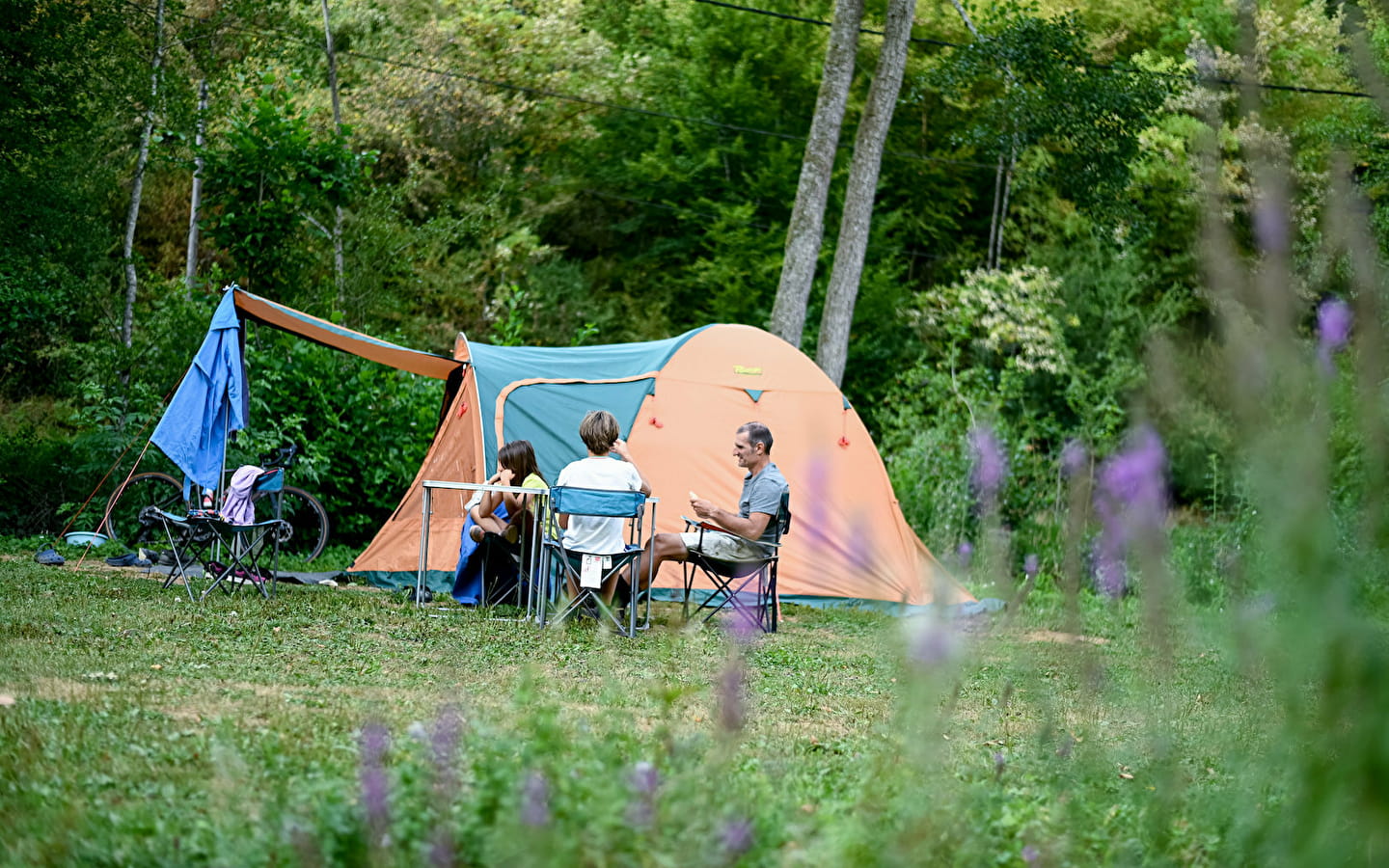 -
OUR FARM
The farm is built around an old mill, on one hectare of land with a stream running through it. Since 2016, we have been raising organic snails, which we prepare and sell on the farm or in farm shops. At the same time, we cultivate a large food garden for preparing snails, for table d'hôtes and for our own consumption. We also keep a few free-range chickens, ducks and rabbits. We also have a mare and a donkey that graze on around 3 hectares. All this is looked after by our two cats and our dog, who love to cuddle.

CAPACITY
Coline and Pierre welcome you for a peaceful stay at the farm. You can stay in the mini-gîte (sleeps 3), the bed and breakfast (sleeps up to 4), the unusual accommodation (sleeps 2) or pitch your tent on the campsite (sleeps up to 20). We have a large covered area of 150m2 with a kitchenette, sofas, banqueting tables, bar, etc.
Apart from the refreshment bar and table d'hôtes (evenings only), there are no additional costs on site. Everything is included in the price: use of bicycles, washing machine, games, parking, electricity, etc.

FOOD AND REFRESHMENTS
Every evening during the summer, we offer a table d'hôte dinner. The menu features vegetables from the garden and local produce, organic wherever possible. Prices range from €15 to €20, depending on the menu.
On Wednesdays, the meal focuses on snails (€25).
On certain evenings we also offer wood-fired pizzas, burgers and other themed menus.
Every Sunday we offer an evening concert accompanied by hot farm sandwiches cooked over a wood fire.
The refreshment bar is open every evening and offers local draught beer, wine and soft drinks.

ON-SITE ACTIVITIES
Several walks are possible, starting from the mill.
Bicycles are also available free of charge.
Several outdoor games are available (mölky, cube, Breton shuffleboard).
There's also everything you need on site to relax: hammock, deckchairs, river.
You can also take a self-guided tour around the snail parks.
It's a peaceful place to stay!

NEARBY ACTIVITIES
The proximity of the Pays des Lacs makes for refreshing swimming (30mn to 1h drive).
You can also visit the Pont des Vents mill, Gigny abbey and other churches and châteaux.
There are also a number of hiking and cycling routes within easy reach.
French, English
Credit card, Cheques and postal orders, Cash, Paypal, Bank transfers, Visa
Pets welcome
Amenities
Playground
Bar / Snack bar
Electricity connecting points
Barbecue area
kitchen
hot showers
Fountain / drinking water point
Children's games
Hot water sinks
Parking
Garbage cans
electrical supply in sanitary blocks
restaurant
Tables and benches
Selective sorting
Services
Reception of horses
Bar / refreshment bar
Washing machine
bike rental
Tent hire
Reservation of additional facilities
Activity
Bathing
unsupervised bathing
Fishing
hiking
cycling
mountain biking
Chains and Labels

Brochures edited by Montagnes du Jura