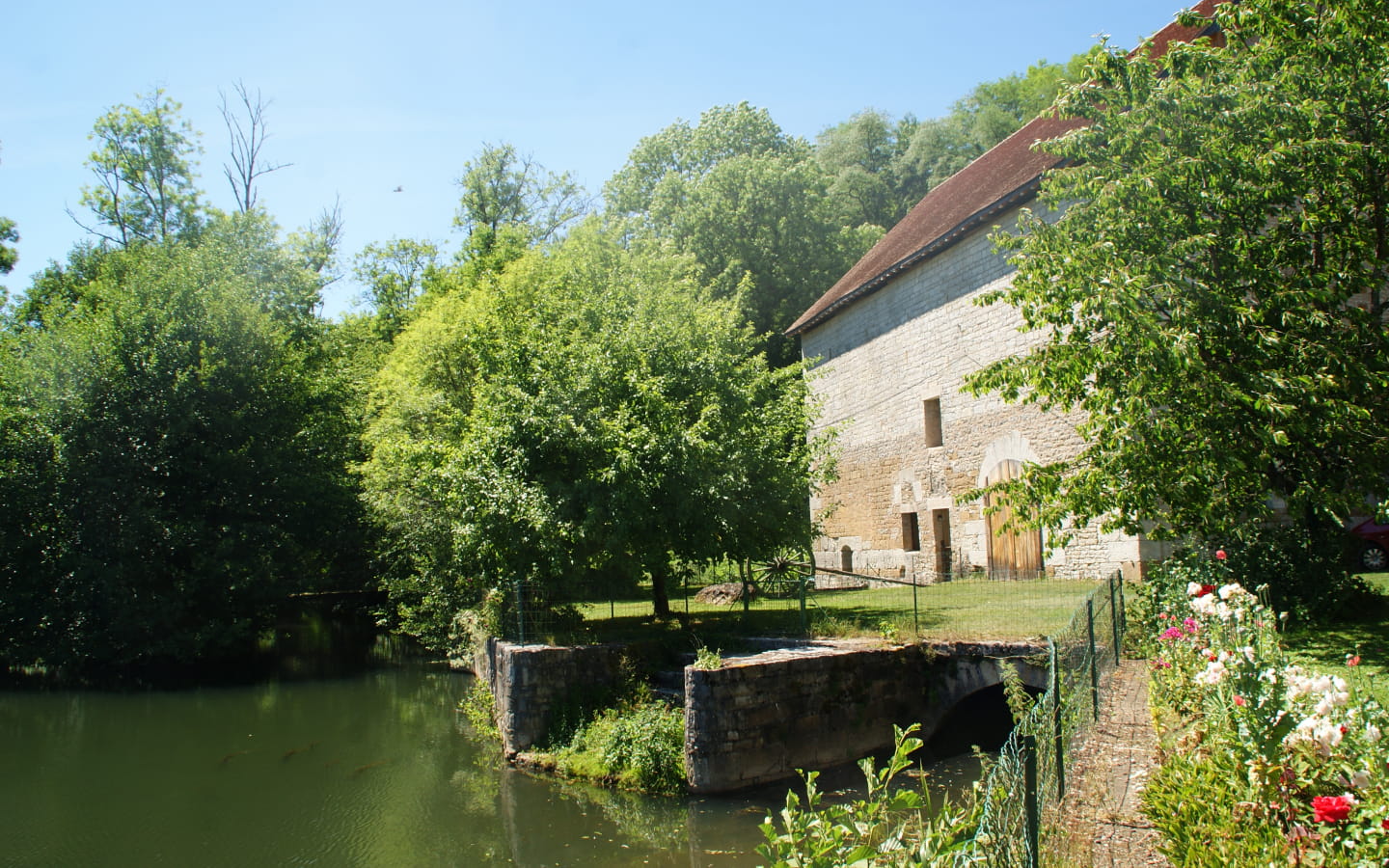 -
The blast-furnace is now listed by the Fine Arts Academy. Montagney's Forge shows the metallurgical activity of the Ognon Valley in the 18th and 19 th centuries. The site was specialized in the manufacture of cannon balls and wire. In 1840 84 persons worked there but The Forge closed ten years later.
Today still remain the building of the blast-furnace, the workers'house and you can discover an impressive collection of iron stoves.
Self-guided tour at any time thanks to the boards or guided visits on Thurdays at 4 pm from mid June to August, on reservation for groups and on Sunday of the European Heritage Days.
The furnace of Montagney is located on the right bank of the Ognon, between Rougemont and Montbozon. It started its activity at the end of the 17th century. The owners from families as Choiseul la Baume, la Baume Montrevel, Grammont, Mérode leased the enterprise to master craftsmen, among these members of the famous Gauthier family. Joseph Gauthier was called the 'Napoleon of the furnaces'. Clarisse Gauthier-Vigoureux et Clarisse Gauthier-Coignet, born in Montagney, were engaged early socialists and feminists.

The furnace used iron ores from the nearby villages and the mines of Battenans les Mines and Rougemontot. The main products were artillery bullets. Towards 1810 the marquis of Grammont rebuilt the ensemble. With a height of 2.8 meters the dam became the highest in the Ognon valley and the production reached 800 tons of cast iron in 1834. 1840, at the time of its climax, the furnace employed 84 workers. After its decline the buildings were used as mill and oil mill.

Classed Historical Monument the furnace is extraordinarly well preserved. Its architecture shows remarkable parallels with the famous engravings that illustrate the Encyclopedia of Diderot and d'Alembert.

A collection of cast iron stoves is presented in the worker's house. The 'path of the minerals' permits to discover the site. The ensemble represents an important testimonial for the metallurgy in the 18th and 19th centuries : techniques, production, professions, social aspects...
Amenities
Picnic area
Parking
Toilettes
Prices & Schedules
Prices :
Brochures edited by Montagnes du Jura