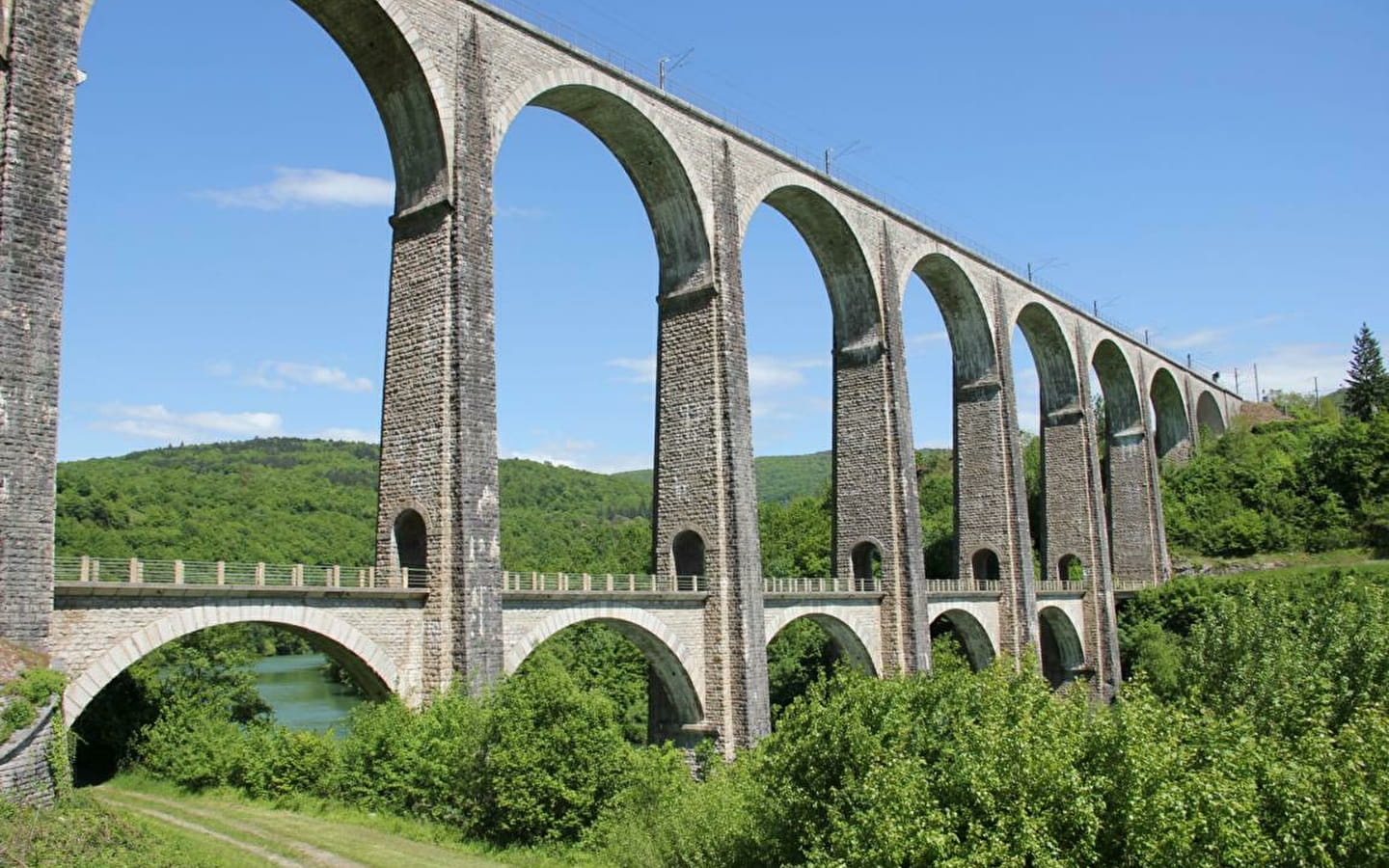 -
In 1865, the General Council of the Ain wanted to create a railway line between Bourg-en-Bresse and La Cluse. The commune of Cize was chosen to cross the Ain. Work began in 1870 and required extensive work on the foundations, which involved excavations at the bottom of the river. The materials used came from the immediate environment: gravel and sand from the river, stones from the neighbouring quarries of Bolozon, Grand-Corent and Corveissiat, and lime from Virieu-le-Grand and Le Teil.
Construction was completed in 1875, reaching a total length of 269 m and a height of 52 m. It is two storeys high and has seventeen semi-circular arches: eleven upper ones for rail traffic and six lower ones for road traffic.
On 6 July 1876, the Simandre-Cize section opened after the completion of the Racouze tunnel and the opening of the Cize-Blozon station. The bridge was opened to road traffic in 1905. The single-track Carpathian line was operated until 1884 by the Compagnie des Dombes et des chemins de fer du sud-ouest, then the PLM until 1938 when the newly created SNCF took over. Today it is the "Bourg-Genève" TGV that uses the viaduct to cross the river.
On 12 July 1944, French resistance fighters launched an action on the viaduct to cut off railway communications and thus slow down the Germans' advance. They placed explosive charges under one arch of the road and another of the railway. The explosions were only intended to cause minor damage to the viaduct but proved fatal, destroying it almost completely. The viaduct has no supports at its ends, so the deck is supported only by the pillars. In barely twenty minutes, the pillars of the mined vaults collapsed, destabilising the structure, which collapsed completely. The impressive quantity of rubble even altered the course of the river!
The new viaduct was rebuilt almost identically between 1947 and 1950. However, there were a few changes: the stone was largely replaced by concrete, which was reserved for the covering. The dimensions were slightly modified, particularly in the lower storey, to meet the demands of certain mayors who wanted to widen the arched openings of the road crossing.
Prices & Schedules
Opening :
From 01/01/23 to 31/12/23
Brochures edited by Montagnes du Jura