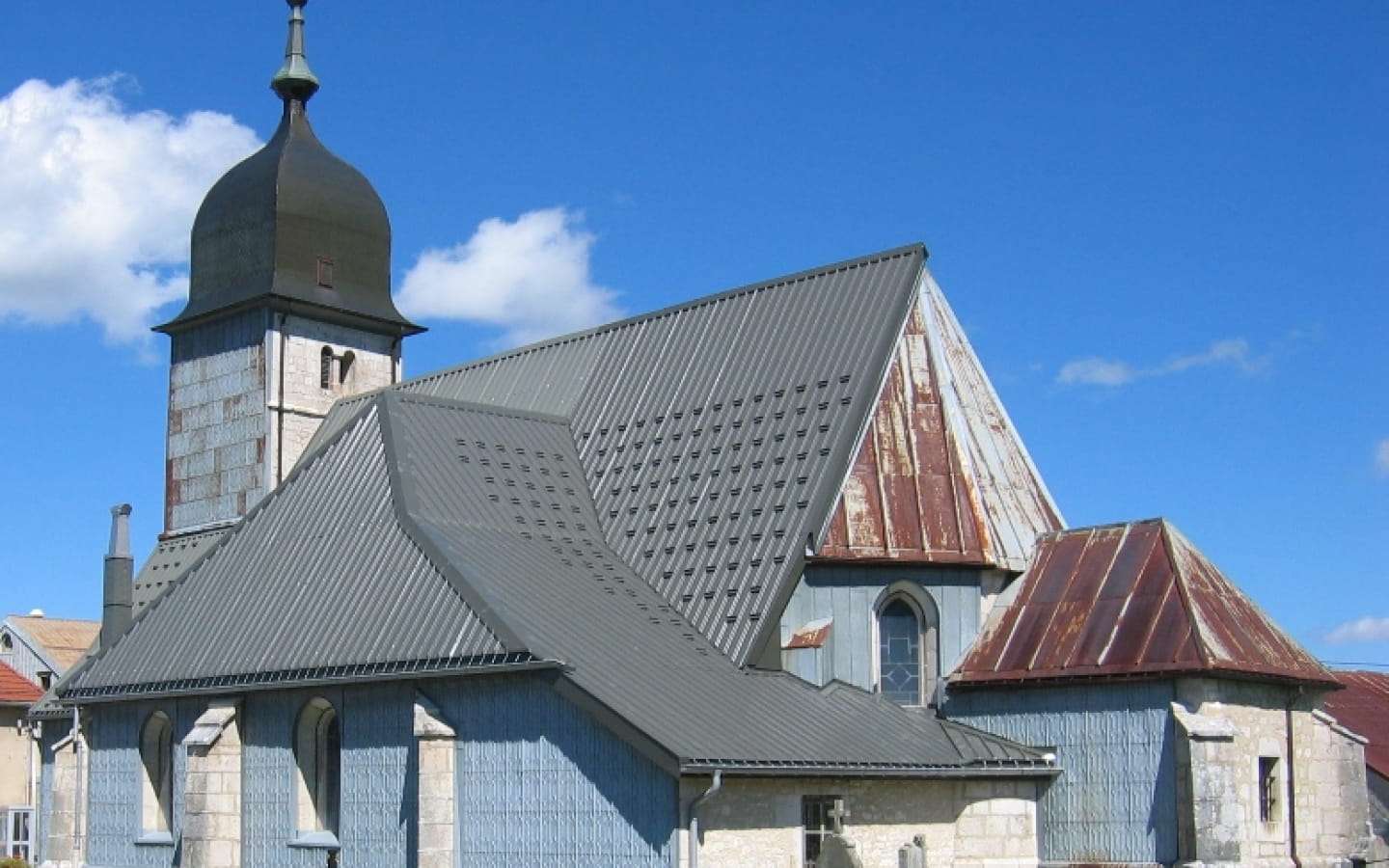 -
Chapelle-des-Bois
Saint-Jean-Baptiste Church

Until then, the inhabitants of the village of "Champion" (the first name of the place) were obliged to worship in Chatelblanc or Chaux-Neuve (villages more than 10 km away), or even in Mouthe for the big feasts. In 1632, they took a decision to have their own place of worship. There was no question of having a "parish church", simply a chapel dependent on the parish of Mouthe. Built "es Bos", that is to say "in the middle of the woods", it will give its definitive name to the commune: Chapelle-des-Bois.
Work began in 1633 but it was not finished until 1638 or 1639. Blessed in 1640, it was consecrated by the Archbishop of Besançon in 1665.
Its initial plan was very simple: just a rectangular nave that ended at the present choir and the bell tower serving as a porch. A massive plan but still brightened up by the ribbed vault. The parishioners attended the service standing up. The furniture was certainly limited, but we cannot be certain, as no document mentions it. Only a processional cross remains from this period.
A century later, the population having grown, the chapel had to be enlarged. The decision was taken in 1726. The work was completed with the choir in 1738. The dates are inscribed on the keystone of the choir and outside on the lintel of the chapel doors. Curiously, the two chapels were built in the Romanesque style, which contrasts with the pointed arches of the original church.
The three altarpieces were added between 1743 and 1754 to decorate the choir and chapels. They are the work of Ignace Claude Loye, carpenter in Remoray, who signed his work under God the Father.
They are remarkable if one remembers that in the 18th century, Chapelle-des-Bois was a remote and poor village.
Another remarkable element of the furniture is the finely sculpted pulpit, especially the four panels of the vat which represent the four evangelists.
In 1981, a complete restoration gave back to the church its baroque aspect. The simplicity of the present decoration should not make us forget that many pieces of furniture, accumulated over the centuries by the various pastors, deserve to be returned to the building because of their great artistic quality.

The church of Saint Jean-Baptiste is classified as a historical monument.
Free visits all year round.
Brochures edited by Montagnes du Jura