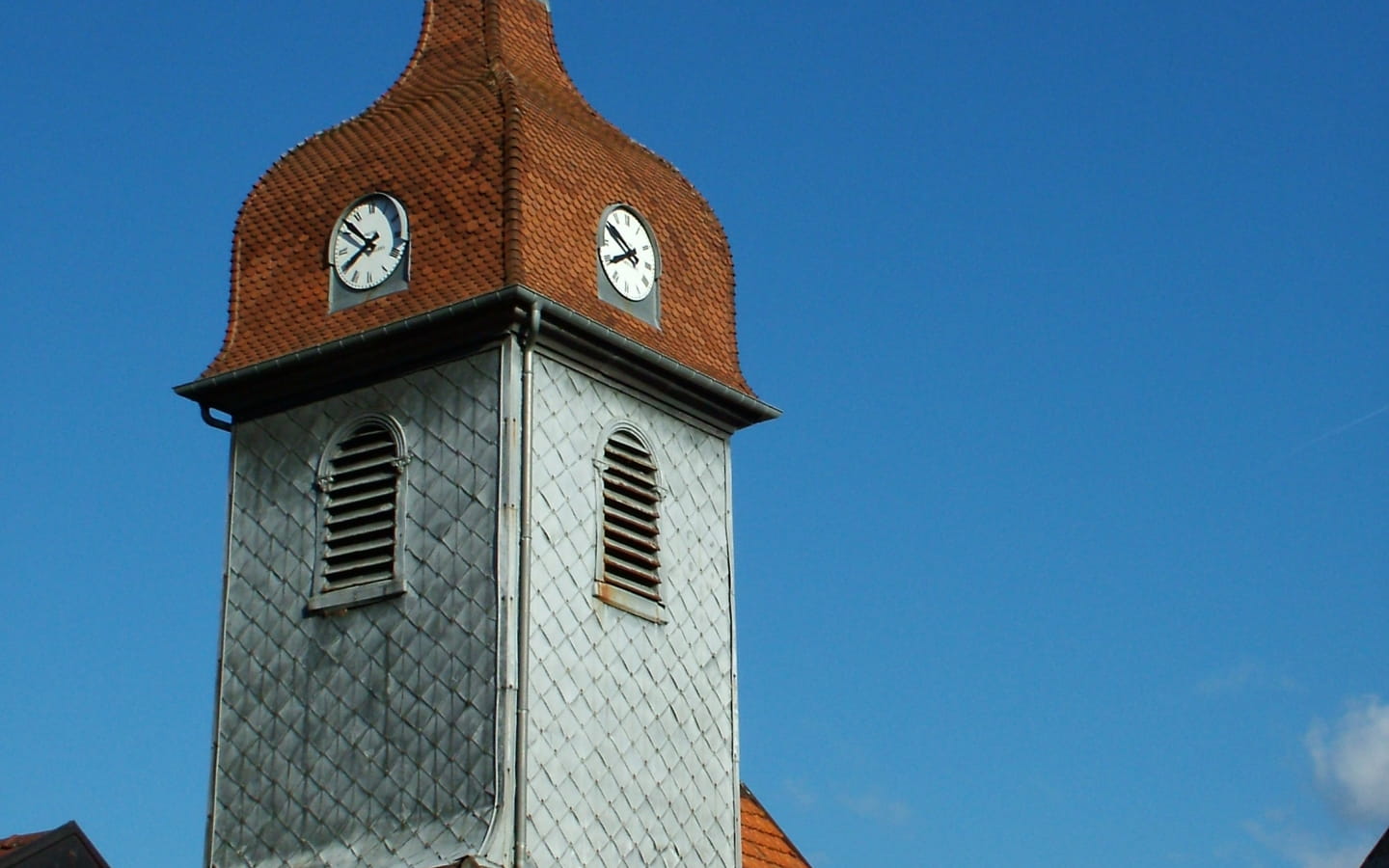 -
The first traces of the church date back to the 12th century, when the church, then a chapel, was a relay of the monastery of Romainmôtier. The present nave dates from this period. The church became a vicarage of Pontarlier in 1454. In 1480, the side chapels, still visible, were built. A fire destroyed the choir in 1504 and it was rebuilt between 1504 and 1508. In 1777, the church became a parish. In the 18th century, a sacristy was built and the Bisontin architect Pompée redesigned the façade in a neo-classical style. In 1930, the building was closed with glass windows by Albert Gerrer, a glass painter from Mulhouse. The church of Saint-Point has been listed as a historical monument since July 28, 2004.

The doorway is covered by an imperial roof.
The nave is the oldest part of the building (end of the 12th century).
The pointed barrel vault of its three bays rests on double arches supported by thick walls reinforced by buttresses and pierced with bays.
The choir was rebuilt at the beginning of the 16th century (1504-1508) after the fire of the original choir.
Figurative stained glass windows occupy the two large bays of the choir. They represent the flight into Egypt of the Holy Family on one side, Saint Point praying at the foot of the Cross on the other.
The two side chapels (dated 1480) which flank the second bay of the choir are also vaulted with ogives. In the right-hand side chapel, there is a 15th century washbasin.
The tombstones preserved in the church evoke the life of the dead, the path which, it is said, led from the abbey of Mont Sainte Marie to the priory of Saint-Point where those whom the abbey could not receive were buried.
The church of Saint-Point houses 2 bells, still rung by hand!
"Marie-Augustine", Diameter 96,5cm, Weight 525kg, Cast by Borle. A.Borel & Cie in Pontarlier, in 1825, sings the G3.
"Marie-Thérèse", Diameter 80,5cm, Weight 320kg, Cast by Paccard, in Annecy-Le-Vieux, in 1952, Sings the B3.

Church open all year round, 24 hours a day.
Église saint-point
6 Rue Camille Vionnet25160 SAINT-POINT-LAC
Prices & Schedules
Opening :
From 01/01/16 to 31/12/50
Brochures edited by Montagnes du Jura