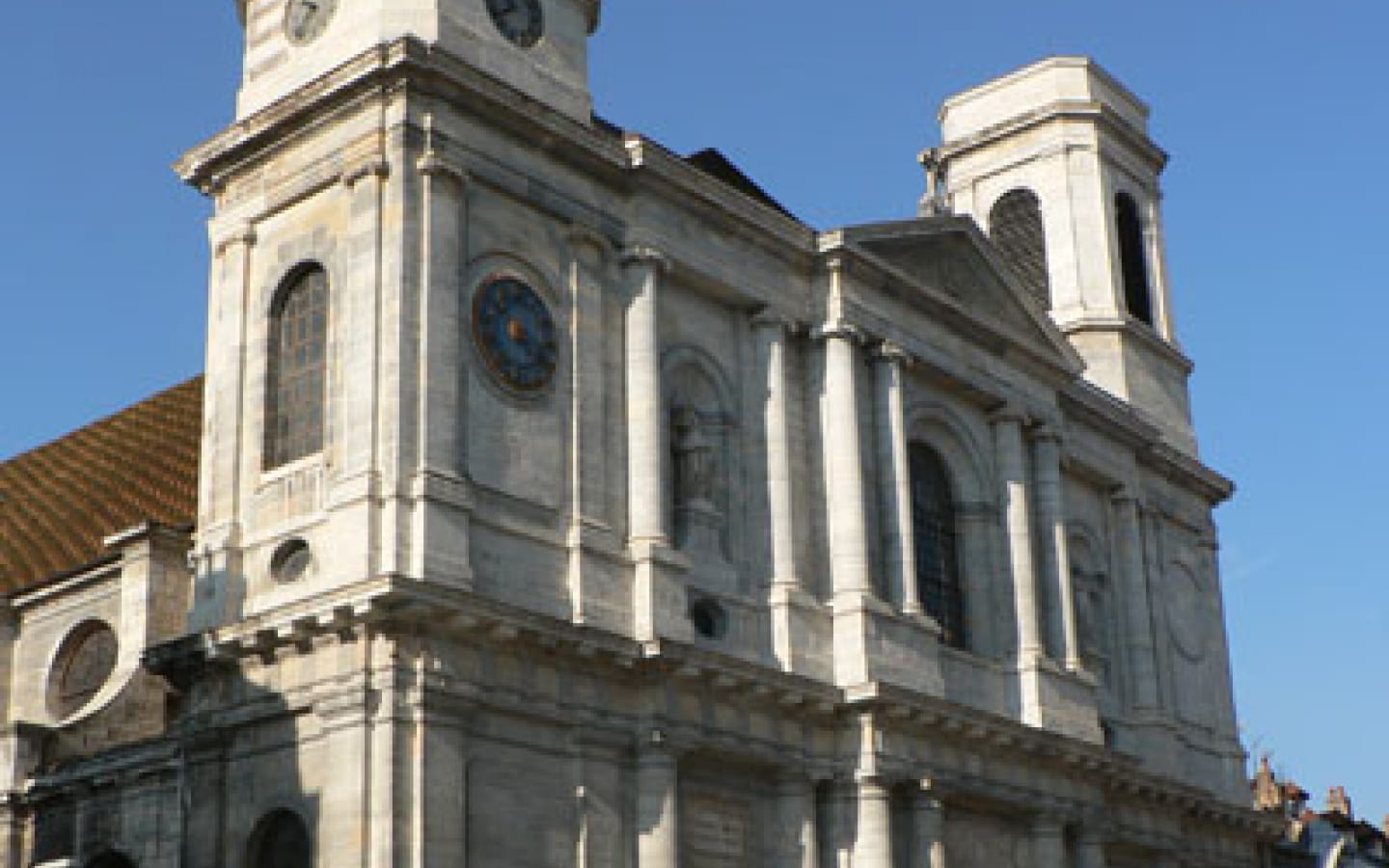 -
The masterpiece of the architect Nicolas Nicole, the works started in 1746 and lasted for the whole of the 18th century. The two towers were completed in 1830. The interior of the sanctuary is organized in three naves, punctuated by columns, coupled and placed on imposing stylobates. The architectural unity of the whole makes this church a model of 18th century religious architecture
The Collegiate Church has a museum space which, through the objects on display, bears witness to 5 centuries of history of the district specific to its advanced position, to the wine-growing tradition, to the social and religious activity of the most important parish of Besançon in the 20th century, and to the famous people who have left their mark on this district.
The Sainte-Madeleine Museum also has a remarkable collection of 19th century paramentiques
Thematic visits can be organised on the architecture of the church, the paramentique collection, the organ, the roof of the church..
The association "Patrimoine Sainte-Madeleine" ensures the preservation and maintenance of the heritage of the church of Sainte-Madeleine in Besançon and promotes this heritage through exhibitions, conferences and press articles.
In its museum, come and discover sumptuous fabrics from the 18th and 19th centuries, lovingly preserved in perfect condition for the greatest pleasure of the eyes: gold and silver threads, multicoloured brocades, velvet, silk, needlework, embroidery with pearls and straw...
You will be dazzled, amazed by this absolutely extraordinary work which required hours of making!

JACQUEMARD - 1400
The first Jacquemard, the carillon-playing automaton of the Sainte-Madeleine church, dates back to the 15th century. Certainly in the 16th century, a clock was replaced at the expense of the city. We read in the town archives that the sculptor Antoine Millet, from Fertans, was accepted as a citizen on the sole condition that he make a new wooden Jacquemard reinforced with lead for the church of Sainte-Madeleine. It is certainly the 4th Jacquemard. The recent restorations brought it down from its perch (hence the expression: "to make jacquemard piss"). In 1828-1865-1892-1926 and 1977 it was taken down from its perch. It was last taken down for repair in 1997, when it was exhibited at the Comtoise fair.
Prices & Schedules
Opening :
From 01/09/22 to 09/01/23 of 09:00 to 16:00
Prices :
Brochures edited by Montagnes du Jura