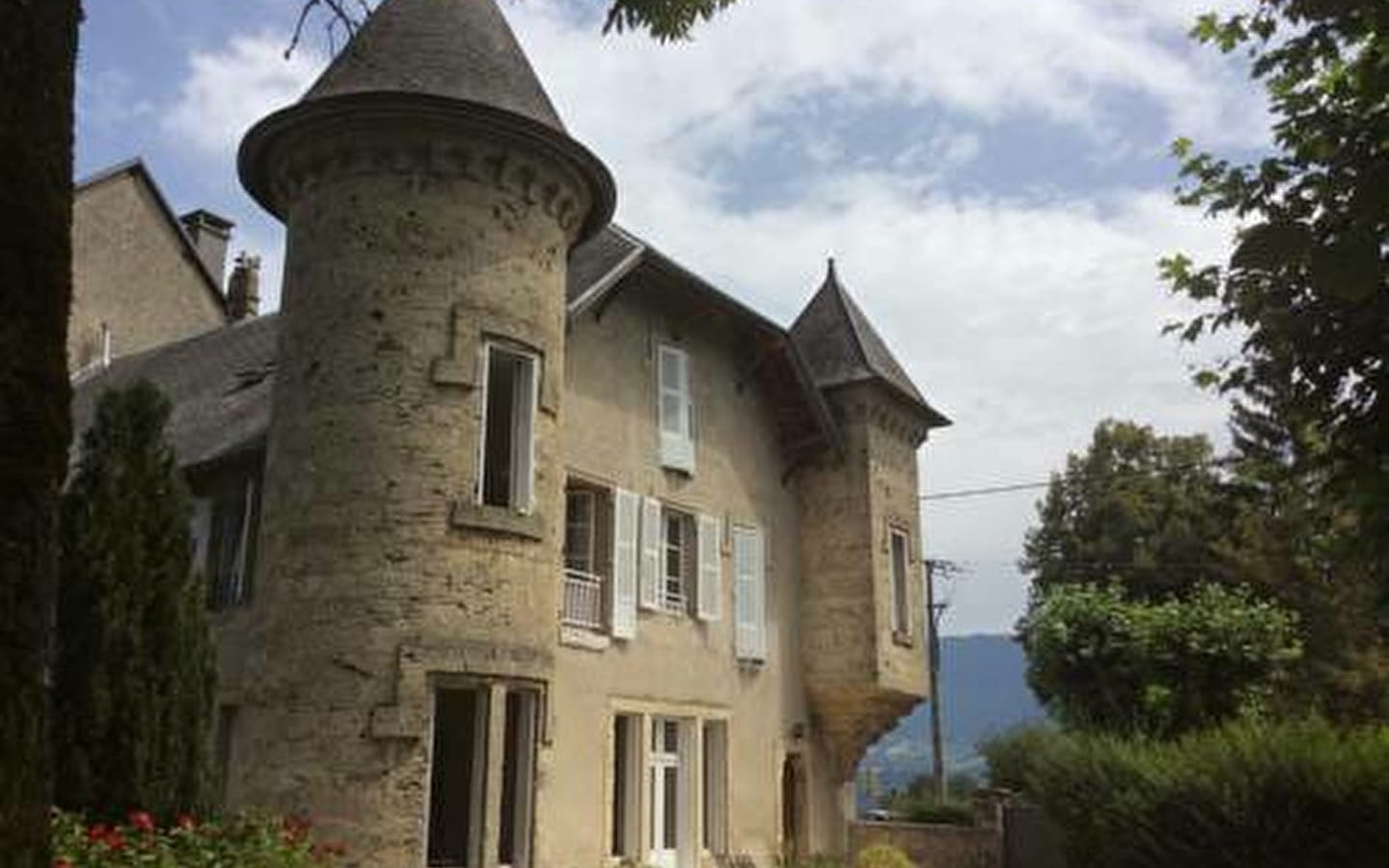 -
In the village and its hamlets, several houses or barns in typical regional style: sloping roofs, barn doors, wooden balcony, stone construction

The church of Brénaz :
> It was consecrated on November 6, 1605 by Saint-François-de-Sales (stained glass window in the apse to the north). The church is dedicated to Saint Martin.
> In the choir, the main altar of curved form surmounted by a gilded and polychrome wooden altarpiece and a statue of the Virgin and Child from the 17th century which comes from the Carthusian monastery of Arvières. You can also admire the wooden stalls on each side of the choir.
> In the sacristy, a very beautiful tabernacle door dated 1607
> As you enter the church on the left, you will see a beautiful baptismal font with a bell-shaped cover.
Admire also the font (dated 1649) placed on a column and sealed under the porch bell tower
> Porch bell tower built in 1854 before the nave. Two stone staircases lead to the gallery above the porch. The bell tower is topped by an imperial dome roof, typical architecture of the region.


The village of Brénaz is also home to
The Col de la Biche, in the Grand Colombier range, which rises to an altitude of 1310 metres.

The Banc des Dames, which is a block of stone placed under a limestone vault on the edge of a ravine, in a quiet and wild place that was once part of an old manor where the ladies of the local bourgeoisie liked to rest.

Place called "la cuillère" on the road between Poisieu and Brénaz. Under the bridge on the right, the stream "La Brise" or the "Bèse" passes through a gorge shaped like a spoon with a handle, hence the name.

In the hamlet of Larnin, you will be able to admire a very beautiful house with a very nice "dreffia" with a wrought iron balcony (the dreffia is a Bugist term which characterizes the wood reserve located under the eaves of the Bugist houses.

As you gain altitude :
Corniche du Valromey, a very nice little mountain road that links the Col de Richemond (1060m) to the Col de la Biche

Col de la Biche (1325m). This pass, which is closed in winter, links the Valromey to Anglefort. A very beautiful plateau with very interesting flora in spring (daffodils and narcissus), a paradise for cyclists.
Patrimoine du village d'Arvière-en-Valromey : Brénaz
Brénaz01260 ARVIERE-EN-VALROMEY
Prices & Schedules
Opening :
Brochures edited by Montagnes du Jura