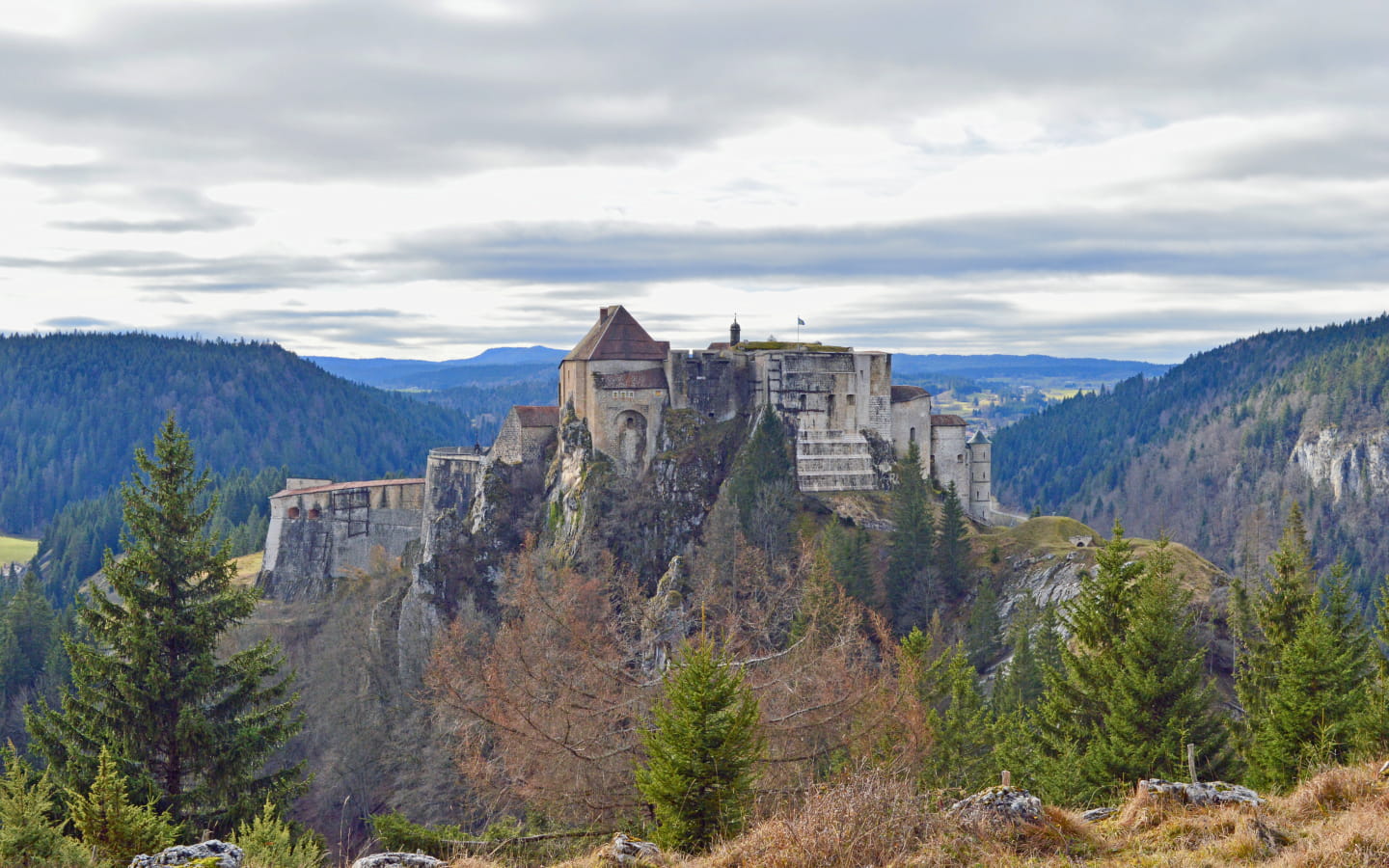 -
A veritable synthesis of 1,000 years of the history of fortification architecture, the Château de Joux experienced many of the major European conflicts: passage of Charles the Bold in 1476, occupation during the Thirty Years' War in 1639, the signing of the surrender during the French conquest of Franche-Comté in 1674...

From the 18th century onwards, the Château de Joux discovered a new vocation, that of state prison, alongside the Bastille and the Château d'If. A great many inmates were to discover the rigours of prison life within the walls of Joux and among them was the Comte de Mirabeau who, several years after his escape, was to play his part in the French Revolution as one of the authors of the Declaration of the Rights of Man and of the Citizen. The Château is also a major stage on the Abolitions Trail linking 4 sites which are symbols of the fight against slavery (Maison de la Négritude in Champagney (Haute-Saône), the birthplace of Abbé Grégoire in Emberménil (Meurthe et Moselle), the Victor Schoelcher Museum in Fessenheim (Haut-Rhin) and the Château de Joux (Doubs).
Château de Joux
N°PCUBFC0320007139
Route du Château25300 LA CLUSE-ET-MIJOUX
Payment cards, Cheques and postal orders, Holiday vouchers, Cash
Animaux bienvenus
Équipements
Picnic area
Parking
Toilettes
Services
Activités
Specific theme activities
Adult workshop
Junior workshop
Temporary exhibitions
Chains and Labels

Prices & Schedules
Prices :
Base rate - full rate adult :

8€

Student's rate :

7€

Other rate :

7€

Group rate :

7€

Rate for unemployed persons :

7€

Children's group rate :

4€

Child rate :

4.5€
Special opening conditions :
The Château de Joux opens its doors again in a regulated sanitary protocol. The staff will be equipped with protective equipment in order to offer you quality services in optimal measures of reception. Open from 7 May to 29 August 2021. From 7 May to 2 July: guided tour only From July 3rd to August 29th: Open to the public from 10am to 12:30pm and from 1:30pm to 6pm. Last entry at 11:45 and 17:15 and guided tours. Availability of a game booklet from 6 years old Guided tours: 3 guided tours per day: 10:30am, 2:30pm and 4:15pm Wearing a mask is compulsory from 11 years old in the castle.
Brochures edited by Montagnes du Jura