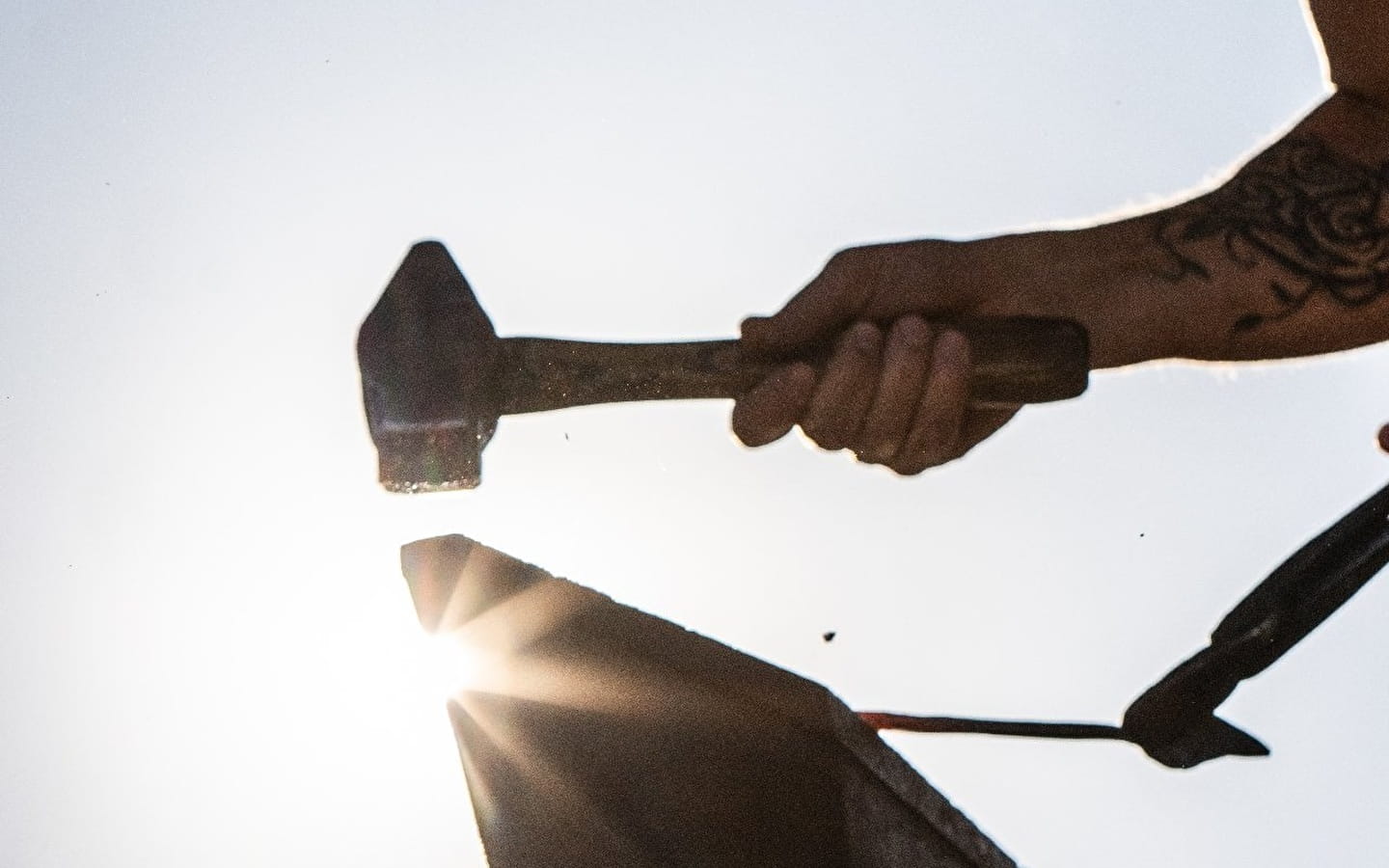 -
L'Atelier de l'Arbre-Lune is a small craft company in the Jura. Frédéric creates durable and repairable objects for everyday life (tools, household accessories, knives, etc.) made of forged steel and wood.

He combines forging techniques with hot steel and woodworking. The creation of his objects is done with recycled materials while proposing healthy objects with the least environmental footprint.

The manufacturing processes thus make the most of recycled steel and local wood. Energy consumption is limited at each stage of the manufacturing and sales process. The aim is to offer sustainable alternatives to mass-market products and to promote local manufacturing and consumption.

Frédéric offers :
- training courses (from half a day to two days) in order to discover and practice the fundamental principles of forging through the creation of an object for your use (decorative hooks, supports, knives...).
- occasional visits to the forge and demonstrations of the work, discussions on the trade and the place of these activities as a response to the needs of the local area.

Proposals for services :

> Visit of the workshop
A visit to the workshop, with a presentation of the activity and its purpose.
From Monday to Saturday by reservation.
Free of charge

> Half-day discovery workshop
Make one or more hooks for the house, pegs for your clothes or a kitchen utensil (bottle opener...).
Monday to Sunday. On reservation.
Price: 100€.

> One-day discovery course
Make a first forged knife, with a "full" handle, but other projects are possible with the first jewels, belt buckles, or larger hooks.
Monday to Sunday. By reservation.
Price: 200€.

> Two day discovery course
In two days, you will be able to make a complete knife with a wooden handle or a first garden tool. This formula can be used for any other project corresponding to your desires or needs.
Monday to Sunday. On reservation.
Price: 350€.

Points of sale :
- La vitrine, art and craft shop, 6 rue Emile Monot in Lons-le-Saunier
- Atelier Tilleli, 88 grande rue in Cousance
- Boutique Ephémère des artisans de la Petite Montagne in Orgelet
- on local markets: Saint-Amour fair for example.

French, English
Cheques and postal orders, Cash
Pets welcome
Amenities
Activity
Specific theme activities
Adult workshop
Junior workshop
Craft type
other arts & crafts
wrought-iron artwork
Prices & Schedules
Opening :
From 9am to 7pm every day, by reservation only, by telephone.
From 9am to 7pm every day, by reservation only, by telephone.
Prices :
Free (A visit to the workshop. Monday to Saturday by reservation. )
Other rate (Half-day discovery course. Monday to Sunday. On reservation. ) :

100€

Other rate (One-day discovery course. Monday to Sunday. On reservation.) :

200€

Other rate (Two-day discovery course. Monday to Sunday. On reservation.) :

350€
Brochures edited by Montagnes du Jura