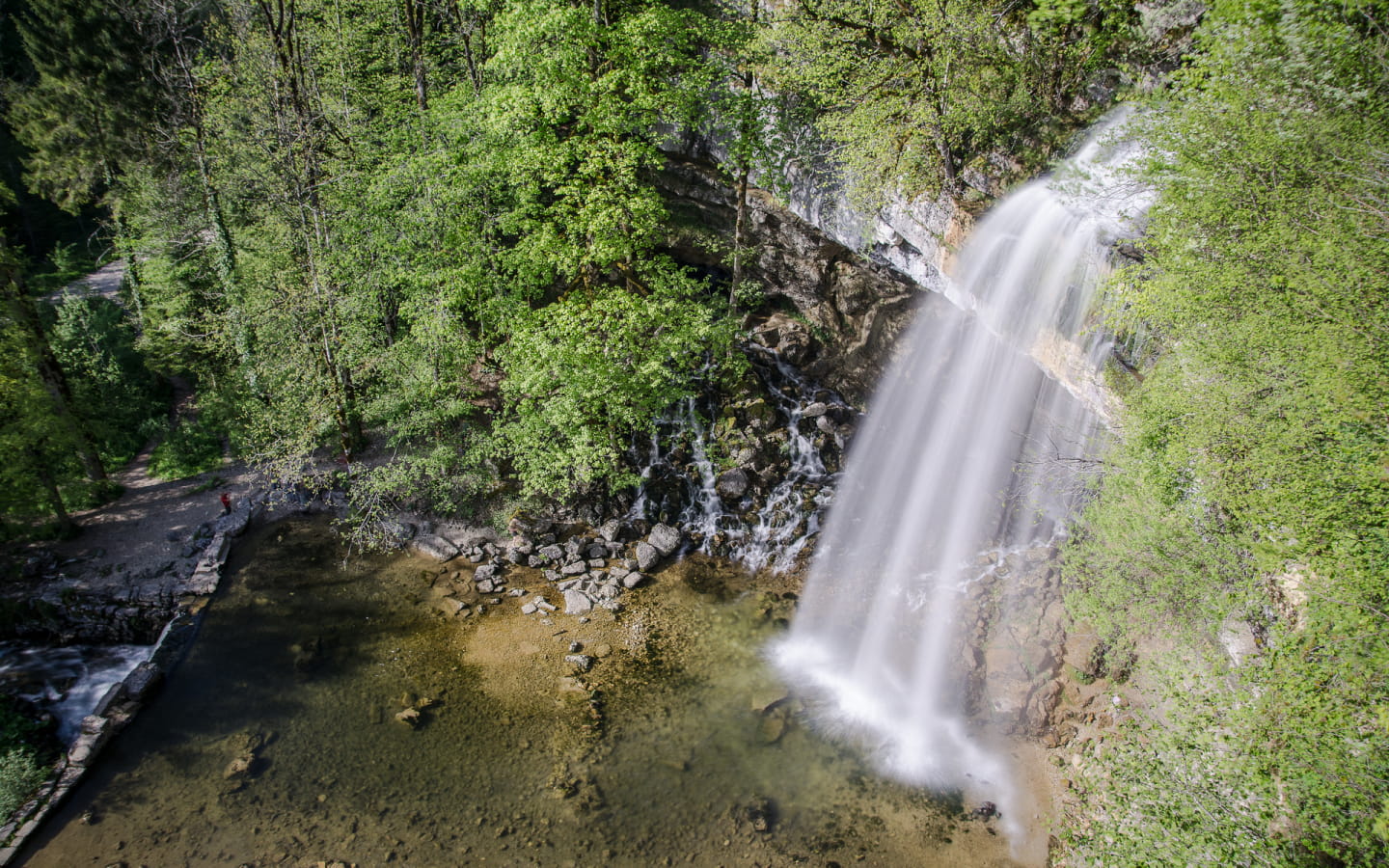 -
From top to bottom, from La Chaux-du-Dombief to Ménétrux en Joux, the river "Le Hérisson" flows more or less peacefully:

Saut Girard is the first waterfall of the Hérisson, the first of a series of 7 waterfalls and 31 jumps starting from Ilay.

With a height of 35 m, it takes its name from a monk Girard who, faced with the dissolute life of his companions, put an end to his life by throwing himself off the top of the waterfall. Also called Saut de la Forge because the site, from the Middle Ages to 1911, produced energy for a nail factory.

As for the Hérisson river, it is supplied by the lakes of Ilay and Bonlieu and owes its name to its origin "Yrisson" which means sacred water.

Access to this waterfall from the hamlet of La Fromagerie or Ilay by foot, on an easy path, in 5 minutes.

Would you like to see the Hérisson waterfalls without walking too long? Don't hesitate to discover the site in two stages:

Leave from the Saut Girard car park (Ilay), go down to see the Saut Girard waterfall, walk along the Hérisson to the Moulin Jeunet waterfall and return to the car park via the Fromagerie hamlet (where you will find the Comptoir des Cascades, the Boissellerie du Hérisson, the Espace Botanique du Frasnois)
Take the departmental road 39 to the Maison des Cascades and reach the bottom of the Eventail waterfall (65m high, the most impressive) in 5 minutes.

There is a platform overlooking the waterfall on the Ilay/Bonlieu road: to access it, take one of the 2 paths to the left or right of the waterfall to get back to this road.
Brochures edited by Montagnes du Jura