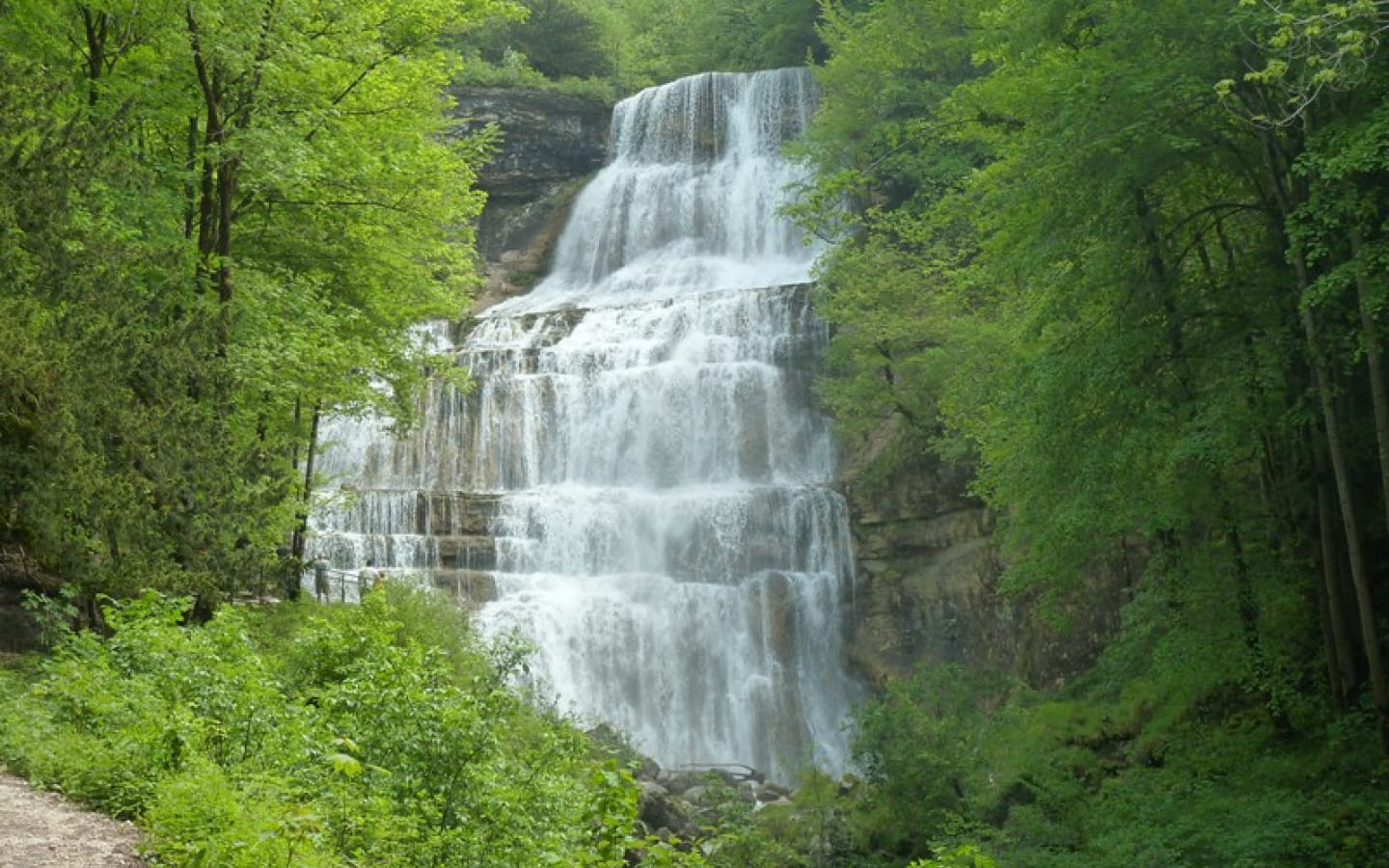 -
Discover the Hérisson waterfalls on a 3-hour hike (7.4 km round trip with 200 m difference in altitude).

All along the trail, caves and remains of dwellings or workshops using hydraulic power are still visible.
The trail is only accessible to pedestrians.

From the top of the Hérisson waterfalls:

in Ilay, village of Chaux-du-dombief
in La Fromagerie, village of Le Frasnois.

You will start by discovering the first waterfall: the Saut Girard, 35 metres high. After passing the guest house/snack bar "Le Moulin des Fées" where you will find public toilets, you will walk along the Hérisson to go down its course to the two most impressive waterfalls: the Grand Saut (60m) and the Éventail waterfall (65m=).

Extend and complete your day with a visit to the Maison des Cascades, a museographic space that allows you to understand the site, to learn about the geology of the Jura and to leave with wonderful memories!

From the bottom of the Hérisson waterfalls :

Appointment at the Maison des cascades at Val dessus, 39130 Ménétrux-en-Joux.

You will be at 5 minutes walk from the biggest waterfall: the waterfall of the Eventail. Easily accessible, it will be a good place for little walkers or hurried visitors. You can then access the top of the waterfall to continue your journey to the Grand Saut and so on. The arrival point at the top of the waterfalls is the Saut Girard, 35 metres high.

Recommendations:
Be well equipped.
Dogs on leash are allowed.
Do not leave the marked trails.
Brochures edited by Montagnes du Jura