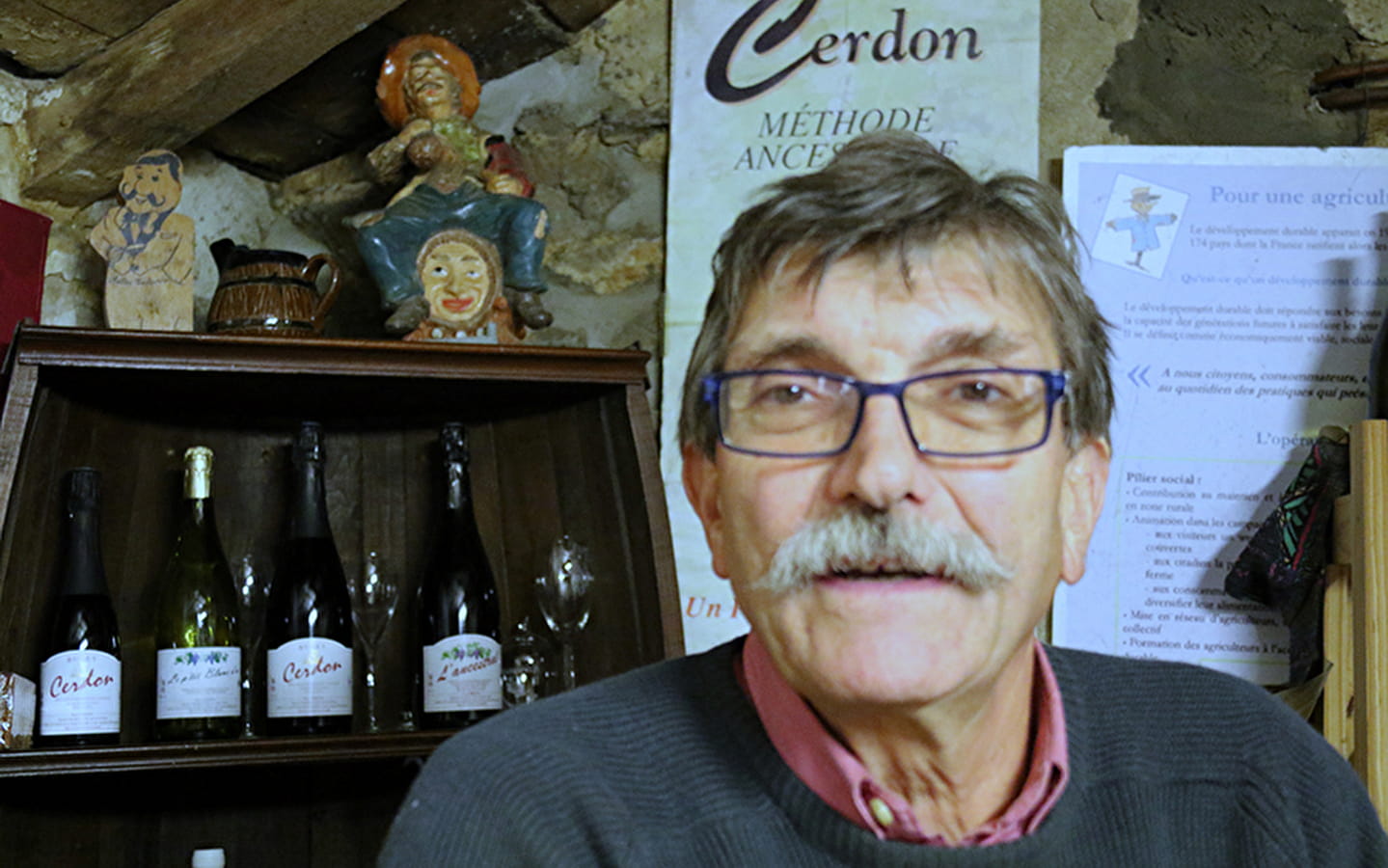 -
He did not name his domain, but everyone calls him Brendel, his own name. René, 73 years old, fell into the wine business late in life, but with passion. He can talk about Cerdon and Bugey for hours, preferably sharing it in his cellar, rue de l'Église in Journans. And the tasting, as much as these sparkling stories, is worth the detour.

This former leisure center manager first tried his hand at the vineyard as an amateur, helping out Jo and Gilles Ballet, winegrowers in Journans. Then, from vine stock to vine stock, renting a few pieces of land, buying the rest, he launched himself in 1988, gave up animation to become a winegrower.

"I started producing sparkling wine in a 200-liter tank, ancestral method and since then, in good years, I turn around 15,000 bottles." René has 23 parcels, in 4 different communes, "which is a little less than 3 hectares. The most complicated thing is to find land. Winegrowers have to compete with building land, which is more profitable for a commune than grapes, because of the housing tax. And then you have to obtain the right to plant once you've found the spot.

But there is no need to complain, the producers of cerdon have a loyal clientele: "It is practically sold in advance, it is difficult to satisfy the demand.

The reason for such success?

Beautiful, rosy, festive, the cerdon is sweet, sparkling with an ancestral method of wine making as a bonus for the purists. In short, it satisfies all palates, ours in any case. However, for the last two years, the climate and the badgers have taken their toll. "It's simple, I've reduced production by half. But René remains zen, a tour in his vineyards is enough to give him back his smile, hidden behind his moustache.

A know-how acquired on the job and late in life

"I learned from the elders, they taught me that the most natural practice possible, gives beautiful vines, but it is especially to be well in his environment. Gilles Ballet showed me how to prune and Father Magdeleine, from Gravelles, taught me how to make wine. In the end, René Brendel's epic is above all a philosophy of life.

The vineyard preserves," he jokes, "it's physical and we are in constant contact with nature.

René Brendel does not have the official "organic" label, but since his beginnings in the furrows, he has the practices: "I have a lot of old vines where I can not be mechanized. I only use organic treatments, and in limited quantities, no weed killers. The fact that I took care of kids for years, that I made them aware of nature and health, that marked me I think ".

His future?

Soon, he could see himself as a tutor for young winegrowers, in order to hand over the reins smoothly, since his children are not at all in the vineyard business. "My concern is the transmission of what I have tried to build here. With three or four colleagues, we all started from scratch, and as we get older, we think about the future. We want to create a company with two young people. Two because then they could take turns a little, because the job is so thankless, despite the quality of life that there is around. This way, they would have free time and little by little, I could pass on my land and my know-how to them.

Alcohol abuse is dangerous, consume with moderation.
French
Cheques and postal orders, Cash
Prices & Schedules
Opening :
From 01/01/23 to 31/12/23
Brochures edited by Montagnes du Jura