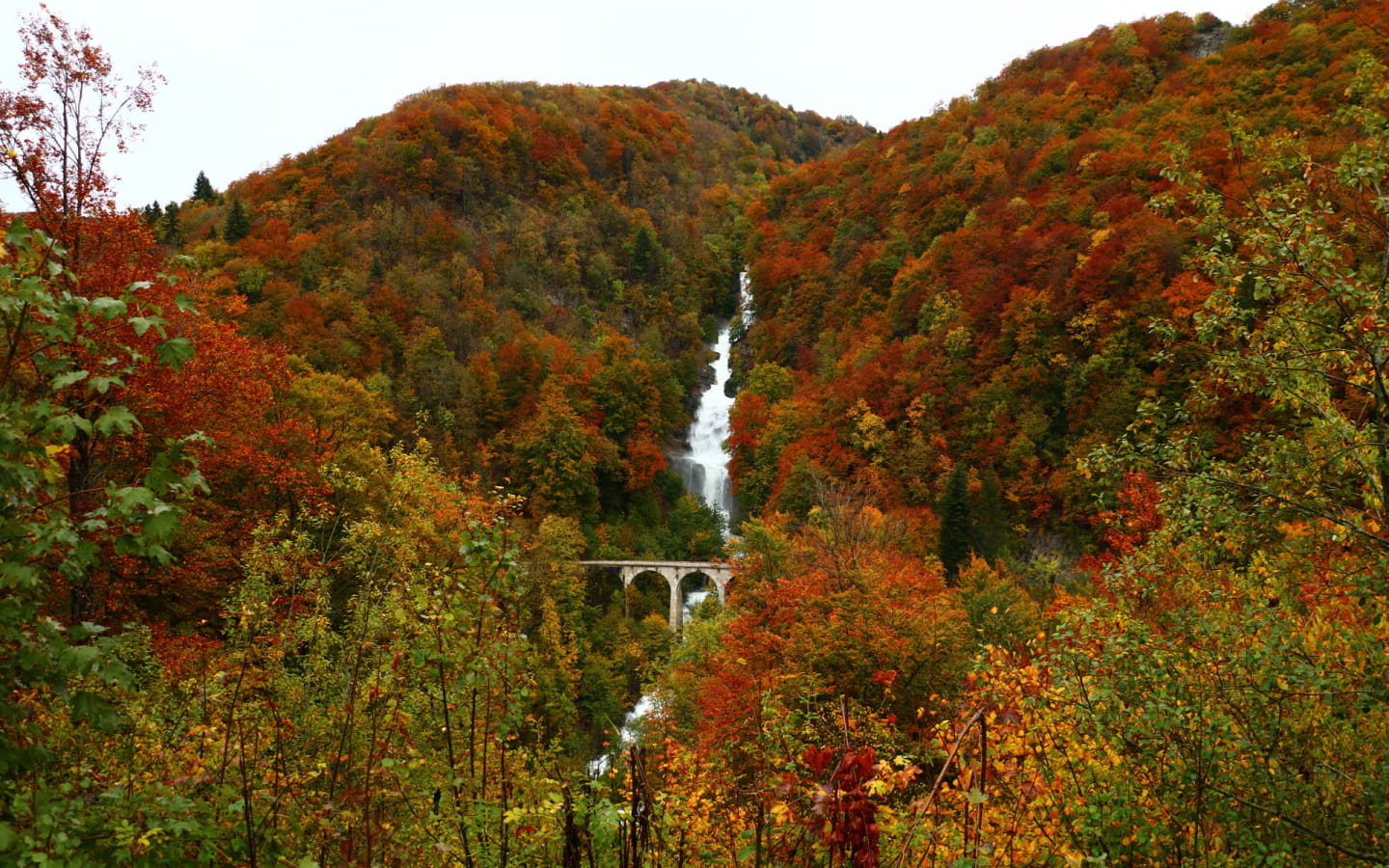 -
The Bief de la Ruine waterfall is located in the heart of the spectacular Malvaux gorges. These gorges, tirelessly carved out by the river Saine over the centuries, are an ideal place for canyoning and offer visitors a unique panorama.

One of the most surprising characteristics of this waterfall is that it only comes to life after heavy rainfall or when the snow melts. When the site is dry, it gives way to the spectacle of sculpted stone and reveals the "Creux des Joyaux", a natural cavity where the water swirls more or less violently, and polishes, thanks to the force of its current, a multitude of limestone pebbles.

The Bief de la Ruine waterfall is made up of 13 successive jumps in "tiers" and is 350 m long with a height difference of 110 m, making it the largest waterfall in the department. Within its rocky amphitheatre, the stream then meanders under the viaduct of the old Tram line before joining the waters of the Saine.
This bridge, on which the Tram linking Champagnole to Foncine-le-Bas ran until 1950, now allows visitors to enjoy a privileged view of the waterfall and the gorges.

This site, which is original to say the least, bears witness to a perfectly harmonious encounter between a prodigy of nature and the work of man. On site, it is possible to appreciate the splendour of the site by taking the path along the old tramway. During the hike you will have to pass through a 180-metre long tunnel in the mountain - a crossing for which you should bring a torch.
Hike no. 16 of the Champagnole Nozeroy Jura hiking guide.
Gorges de Malvaux - Bief de la Ruine
Parking de la Tramjurassienne39520 FONCINE-LE-BAS
Brochures edited by Montagnes du Jura