Iced absinthe soufflé is a light, fresh, bittersweet dessert. In the 20th century when absinthe was banned, this soufflé was nevetheless served at an official function attended by François Mitterrand. In fact you may know this dessert by the name of Mitterrand Soufflé.
The alcohol content means this is not a dessert for children, but you can always keep them happy with our alcohol-free pastries from the Jura Mountains.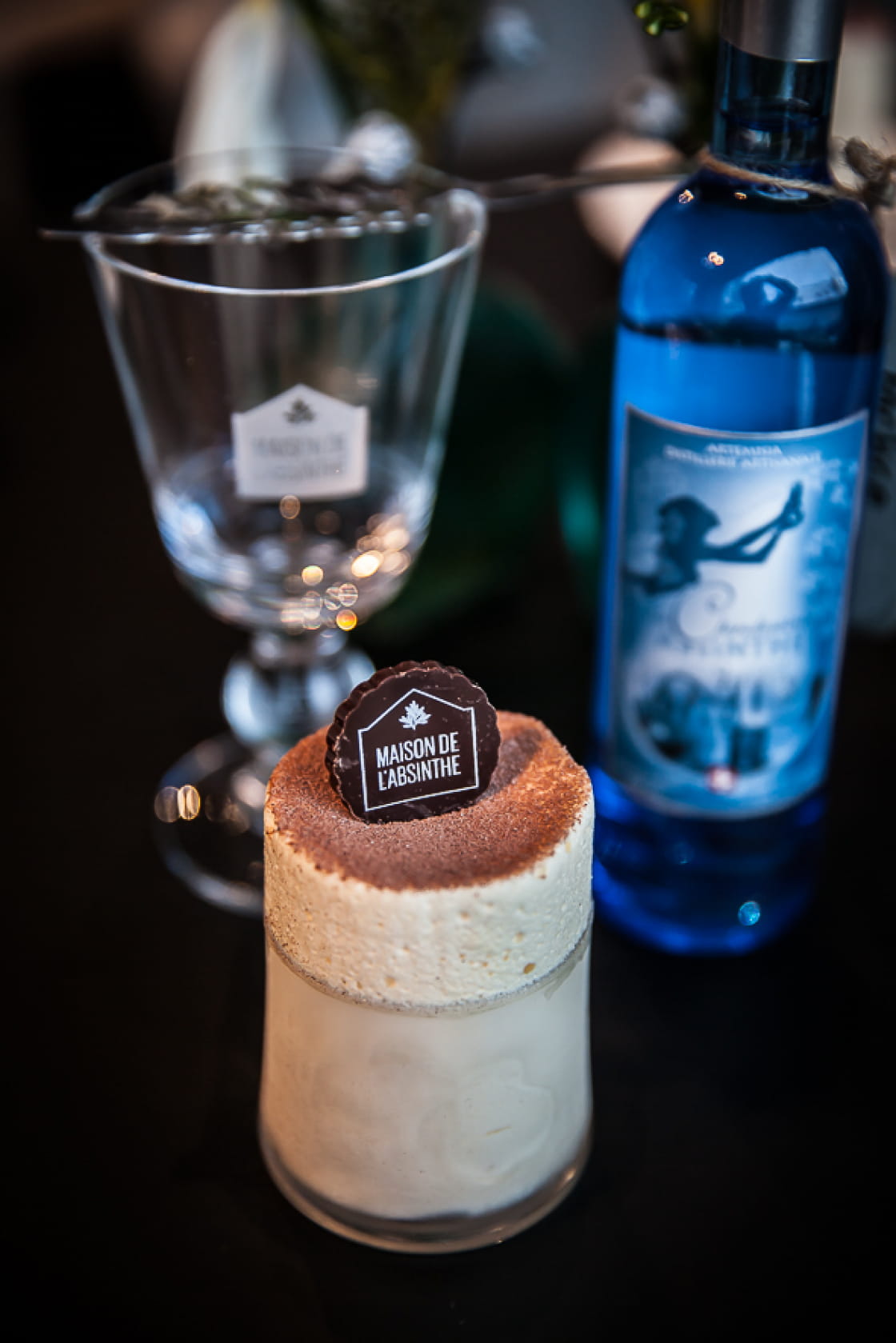 What you will need,
Ingredients
150g of sugar
3 eggs
25cl of whipping cream
10cl of absinthe
1 sachet of vanilla sugar
Over to you,
Method
Prepare some small soufflé dishes by lining the outside with greaseproof paper. Allow the paper to protrude 2cm above the top of each dish and secure with a rubber band or sticky tape.
Whip the cream into a chantilly, adding the vanilla sugar towards the end. Refrigerate.
In a bain-marie, whisk the eggs and sugar into a syllabub (frothy cream). Once cooked, i.e. when the mixture is firm enough for the whisk to leave imprints in it, pour in the absinthe.
Fold a spoonful of chantilly into the syllabub to cool it down, then gently pour in the remainder.
Use the mixture to fill the soufflé dishes to just below the top edge of the greaseproof paper.
Freeze for a minimum of 1 hour, or overnight if possible.
Remove from the freezer 5 minutes before serving, not forgetting to remove the paper. For a visual effect, sprinkle with cocoa powder.
To be enjoyed with a little absinthe 😉
Buy local
Find the right Green Fairy for you:
About absinthe
The powers of this elixir
Oozing with symbolism, the "Green Fairy" is behind many a fantasy and has sparked people's imaginations ever since it first appeared in the late 18th century.
You probably know it as the "drink that makes you lose you mind". But in fact absinthe has a nickname that highlights its mystical nature and the elegant complexity of its aromas: "The Green Fairy".
Generally speaking, this name conjures whole worlds of magic, spells, femininity, danger and seduction, to name but a few, which just goes to show the impact this beverage has had on the lives of the many people who have fallen under its influence. And it's this notion of influence that is best illustrated by the "Green Fairy" metaphor.
And you, have you ever been under the influence of this drink?
In another form,
Quench your thirst with these different absinthe cocktails!
She's incredible, this Green Fairy! She's present not only in desserts and other dishes, but in cocktails too.
Try them and impress your friends with this local product.
To vary the pleasures,
Discover other local desserts
Why not finish your meal with a traditional touch of regional inspiration?
Here are a few desserts and pastries to make for you and your friends and family: