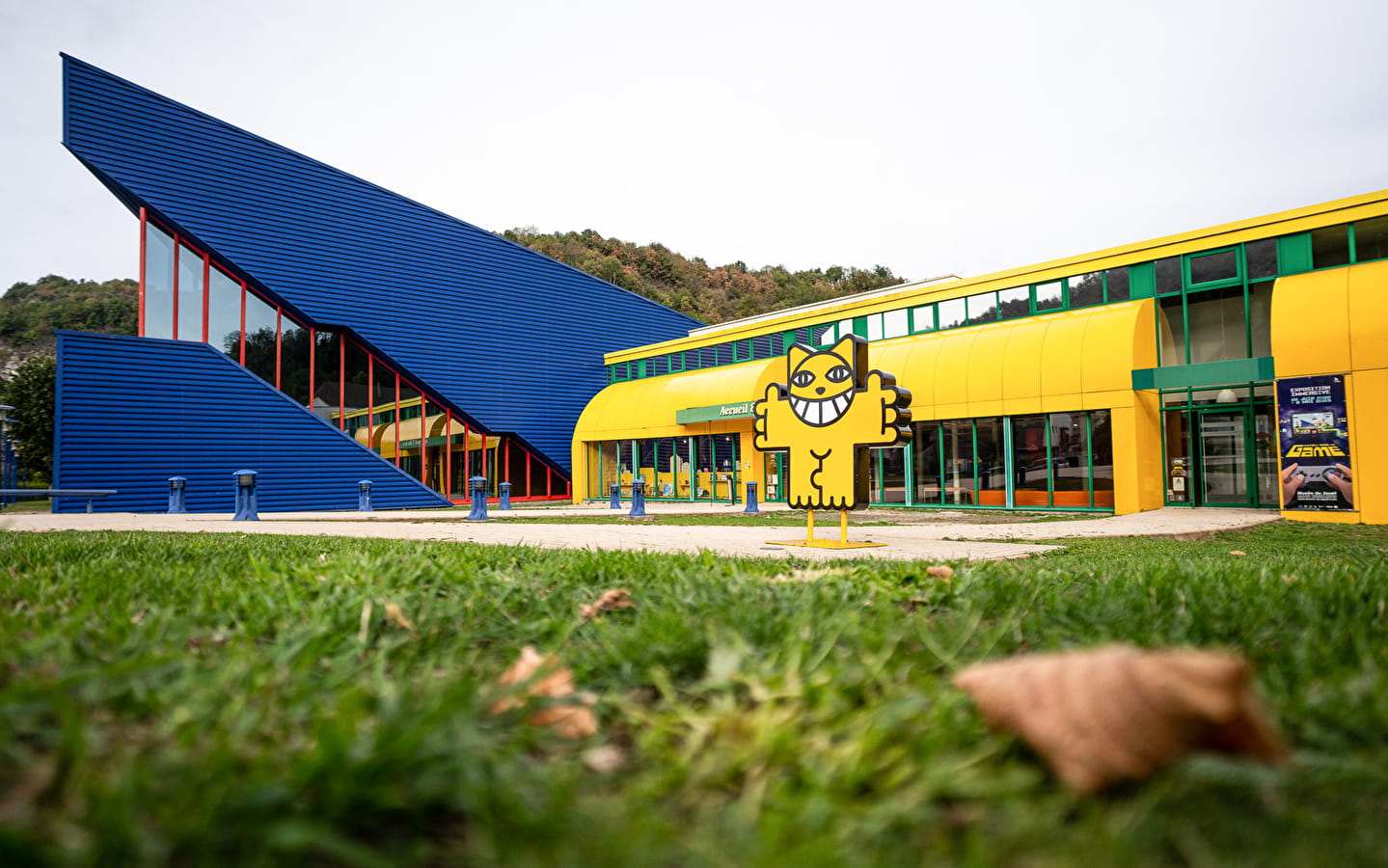 -
For children from 3 years old.
Children's tour, games booklet, audio-video guide, temporary exhibitions, storytelling visits, creative and educational workshops, digital games areas, videos, shows, indoor and outdoor playgrounds.
Audio-video guide available in English, German and Dutch. Prior booking necessary for a guided tour in English.
Workshops for children : the guide can speak in English if required.
Storytelling visit for children and adults alike : a storyteller takes the visitors to the wonderful world of toys. A fabulous journey in the history of toys across the centuries and the country (only in French).
A visit for everyone ! During school holidays, ask for the programme of activities !
French, English
Hearing handicap, Mental handicap, Motor handicap, Sight handicap
Credit card, Payment cards, Cheques and postal orders, Holiday vouchers, Cash, Eurocard - Mastercard, Visa
Pets not allowed
Amenities
Picnic area
Parking
Film projection room
Fully equipped meeting room
Toilettes
Services
Activity
Specific theme activities
Adult workshop
Junior workshop
Conferences
Temporary exhibitions
Chains and Labels





Prices & Schedules
Opening :
From 01/01/23 to 03/02/23.
Closed on&nbsp: Monday, Tuesday, Wednesday, Thursday, Friday, Saturday, Sunday
From 04/02/23 to 05/03/23 of 10:00 to 12:30 - of 14:00 to 18:00
From 06/03/23 to 07/04/23 - of 14:00 to 18:00
From 08/04/23 to 07/05/23 of 10:00 to 12:30 - of 14:00 to 18:00
The 08/05/23
From 09/05/23 to 17/05/23 of 10:00 to 12:30 - of 14:00 to 18:00
The 18/05/23
From 19/05/23 to 30/06/23 of 10:00 to 12:30 - of 14:00 to 18:00
From 01/07/23 to 31/08/23 of 09:30 to 00:00
From 01/09/23 to 01/10/23 of 10:00 to 12:30 - of 14:00 to 18:00
From 02/10/23 to 20/10/23 - of 14:00 to 18:00
From 21/10/23 to 31/10/23 of 10:00 to 12:30 - of 14:00 to 18:00
The 01/11/23
From 02/11/23 to 05/11/23 of 10:00 to 12:30 - of 14:00 to 18:00
From 06/11/23 to 12/11/23 - of 14:00 to 18:00
From 13/11/23 to 10/12/23.
Closed on&nbsp: Monday, Tuesday, Wednesday, Thursday, Friday, Saturday, Sunday
From 11/12/23 to 15/12/23 - of 14:00 to 18:00
The 16/12/23
From 17/12/23 to 23/12/23 of 10:00 to 12:30 - of 14:00 to 18:00
The 24/12/23
From 25/12/23 to 30/12/23 of 10:00 to 12:30 - of 14:00 to 18:00
The 31/12/23
Closed from 01/01 to 03/02 inclusive and from 13/11 to 11/12 inclusive

- July and August, every day (including 14/07 and 15/08): 9.30am to 6.30pm

- From September to June :

DURING SCHOOL HOLIDAYS (all zones):
Monday to Friday: 10am - 12.30pm / 2pm - 6pm
Weekends & public holidays: 2pm - 6pm

OUT OF HOLIDAYS :
Closed on Mondays
Tuesday to Sunday & public holidays: 2pm-6pm
Prices :
Base rate - full rate adult :

10€

Child rate :

8€

Rate for unemployed persons :

8€

Rate for large families :

28€

Other rate :

10€

Group rate :

7€

Children's group rate :

6€

Guided tour for adults :

9€

Guided tour for children :

7€
Brochures edited by Montagnes du Jura