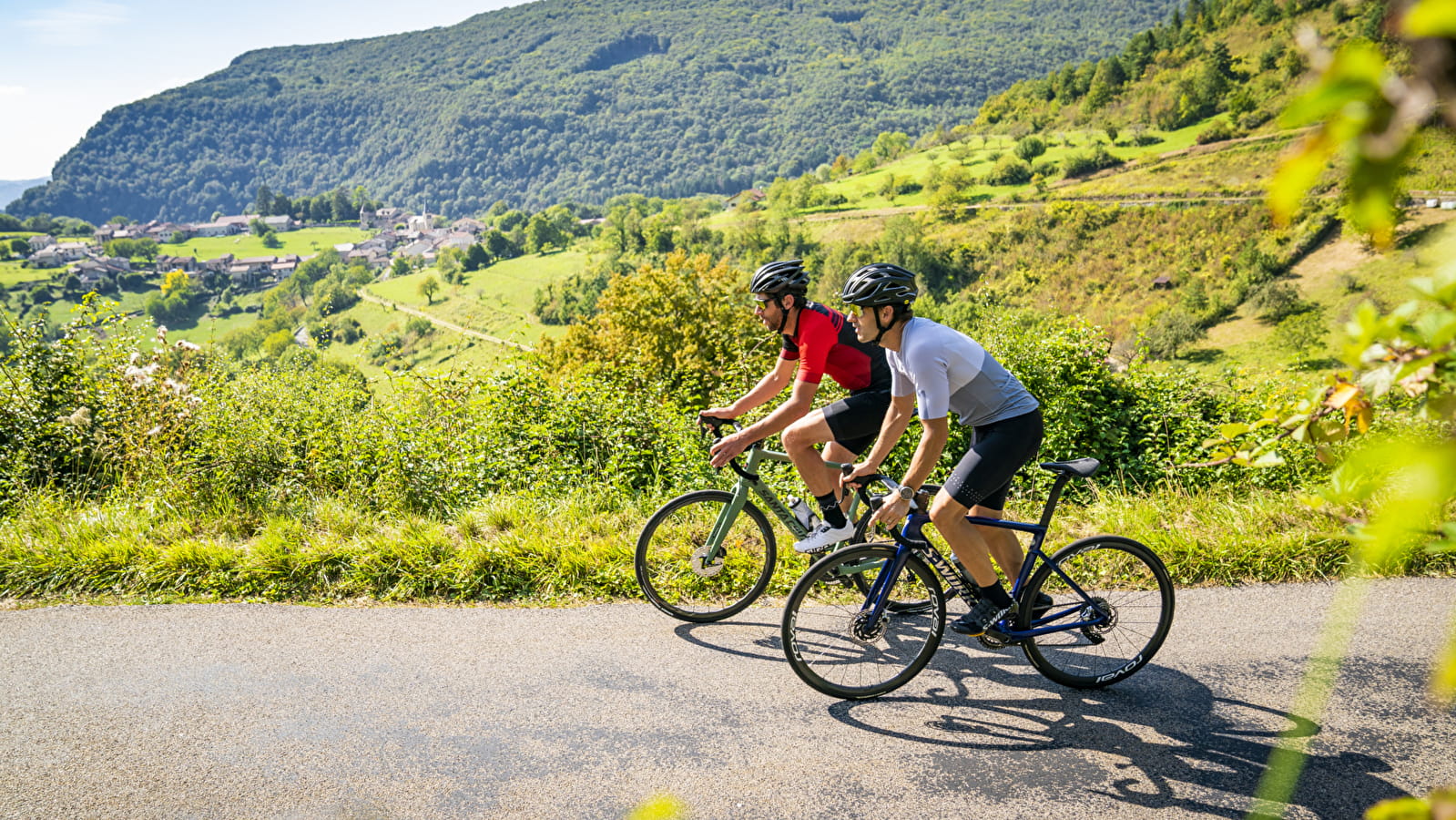 Departure : Lons-le-Saunier
Arrival : Lons-le-Saunier
Welcome to the 'sporty' version of the Tour du Jura by bike! This alternative to the 'recreational' route will lead you up the greatest uphill climbs of the Jura Mountains. If these sections don't scare you off (3,900 m positive incline!) then opt for this adventure and cycle 250 km past some breathtaking natural scenery. The narrow routes will lead you through countless beautiful villages, either perched up in the mountains or on the banks of a river. You'll be cycling past colourful vineyards, through the Haut-Jura Regional Nature Park, past lakes, waterfalls, and spectacular cirques and steephead valleys.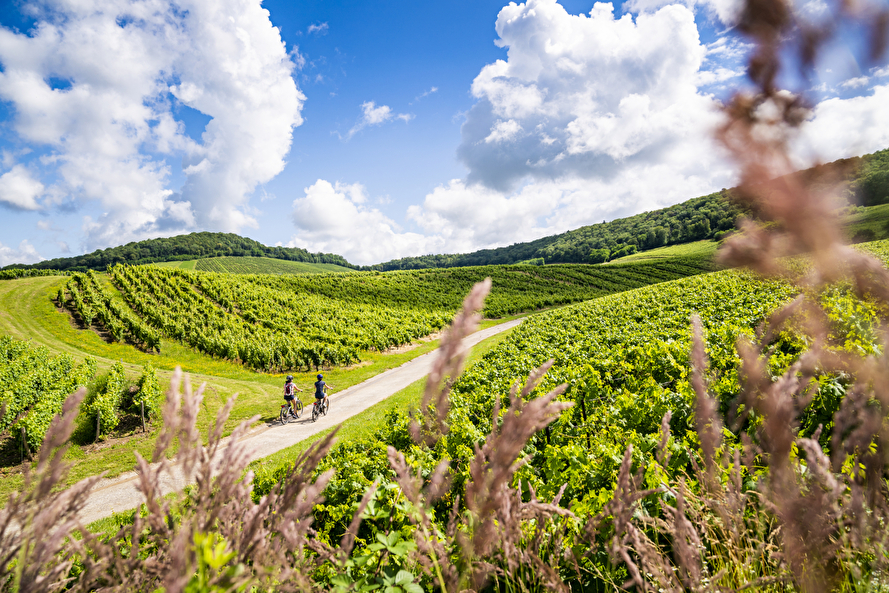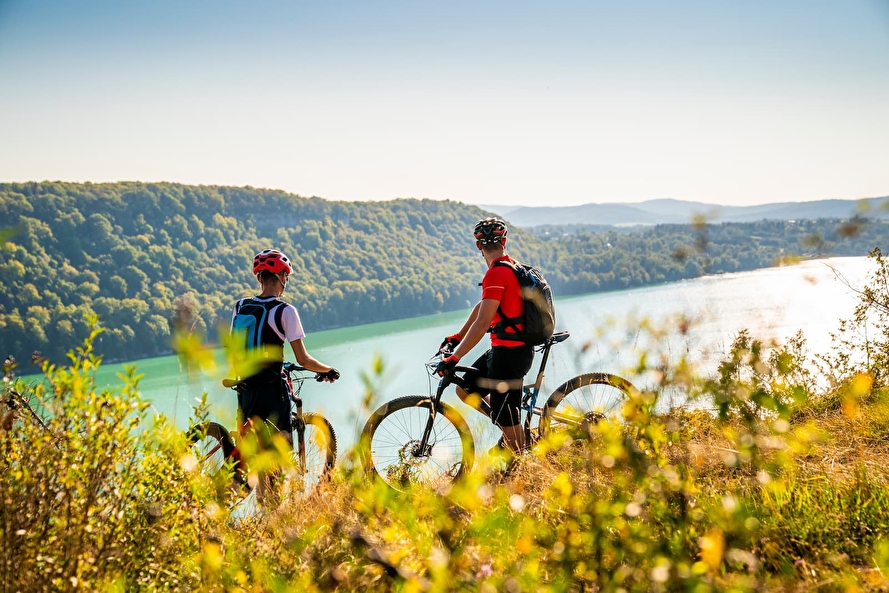 Sporting challenge
Steps to cover at your own pace
This sporty loop trail is marked in an anti-clockwise direction and is suitable for experienced cyclists who are used to riding on the road. This is a challenging route with significant uphill climbs.
As you take on the uphill climbs and legendary mountain passes (including the Septmoncel hairpin bends, steps from the Tour de France!), you'll be surrounded by lush greenery, which is then followed on by downhill sections, some of them technical and some smoother and easier ones.
Are you an experienced cyclist? Take on the 252 km over 3 days at a steady pace.
If you prefer to combine pleasure and a sporting challenge, then you can divide the route into 6 steps of around 40 km each (4 to 5 hours of cycling per day), so just under a week for this getaway to the most beautiful places in the Jura Mountains.
Cycle past the most beautiful scenery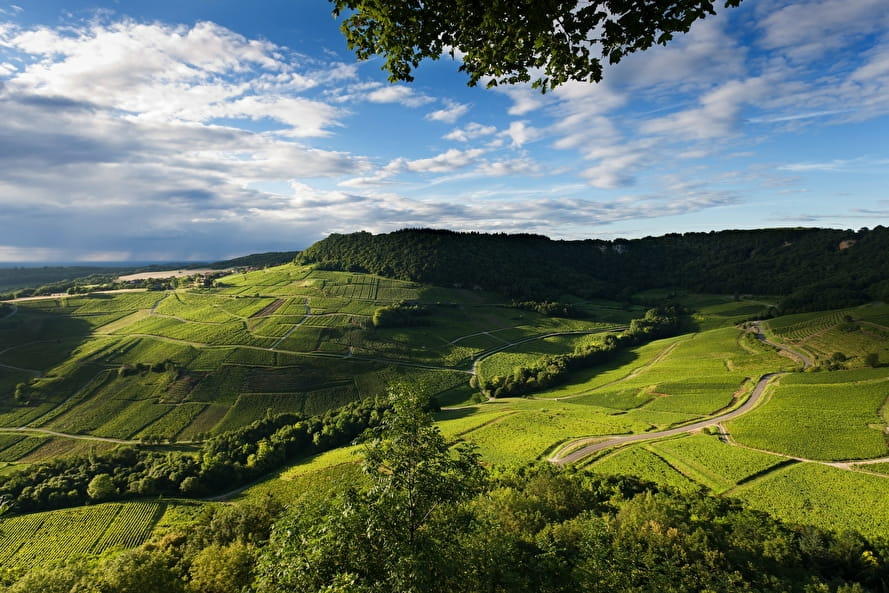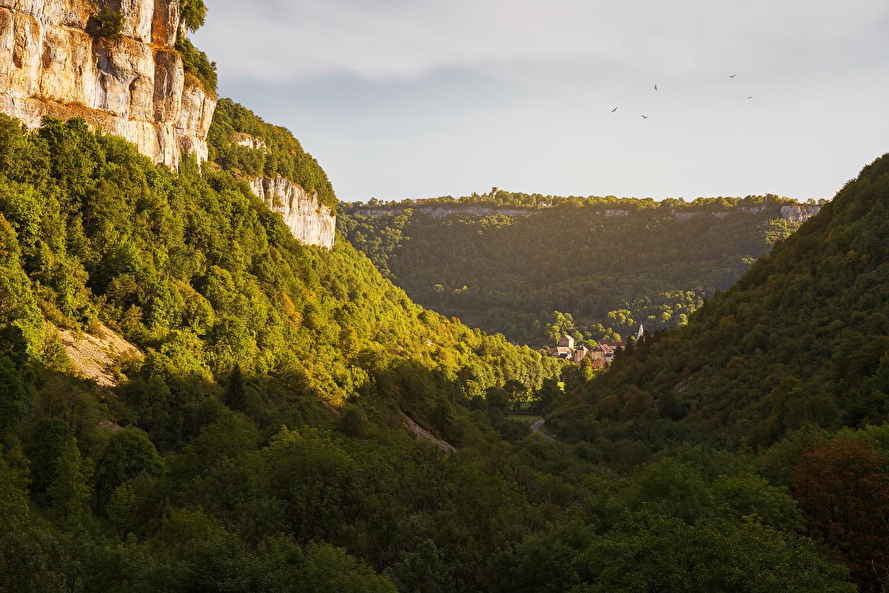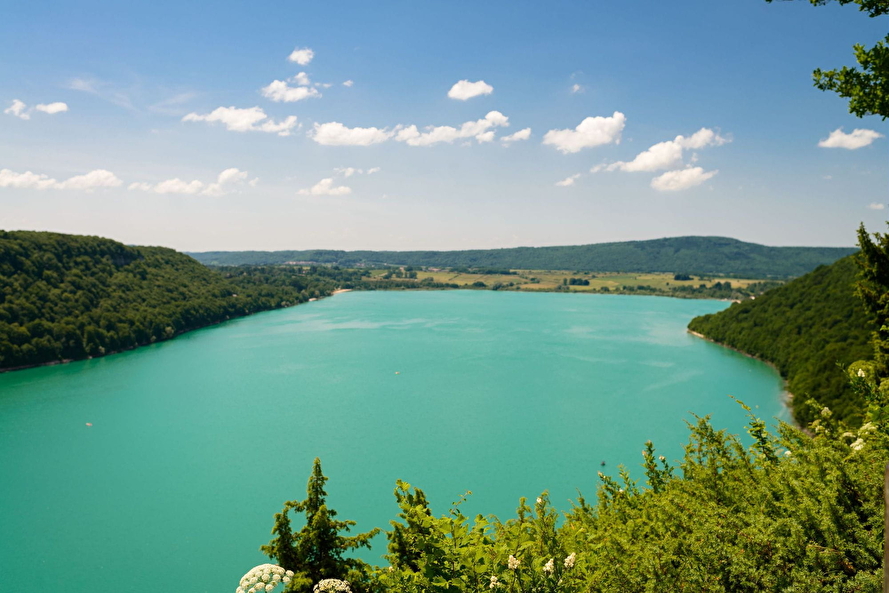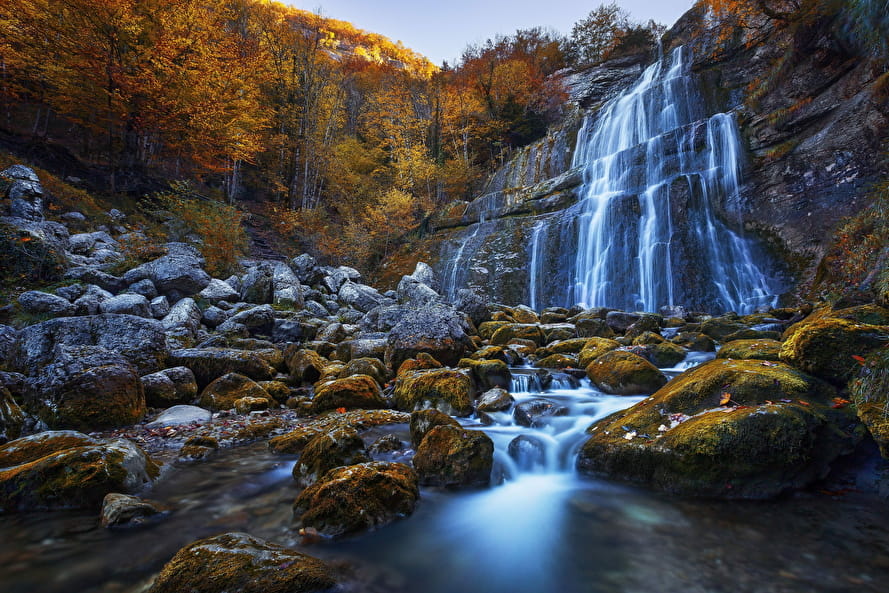 Go right up into the mountains on this route that will lead you to the first plateau and the Petite Montagne, to the resort of Les Rousses which stands at an altitude of 1,200 m.
Along the way, you can expect a succession of varied natural sites, each one even more breathtaking than the last:
The hills of Jura,
The 4 Lakes plateau, known as the 'Little Scotland of Jura',
Lac de Chalain, Lac de Vouglans and Lac de Bonlieu,
The steephead valley in Baume-les-Messieurs and limestone gorges,
Cascades du Hérisson waterfalls, Haut-Jura Regional Nature Park,
Various viewpoints overlooking the Alps and Alpine meadows with a certain rural, rustic atmosphere.
Steps
Hilltop villages and spa town
Along your route, you will also be able to discover some small heritage sites and beautiful villages. These are great places to stop off for a break or refreshments:
- Château-Châlon and Baume-les Messieurs, two villages classified as 'Most Beautiful Villages of France', perched up on rocky outcrops and surrounded by vines and steephead valleys
- Lons-le-Saunier, a spa town with naturally salted water full of health benefits
- Saint-Claude, capital of the pipe and diamond, nestled at the bottom of a deep valley
- Les Rousses resort, a mountain resort that is open all year round to access the Dôle peak either on foot, by bike or using the lifts. A panoramic view of the Alps awaits you!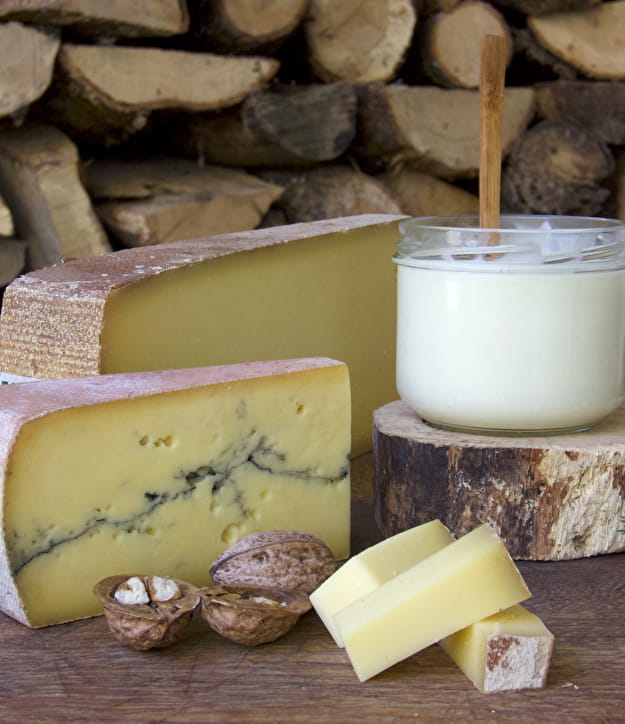 'Vélo et Fromages' (cycling and cheese) Label
A gourmet cycling experience
Comté, Morbier, Bleu du Haut-Jura, Cancoillotte, Mont d'Or... Does the thought of these cheeses make your mouth water?
Then the 'Vélo et Fromages' Tour du Jura is for you! This route was awarded the label in 2019.
The label showcases the cheese producers and service providers that are located along the route.
There's nothing better than a chance to discover local cheeses while you're on a bike ride. After all that effort, you deserve a treat!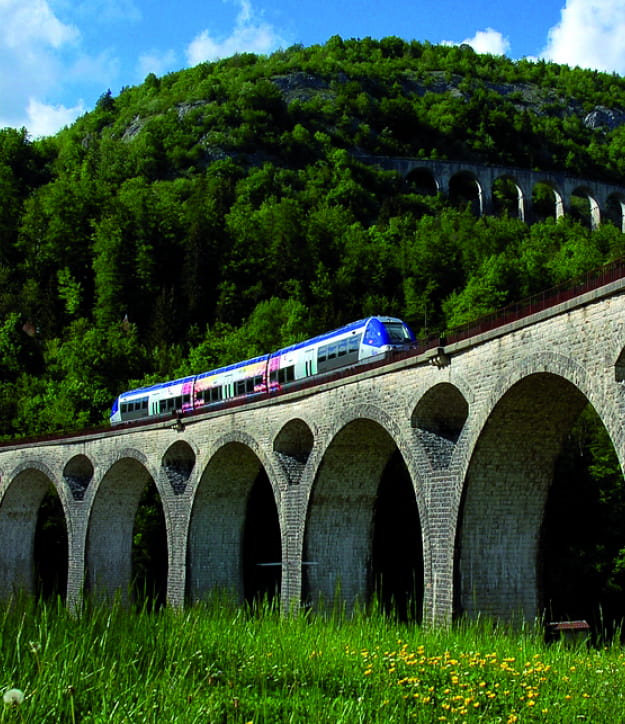 Where is the departure point?
Getting to the 'sporty' Tour du Jura by bike
Just like any loop trail, no matter where you choose to begin, you'll always get to the end of the route!
If you decide to come by train, the best departure point is Lons-le-Saunier. This spa town is just 3 hours from Paris (TGV + TER trains - 1 change).
If you would like to begin from Saint-Claude or Morez, you can easily get to either of these two towns from Dole (2 hours from Paris on a direct TGV train) along the Ligne des Hirondelles railway line, with some breathtaking views across the plains, gorges and valleys. Even the train journey will be an experience in itself, through the beautiful, spectacular Jura Mountains!
In recreational mode
The 'recreational' Tour du Jura by bike
Come and discover the recreational version of the Tour du Jura by bike.
This 155-km loop trail is slightly further north compared to the sporty route. This route is suitable for families or groups of friends looking to ride at a more leisurely pace.
There are not many uphill sections and plenty of 'culture and nature' discoveries to make along the way!
Recreational Tour du Jura by bike
Know-how and traditions
Stop off at the museum
While you're in the Jura Mountains, come and learn about the people who took advantage of their land to develop arts, professions and traditions. Come and discover the ancient know-how of these mountains.