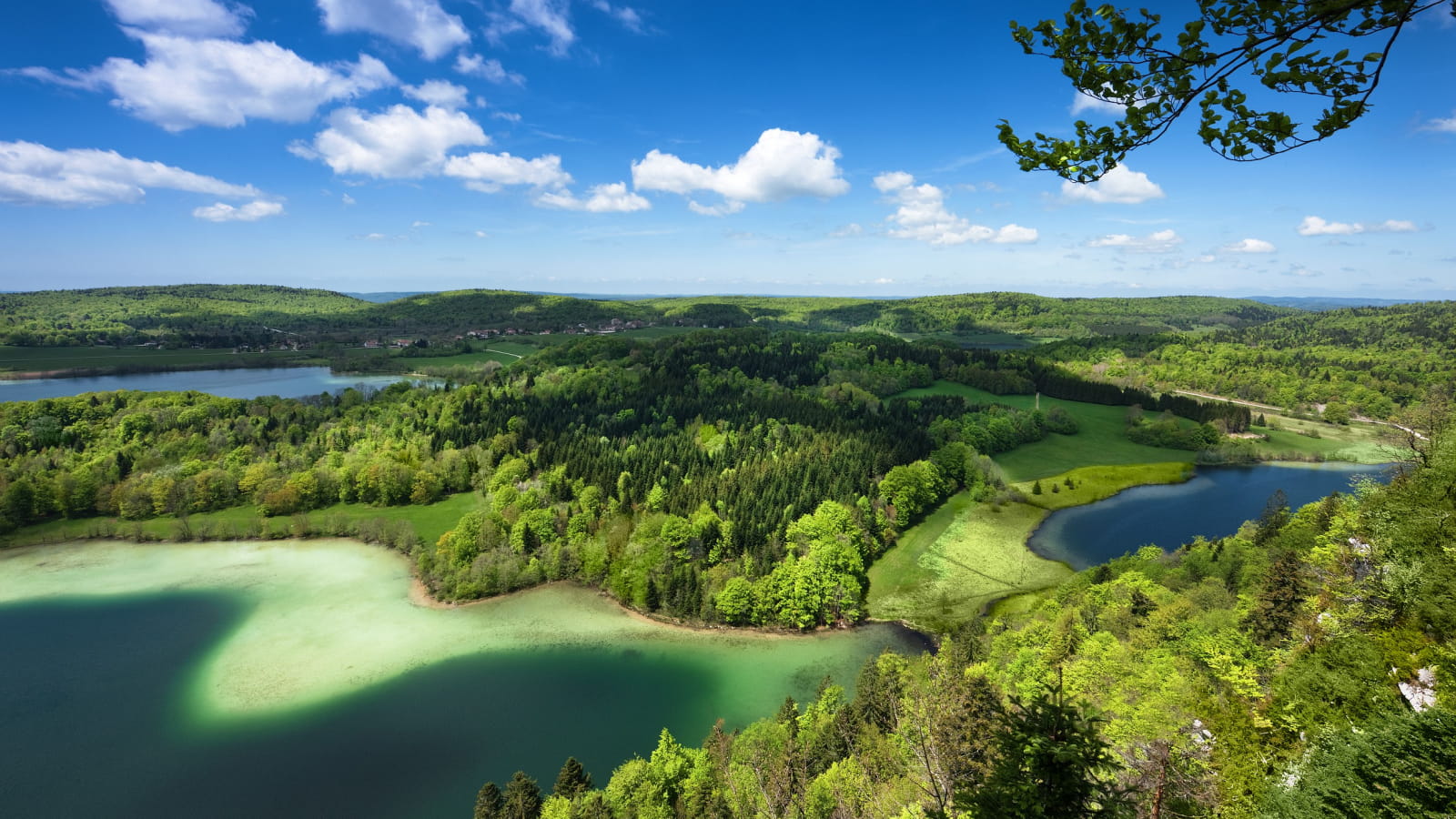 Lakes are everywhere in this heavenly corner of Jura... Surrounded by sandy beaches or tucked away in the wilderness, the lakes of Jura promise you zest for life. Fishing, Ebike rides, hikes amid waterfalls, canoe or paddleboard sessions, cruises on the lake, etc. Here you can enjoy the joys of nature and the pleasures of the water!
Day 1 - Morning
Lakeside contemplation
Re-energising by the shimmering lakes
If you'd like to look at life through a lens of lagoon blue and emerald green, just choose from the fifteen lakes that nestle among the leafy woods of this small region between Champagnole, Clairvaux-les-lacs, Orgelet, Moirans-en-Montagne and Arinthod. To gently immerse yourself in nature's little heaven, there's nothing quite like hiking!
The path around Vouglans Lake can be enjoyed on foot, by mountain bike or Ebike (Jurassic Vélo Tours) and offers magnificent panoramic views against a beautiful woodland backdrop.
Climb to the top of the Pic d'Oliferne for a stunning view over Coiselet Lake.
The Pic de l'Aigle and the 4 Lakes Panoramic Viewpoint offer outstanding views over the lakes of Ilay, Narlay, Petit Maclu and Grand Maclu.
Unless you prefer a short family walk around Etival Lake or a fishing trip to Bonlieu Lake?
You're spoilt for choice!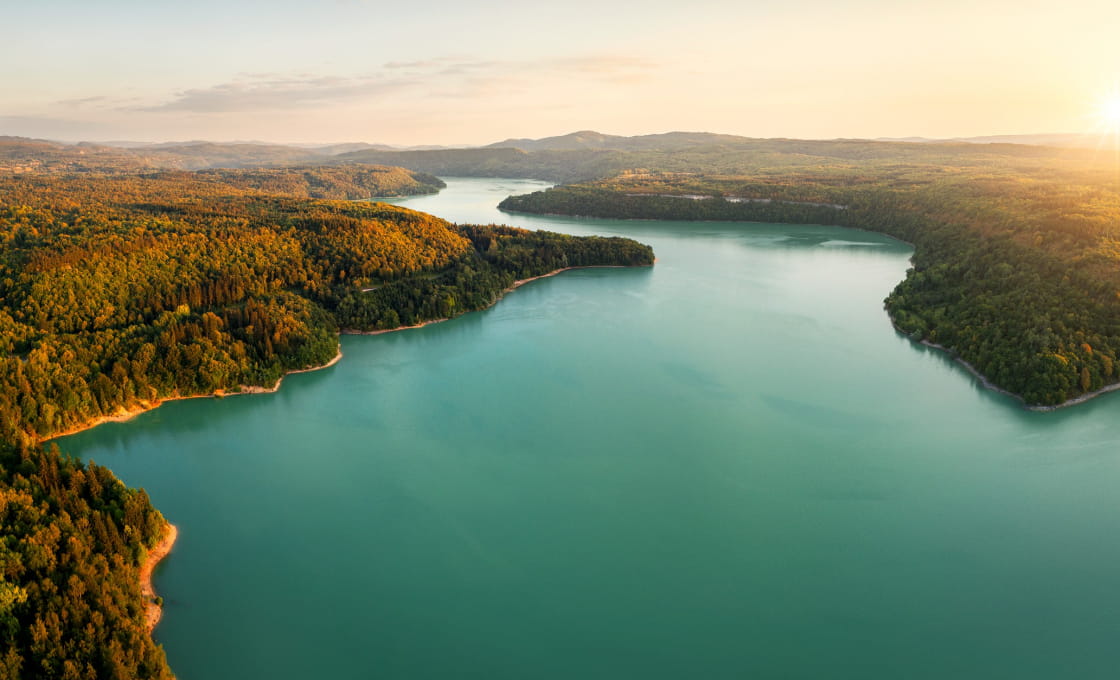 The emerald-green lake of Vouglans is 35km long, which makes it a choice playground for summer activities such as swimming, fishing, pedalos, kayaking, canoeing and paddleboarding.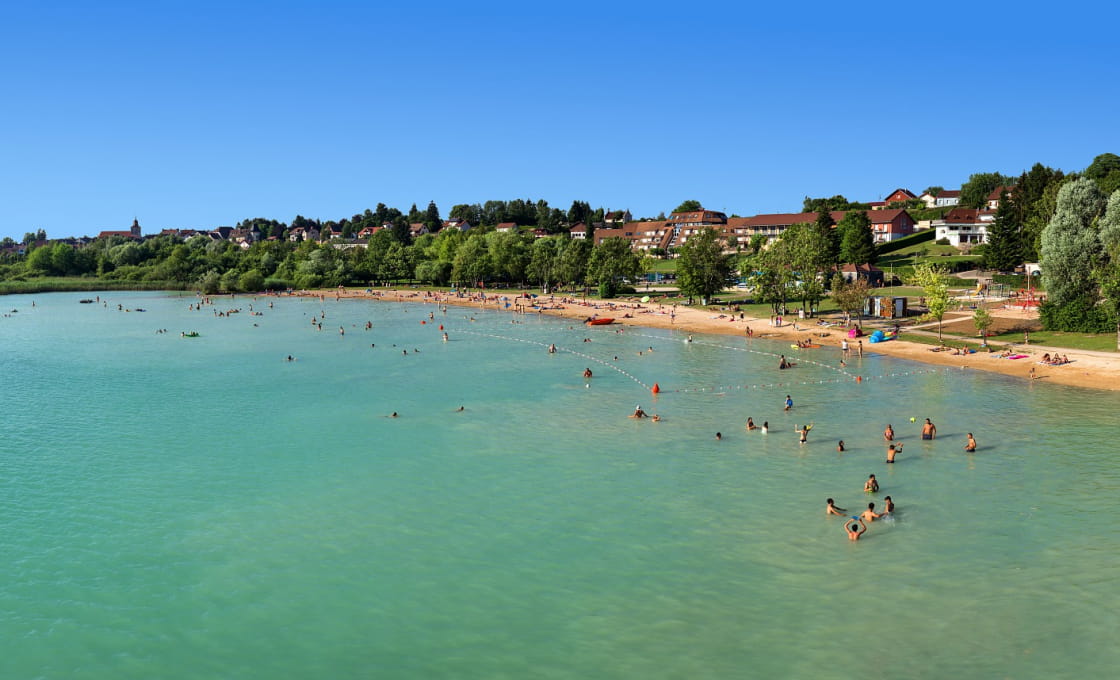 The family-friendly holiday resort of Clairvaux-les-Lacs is very popular in summer. It boasts two lakes in a lovely natural setting, and a huge range of activities.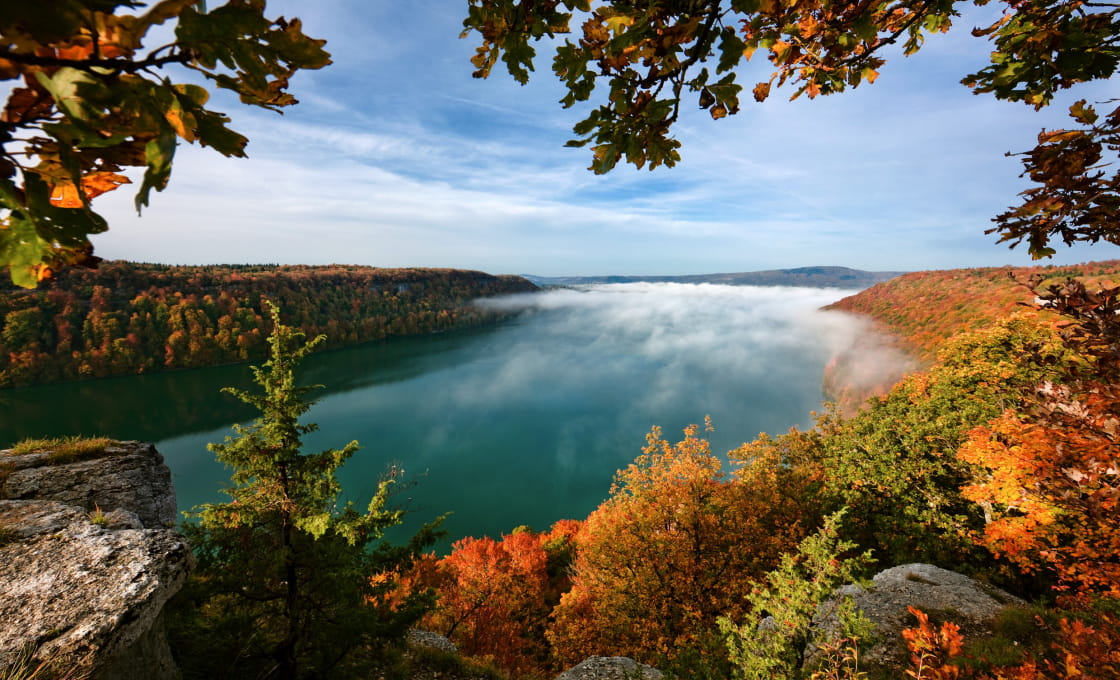 From enjoying the water to discovering the local heritage, Chalain has a whole host of highlights waiting to be discovered!
Day 1 - Afternoon
Bathing, canoeing and paddleboarding at Vouglans
Take to the water!
After a good meal at one of the lakeside restaurants, head for the beach! Vouglans, Chalain and Clairvaux lakes all have sandy beaches and shady green areas where you can enjoy an invigorating dip followed by a nice relaxing break.
Bellecin watersports centre (Vouglans Lake) proposes multiple activities on the water: paddleboarding, canoeing, kayaking, etc. The advantage of these gentle modes of travel is that they can take you to some lovely peaceful coves... If you want to venture further out, rent an electric boat at La Mercantine Port (Vouglans) to enjoy the turquoise waters in total privacy!
At the end of the day, don't forget to visit the little craft markets that pop up all over the region in spring in summer.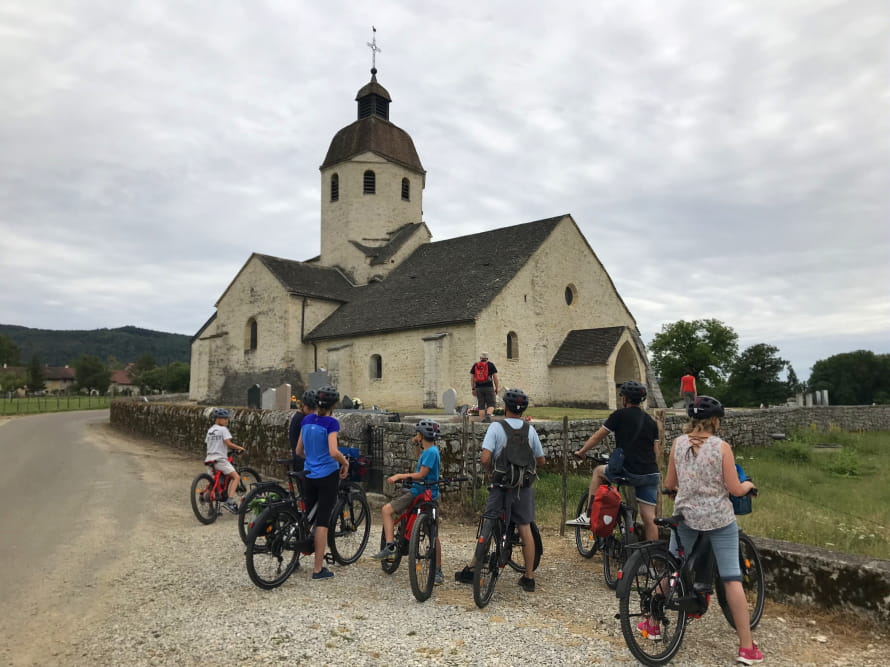 Day 2 - Morning
The Toy Museum in Moirans-en-Montagne
Staying in touch with your inner child
People of all generations have fun in this very lively museum where both children and adults learn how toys have evolved since the Middle Ages, all in an eternal playground of 3400m².
What a delight it is to see those toys from our childhood again and share them with our own children! The focus is on the five senses as you explore the different areas devoted to motor function, hands-on activities, multimedia features and so on.
To make the magic last a little longer, the "7 walkabout tales" offer great suggestions for short storytelling nature walks in the vicinity of Moirans-en-Montagne. Step inside and into a natural world full of imaginary creatures... It's an adventure your children will never forget!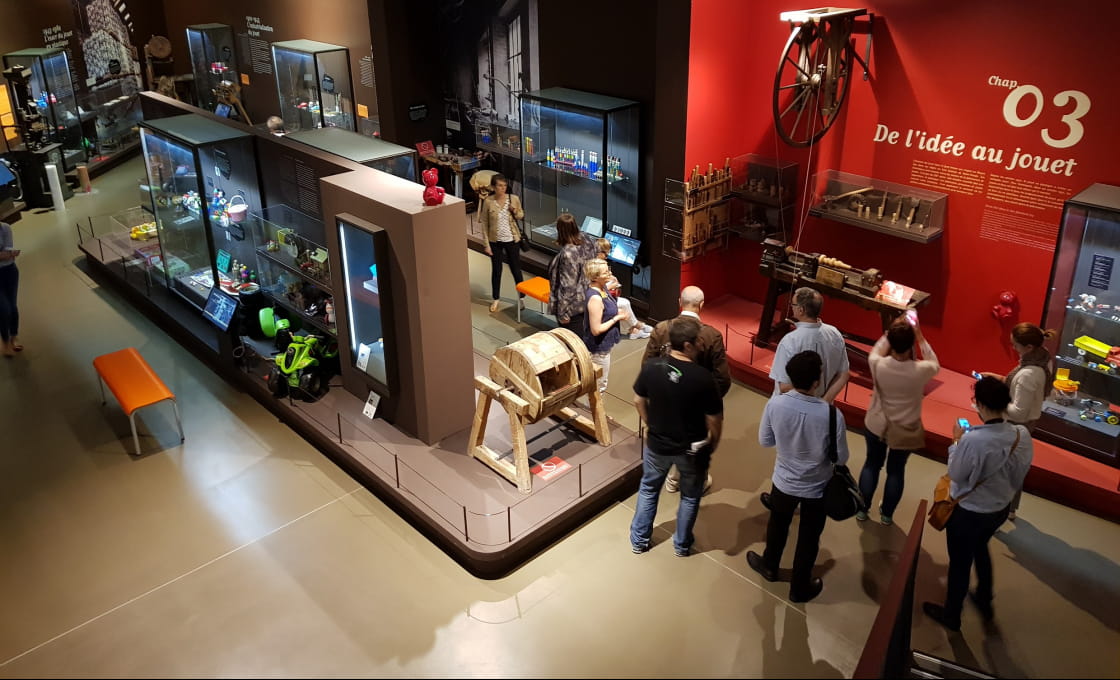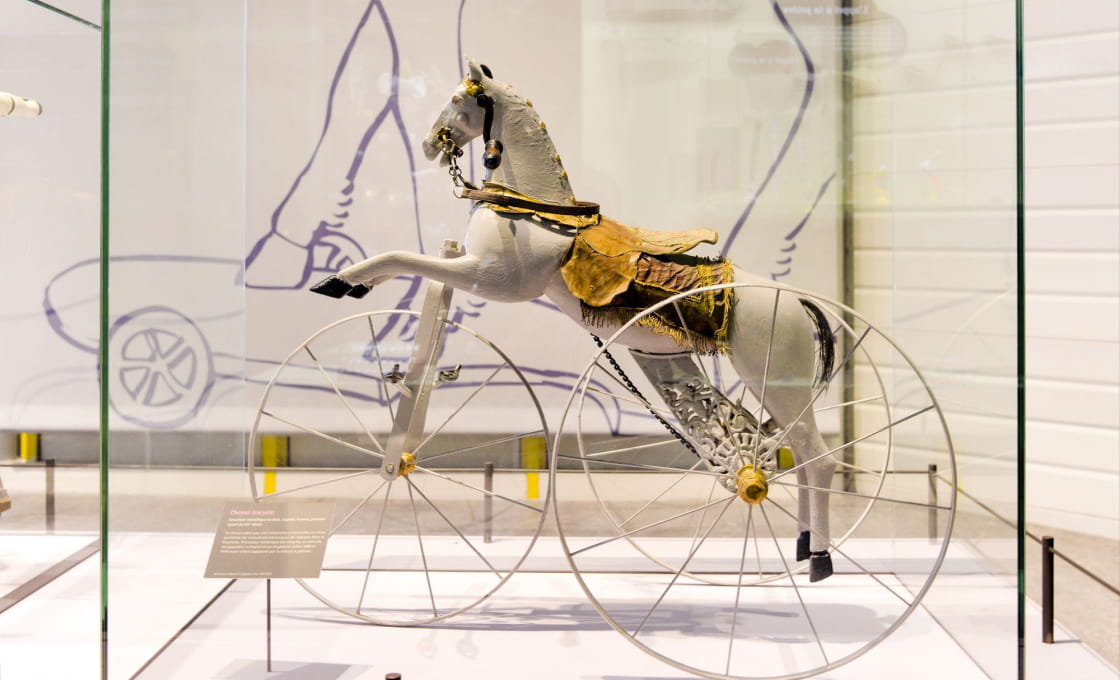 Day 2 - Afternoon
Ebike rides in the countryside
La Petite Montagne, a dream...
You pedal effortlessly between meadows and cornfields... All around you, cows graze on the fresh green grass, stone tells its ancient story, and water tumbles from mysterious cascades. You are near Saint-Julien-sur-Suran and Arinthod. Welcome to La Petite Montagne!
There's no better way to explore this idyllic landscape than by Ebike... or road bike if you plenty of energy to spend. The Terre d'Emeraude local council community invites you to explore the Land of Lakes and La Petite Montagne on a guided Ebike excursion along any of the six trails.
Get ready for some great food, cultural discoveries and spectacular scenery!
But before you leave, make sure you pop to one of the many Comté cheese dairies of this beautiful region!