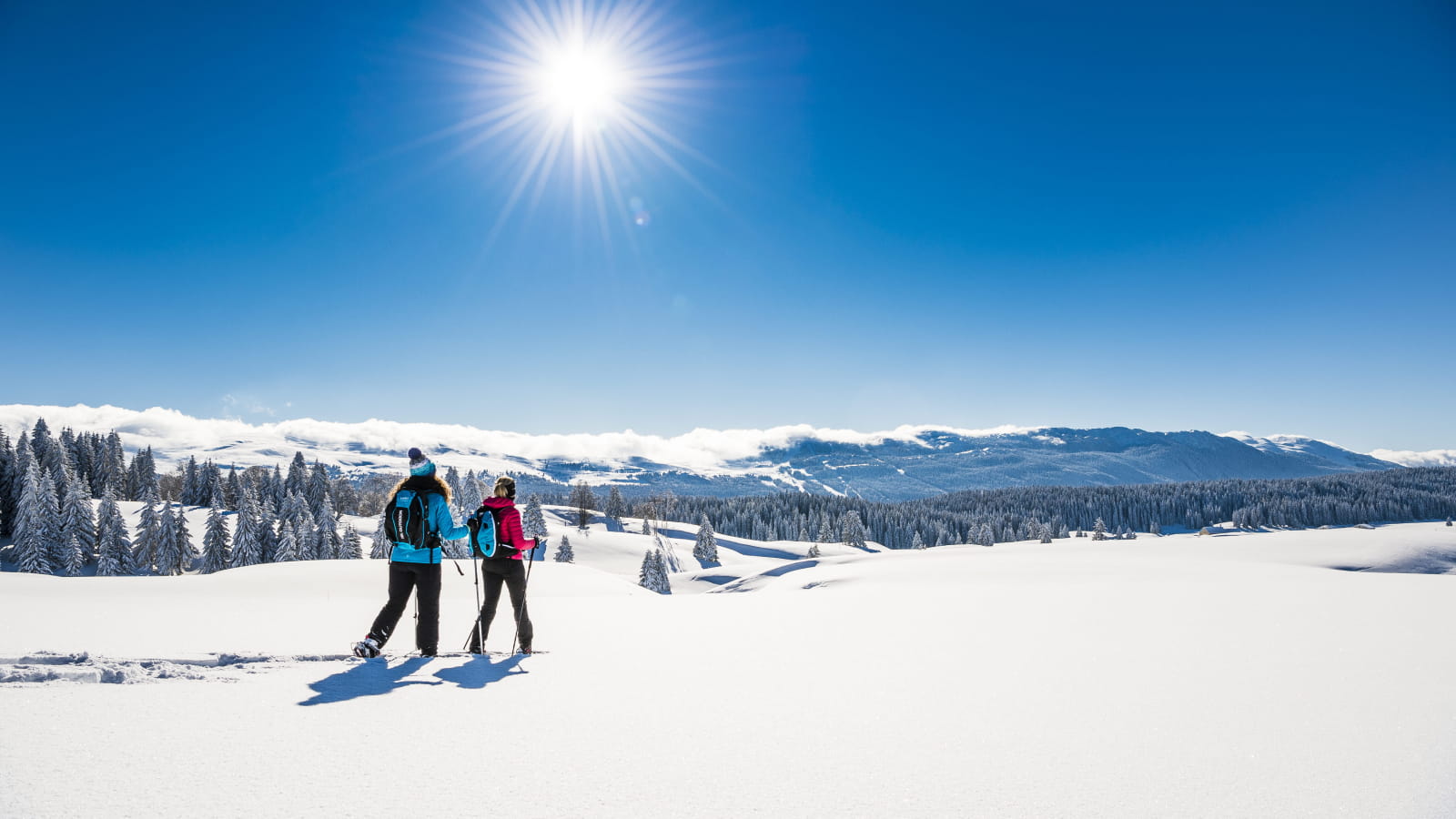 Rise to the challenge of snowshoeing along the Grande Traversée du Jura trail and prepare for a total nature immersion of several days. This is an opportunity for fans of the Far North spirit to cross the Jura mountain chain from one end to the other. To make it all perfect, there are stopover gites and other accommodation solutions along the itinerary where you can enjoy a meal and a welcome rest! And if you find the experience enjoyable, you can do it all again because there are 5 GTJ trails and as many different ways to explore them: on cross-country skis in winter, and by bike, mountain bike, on foot or on horseback in summer.
The Grande Traversée du Jura trail
Grab your snowshoes!
Long-distance snowshoeing has found a choice itinerary in the Jura Mountains! Indeed, the Grande Traversée du Jura snowshoe trail takes you into the wilderness and wide open spaces of the Jura massif.
The GTJ snowshoe itinerary is a component of the Grande Traversée du Jura trail that proposes a specific itinerary for each discipline. The snowshoe trail is probably the one with the greatest appeal: inviting accommodation in remote snowy locations, magical landscapes, wide open spaces and a Nordic atmosphere... Beyond a doubt, a must-do experience!
The Grande Traversée du Jura snowshoe trail
Key figures and details
117km
Distance
+ a 35km loop on the Retord plateau
500m
Elevation range
(from 937 to 1,436 metres)
10 days
Duration
(10-15km per day on average)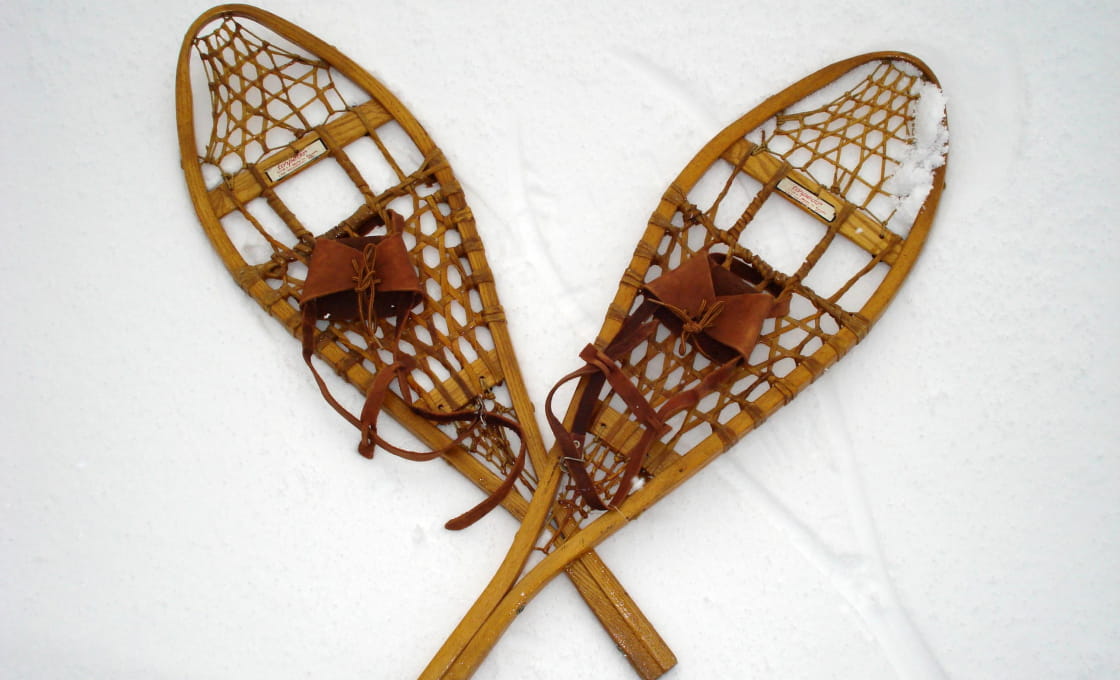 Anyone can do it!
A tradition that's easy to follow!
Long ago, in the Mountains of Jura, snowshoeing was merely a way of travelling across the snow. Indeed, during the long harsh winters it was the best means of travel when roads were cut off or when people just wanted to enjoy the countryside. Nowadays, snowshoes are only used for hiking!
The main advantage of snowshoeing is that there's nothing to learn! Anyone can do it. No matter your age or level of physical fitness, what you need above all is a desire to walk... amid the Jura landscape in all its winter beauty.
Nature immersion: a moment beyond time
At liberty in the wide open spaces of Jura
Make the Grande Traversée du Jura snowshoe experience your very own!
A gentle warm-up for a half-day or full day.
A long-distance trek over several days to live the experience to the full, from one end of the Jura mountain range to the other.
Alone or in the company of a guide, whichever way you do it, you're in for an adventure!
Fresh snow has fallen on Jura... the landscape has taken on its Nordic winter atmosphere and you have the irresistible urge to leave your tracks as you stride across it. Go for it!
Just imagine: the snow crunches beneath your feet and sparkles in the sun. You find yourself alone, plunged into the silence of nature, seemingly in a winter slumber. You won't meet many people during your day crossing these landscapes worthy of the Canadian wilderness: valleys, summits, forests, lakes and beautiful viewpoints... This is what the freedom of snowshoeing is all about!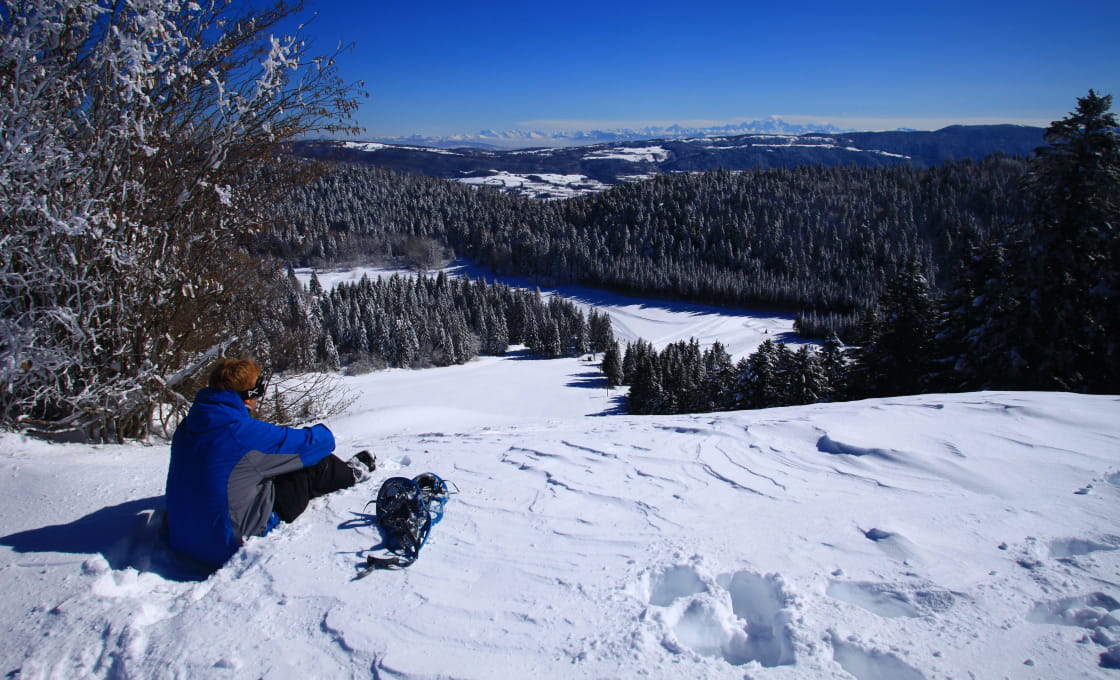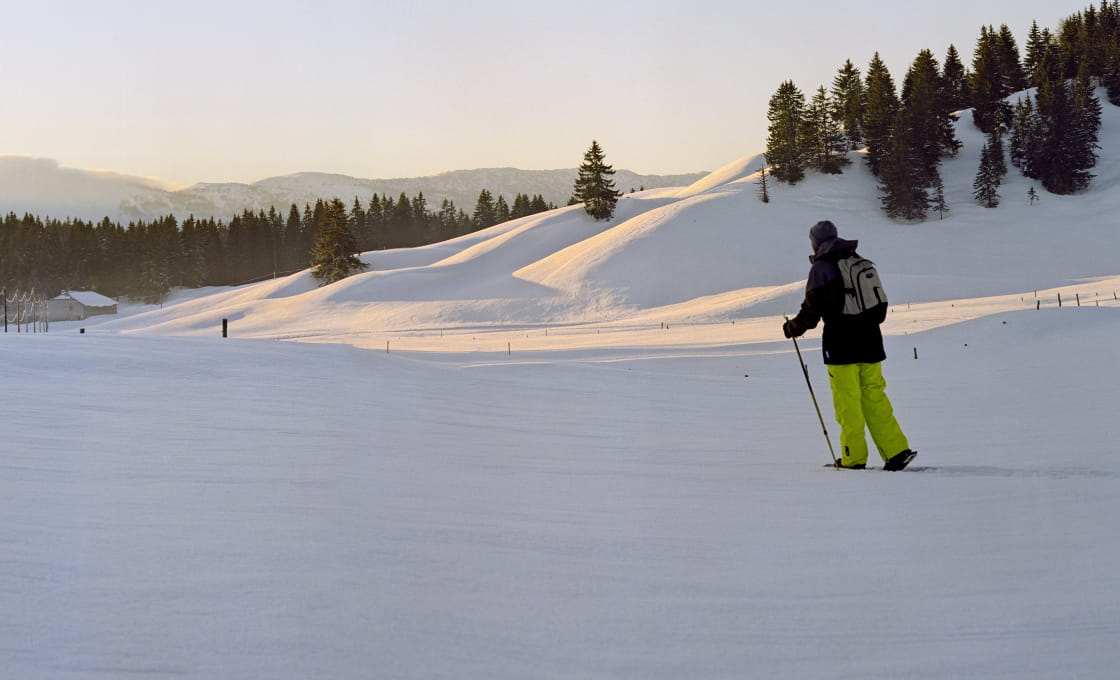 Snowshoeing along the GTJ trail
A restorative night
After a long day's snowshoeing, there's nothing quite like a nice hot shower, before enjoying a pleasant moment by the fire and a hearty meal of Jura specialities!
On the GTJ snowshoe trail, you'll have no trouble finding overnight accommodation along the itinerary in a mountain refuge, a gite or an inn. There are enough of them to allow you to make frequent stops, which is why anyone can go snowshoeing on the GTJ trail!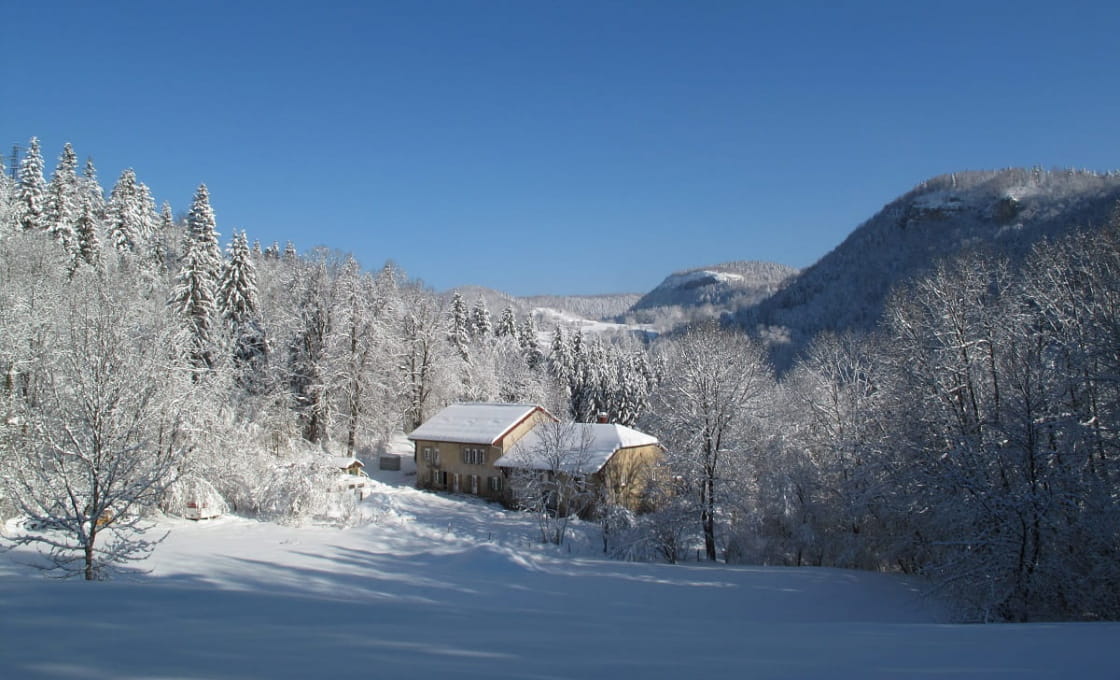 The Grande Traversée du Jura trails
A unique yet multiple itinerary!
The winter GTJ trails can be followed by cross-country skiers (180km), snowshoers (140km) and now even backcountry skiers.
During the rest of the year, other GTJ trails can be taken by bike (360km), by mountain bike (415km), on horseback (500km) or on foot (400km), your chance to (re)discover the Jura Mountains from a brand new angle.
You can adjust the route to match your preferences, physical fitness or level, and progress at your own pace. Follow them for a day, a week or more, the choice is yours!
Nordic activities
Cross-country skiing, dog sledding, ice skating, sledging... follow your desires and create your own Nordic experience!