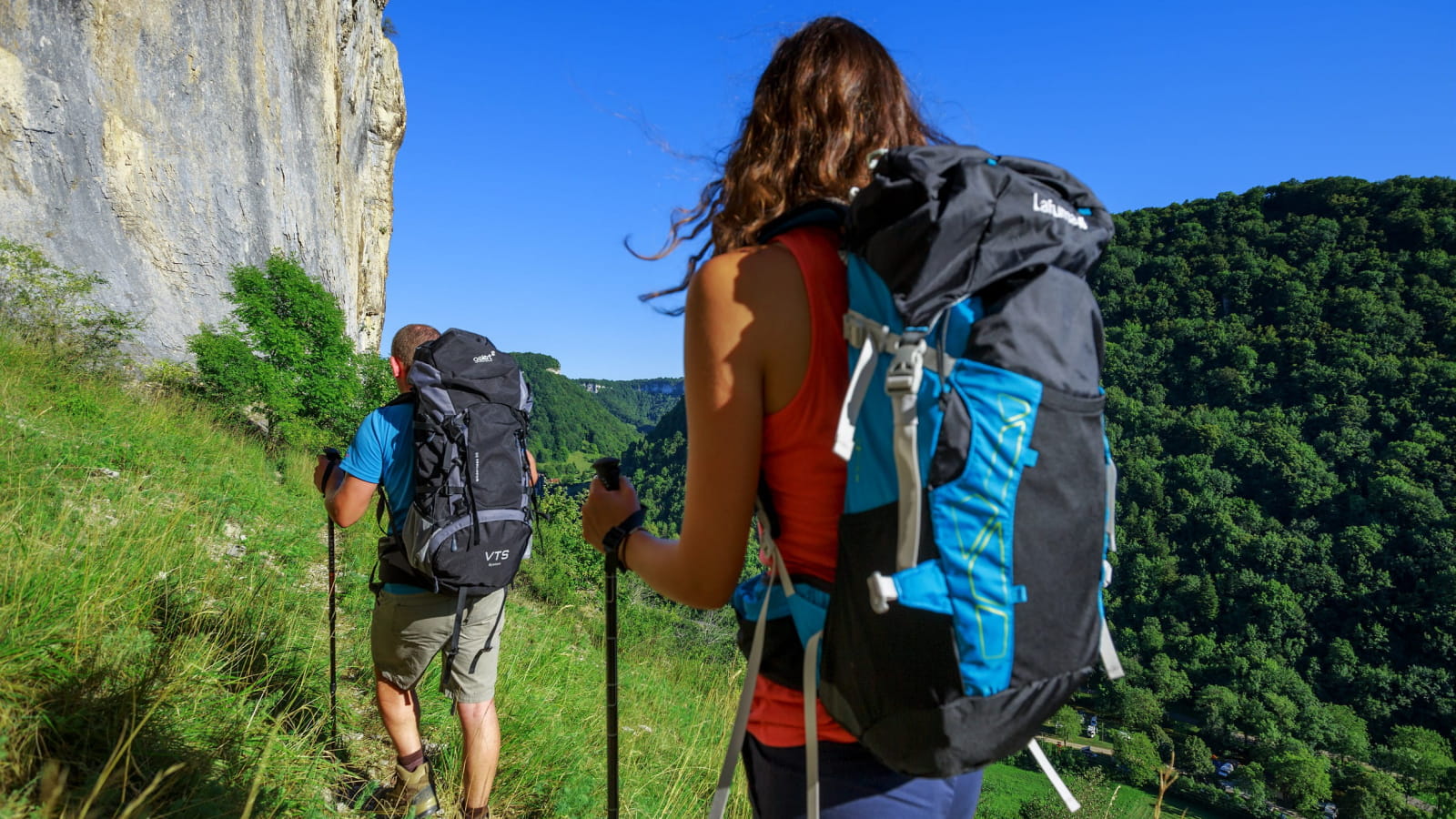 Departure : Dole
Arrival : Nyon
Take to the Echappée Jurassienne long-distance hiking trail to explore over 300km and see some of Jura's most beautiful sights. Natural gems like Chalain Lake and the Hérisson Waterfalls, as well as great sites like the Royal Saltworks of Arc-et-Senans, a UNESCO World Heritage feature. And now you can even continue to the banks of Lake Geneva in Switzerland. Enjoy total freedom or opt for a turnkey package, to escape the way that suits you best on just a section or two, or along the entire route.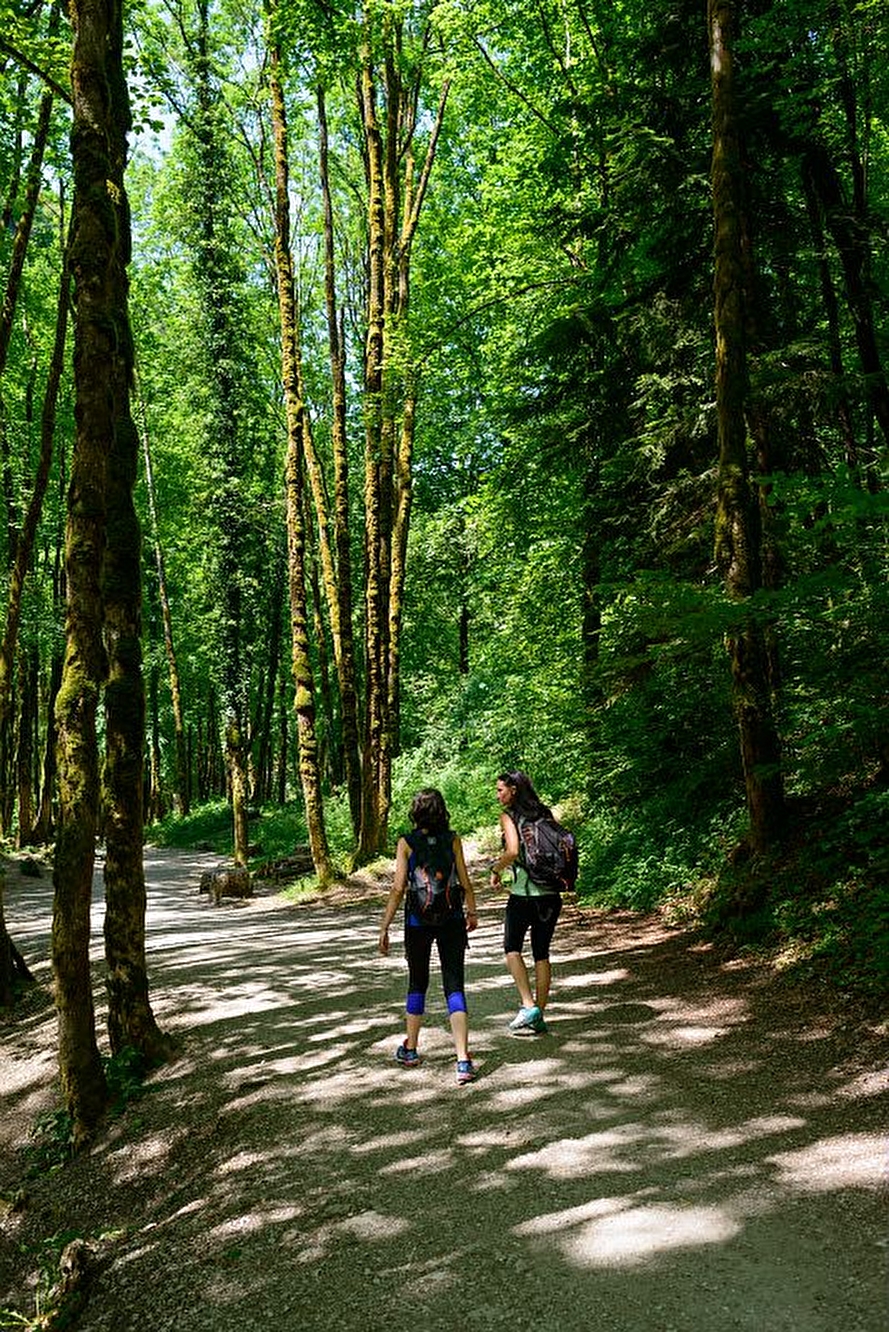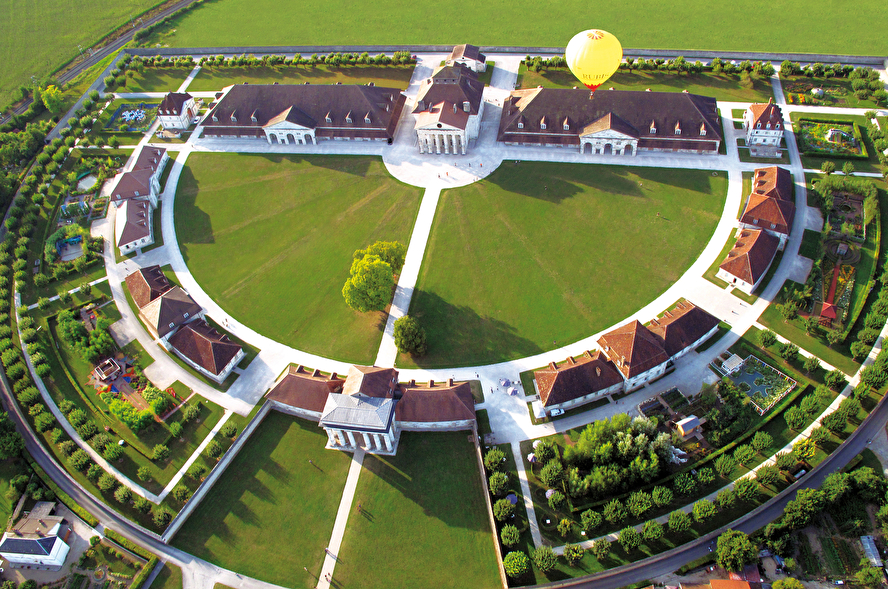 To discover Jura in all its facets,
The ultimate long-distance hike
The Echappée Jurassienne is a 350km hiking itinerary that crosses plains and high plateaus, visits Switzerland and passes close to the GR59, GR559 and GR509 long-distance trails (Grandes Traversées du Jura).
You can do this hike at the pace that matches your own sporting ambitions, for a great escape lasting 2 to 18 days, from north to south or from south to north.
Accessible to all, these paths will appeal to anyone from seasoned globe-trotters to average hikers and even families. A hiking guidebook devoted to the Echappée Jurassienne trail is available to help you prepare for your walking adventure.
In 2021, the Echappée Jurassienne goes cross-border! Indeed, the final 3 stages of this itinerary will take you to see Switzerland as you've never seen it before, via La Cure, Lake Geneva and Nyon.
Between stone and forest, gastronomy and vineyards, steephead valleys and the most beautiful villages of France, plateaus and prairies, gorges, lakes and waterfalls, the mountains and the nature park.
2 countries
France and Switzerland
3 main towns
Dole, St-Claude, Nyon
Natural sites to discover along the Echappée Jurassienne
The Echappée Jurassienne promises a moving walk between treasures of stone and lush greenery. From north to south, focus on a few natural gems:
Pic de l'Aigle panoramic viewpoint and the 4 Lakes,
Upper Saine Valley, packed with stunning sights waiting to be seen…
The trail then reaches for the heights and winds between mountainous contours to the resort of Les Rousses. Head for the Dôle summit which culminates at 1,677 metres
Upper Jura Regional Nature Park, an unspoilt wilderness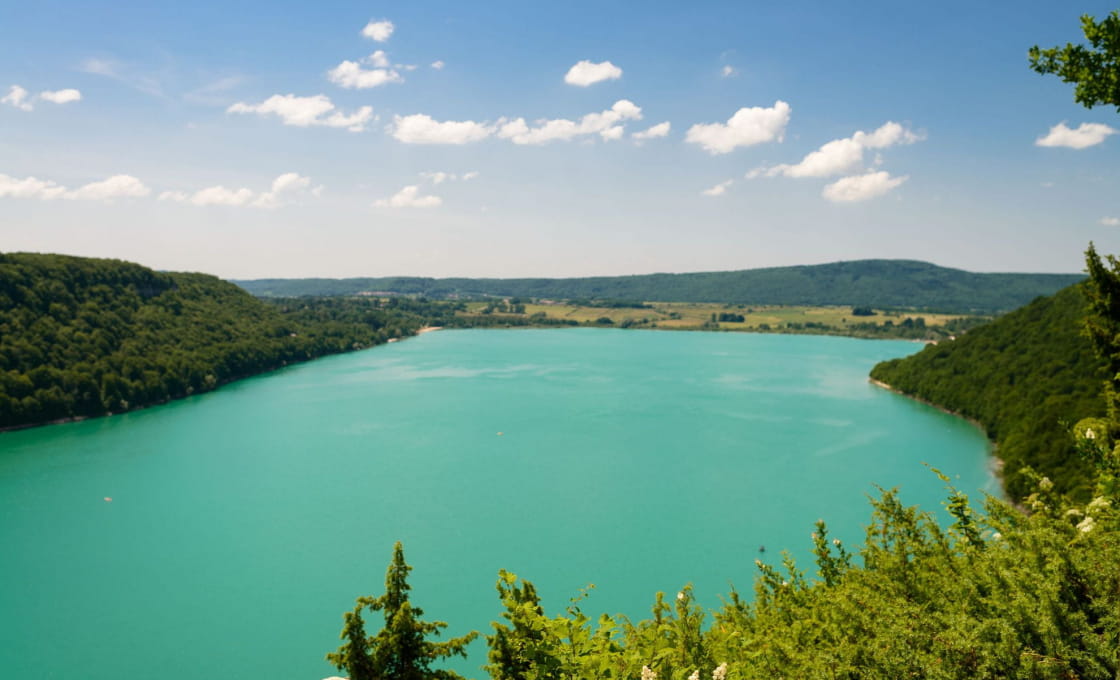 Chalain Lake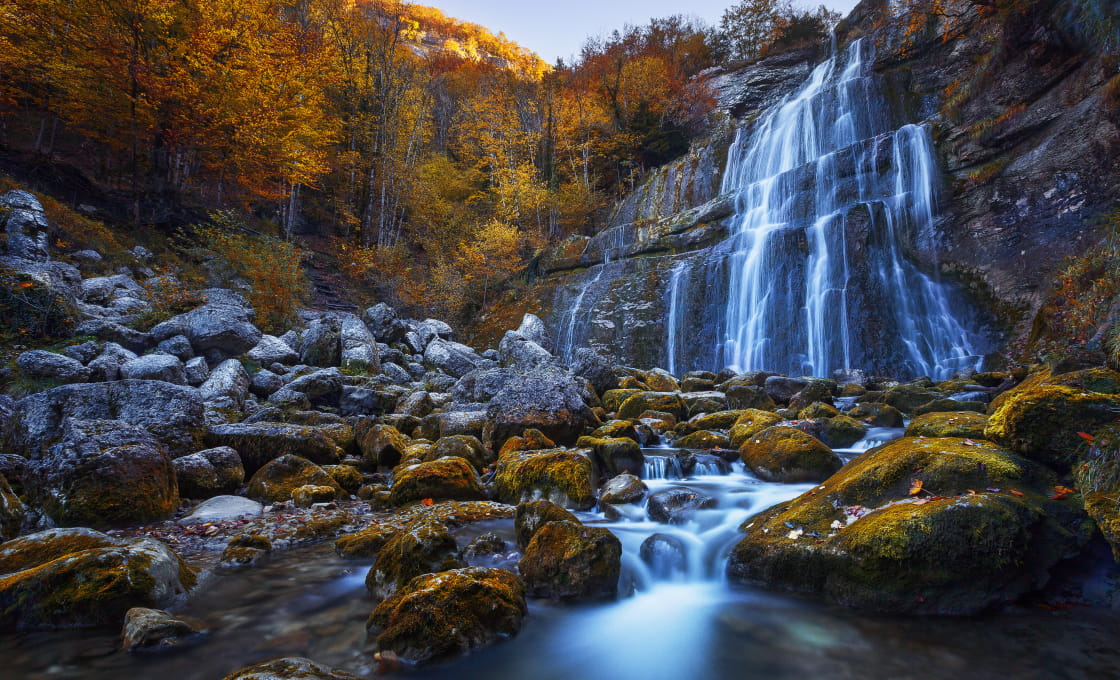 Hérisson Waterfalls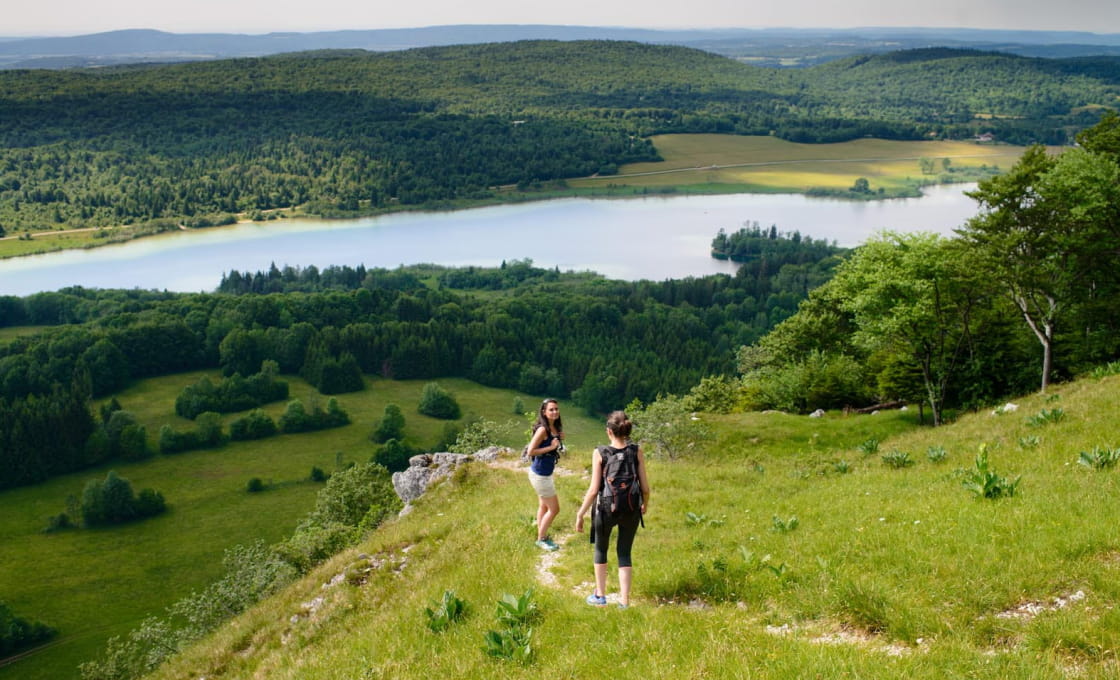 Pic de l'Aigle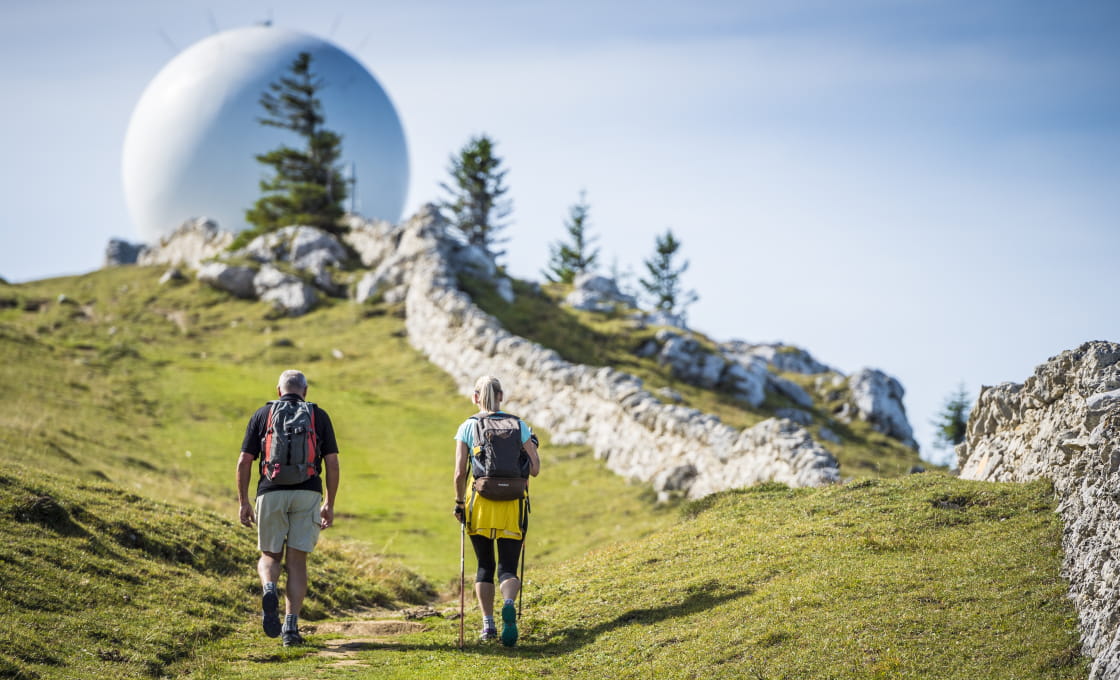 Heading for the top of the Dôle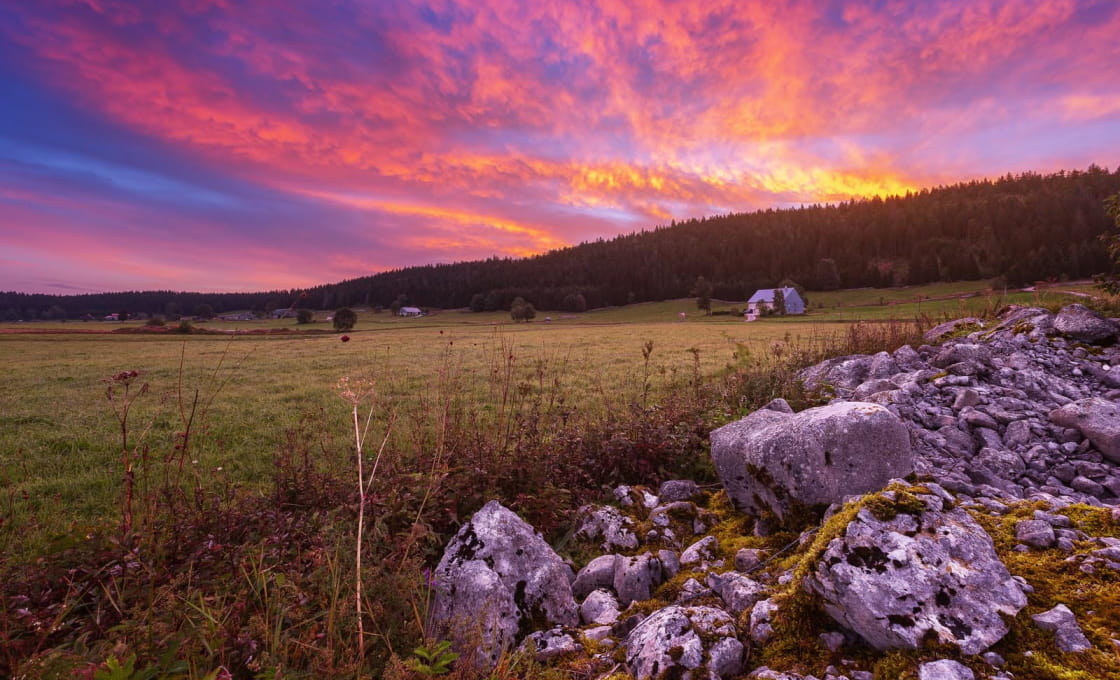 Scenery of the Upper Jura Regional Nature Park
A star-studded hike, from Unesco to the Laughing Cow
Heritage features and cultural sites to discover along the Echappée Jurassienne
Dole, the start (or end) point of your hike on the Echappée Jurassienne, is packed with historic monuments that bear witness to a glorious past as the capital of Franche-Comté until 1678. Dole is also the town where Louis Pasteur, the famous scientist, was born.
The amazing saltworks of Arc-et-Senans and Salins-les-Bains are UNESCO World Heritage sites.
Head for the vineyards of Arbois, Château-Chalon or Baume-les-Messieurs, villages of incredible charm that nestle at the bottom of a steephead valley or perch on top of a rocky spur.
Not forgetting Lons-le-Saunier, the homeland of two revolutionary stars, Rouget-de-Lisle and the Laughing Cow®.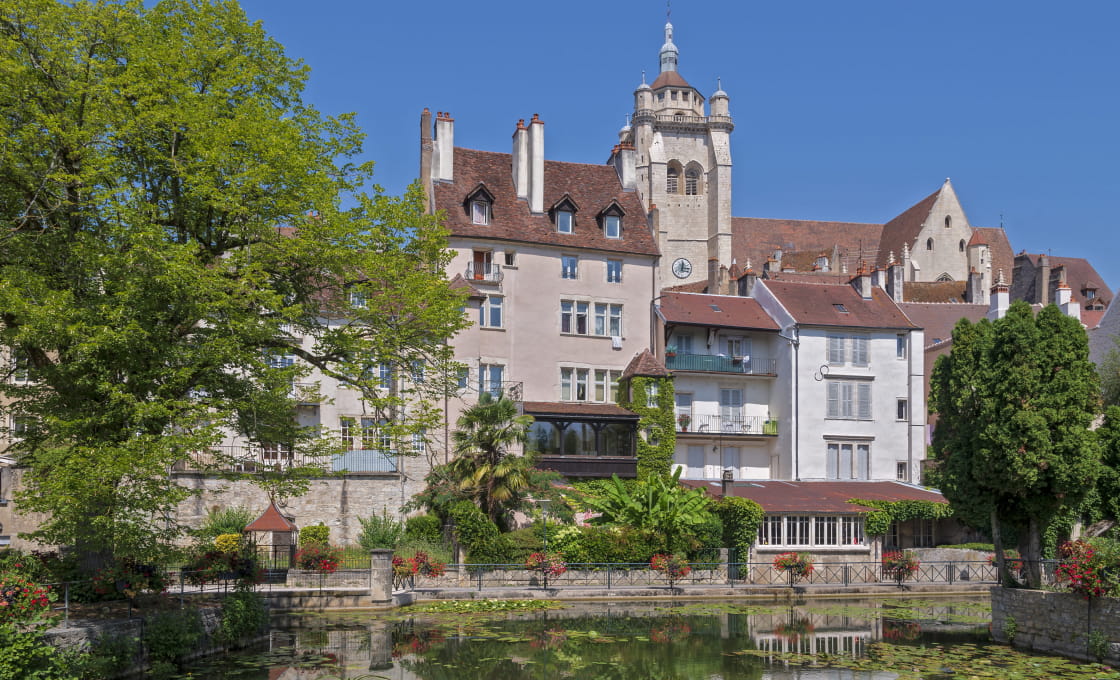 Town of Dole, your starting point for the Echappée Jurassienne hiking trail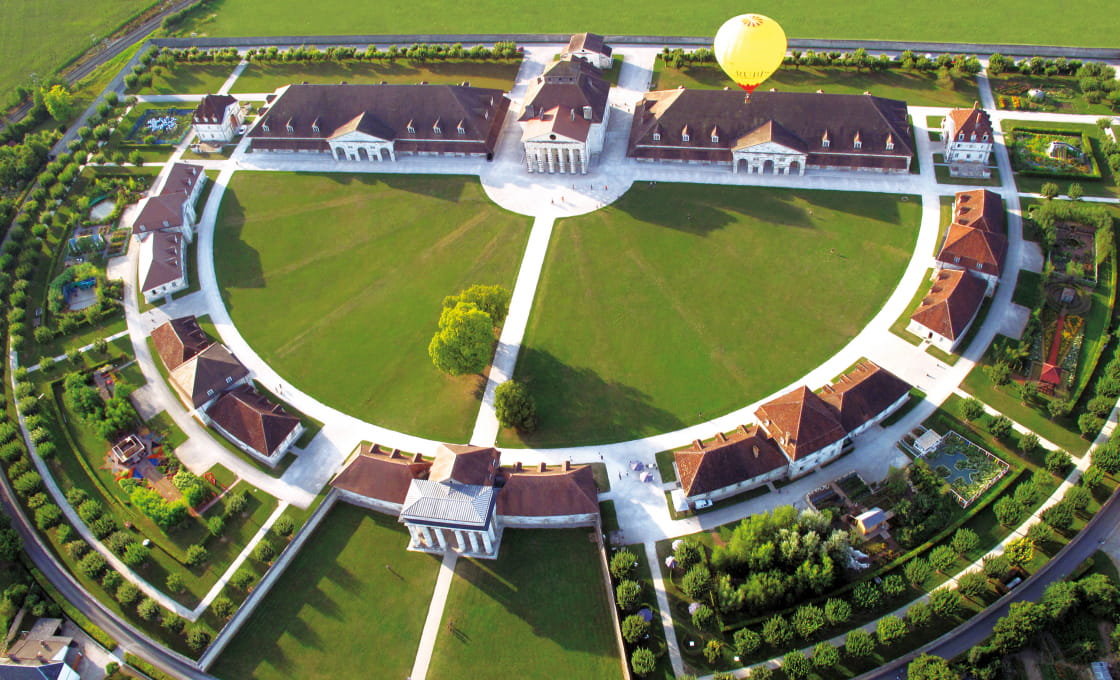 UNESCO-listed Royal Saltworks of Arc-et-Senans
Arbois v

illage and vineyard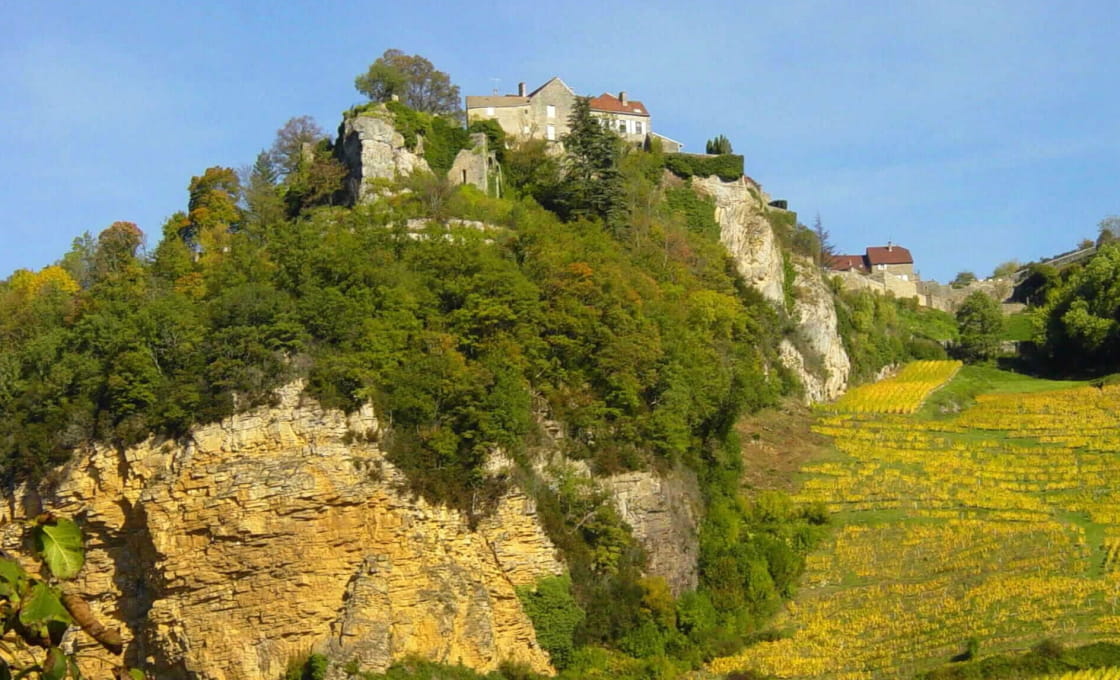 Village of Château-Chalon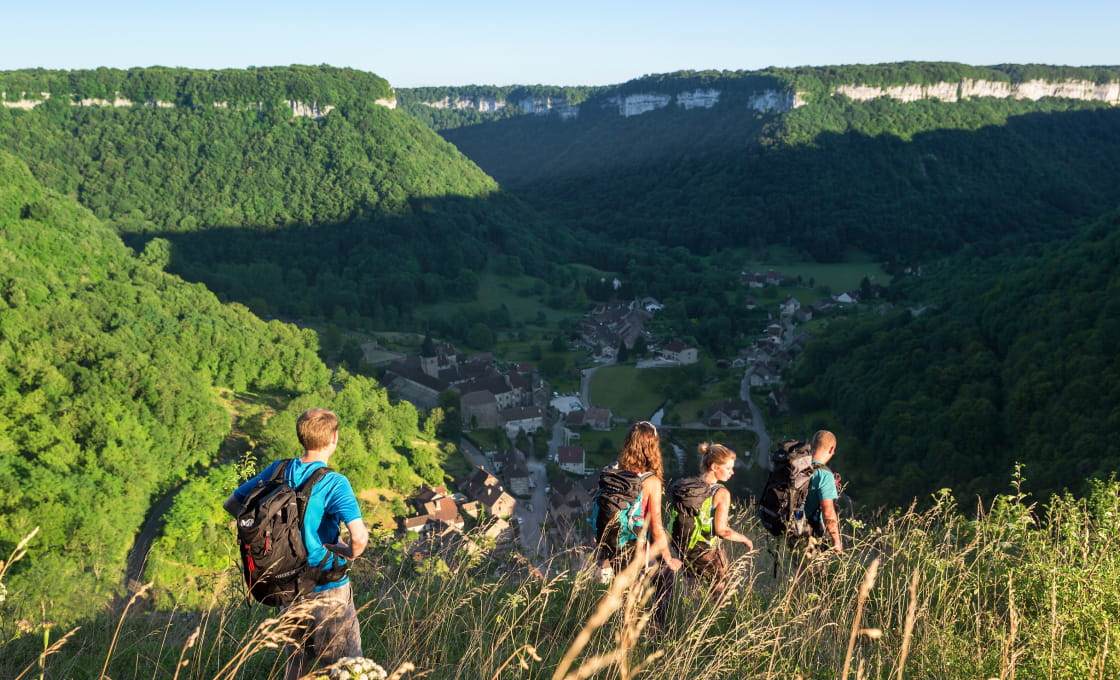 Village and steephead valley of Baume-les-Messieurs
Discover the full itinerary