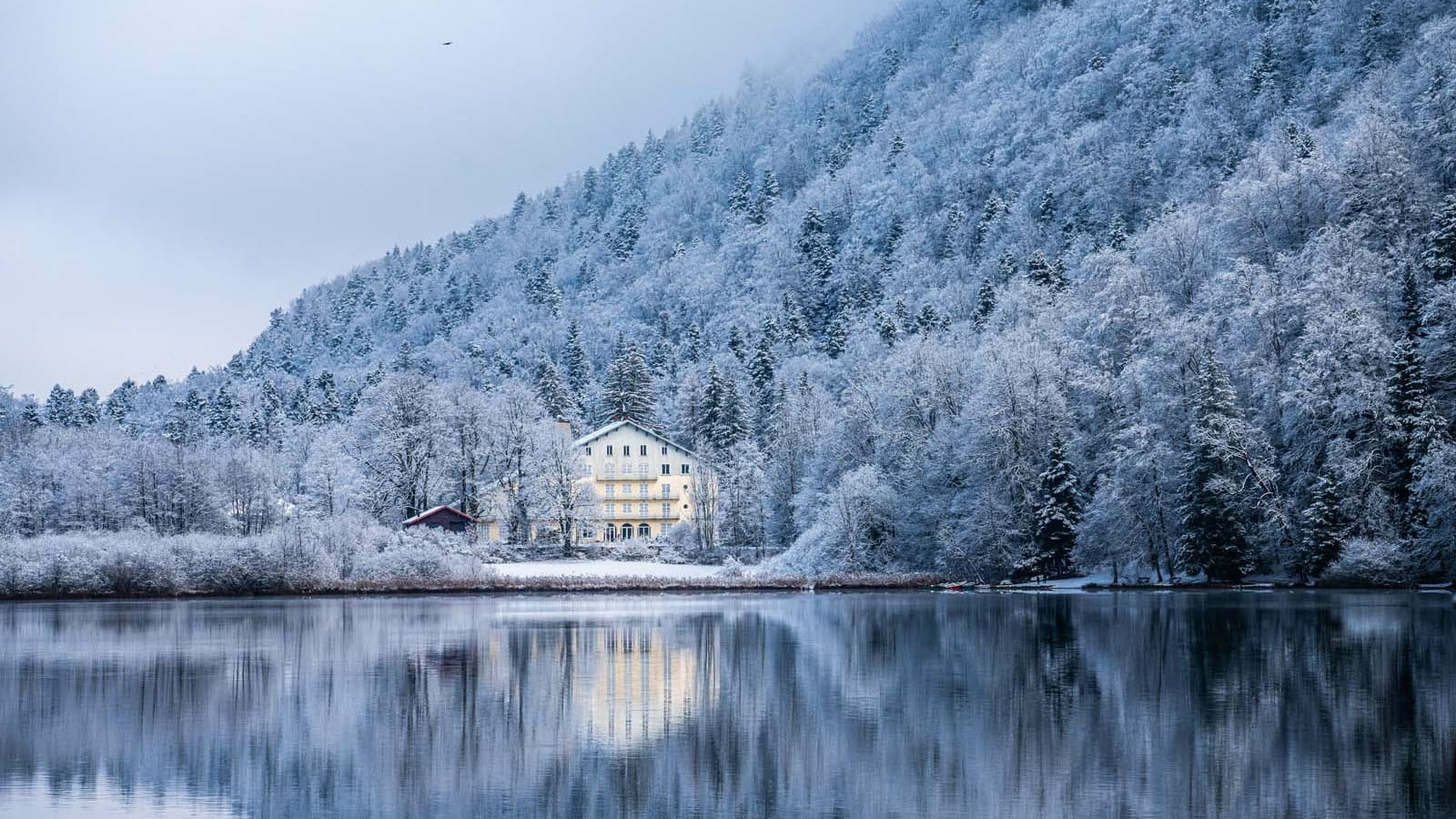 In the Jura Mountains, even when it's very cold, there's no place like the banks of a lake to recharge your batteries and reconnect with nature. Between December and March, these reflecting pools set in the great outdoors are a sight to behold. The lakes of Saint-Point, Les Rousses and Genin, among others, each offer a breathtaking scene, enshrouded in silence as the sky turns a magnificent blue under the sun's dawn rays. To discover our favourites, wrap up warm and go exploring on foot, on snowshoes or even on cross-country skis!
The Jura Mountains offer great alternatives to downhill skiing!
Saint-Point lake,
A multitude of picturesque views
Head for the viewpoint at the tip of Saint-Point lake (between Chaon and the locality known as La Gouille) for a larger-than-life view of this beautiful natural mirror in its winter setting (with or without snow). Alternatively, take a stroll on the lakeside path to enjoy a multitude of panoramic views from the water's edge.
Our tip: park at Chaurdron beach and follow the path around the lake until you reach the walkway, for a lovely view of the adorable village of Port-Titi as you explore across the surface of the water...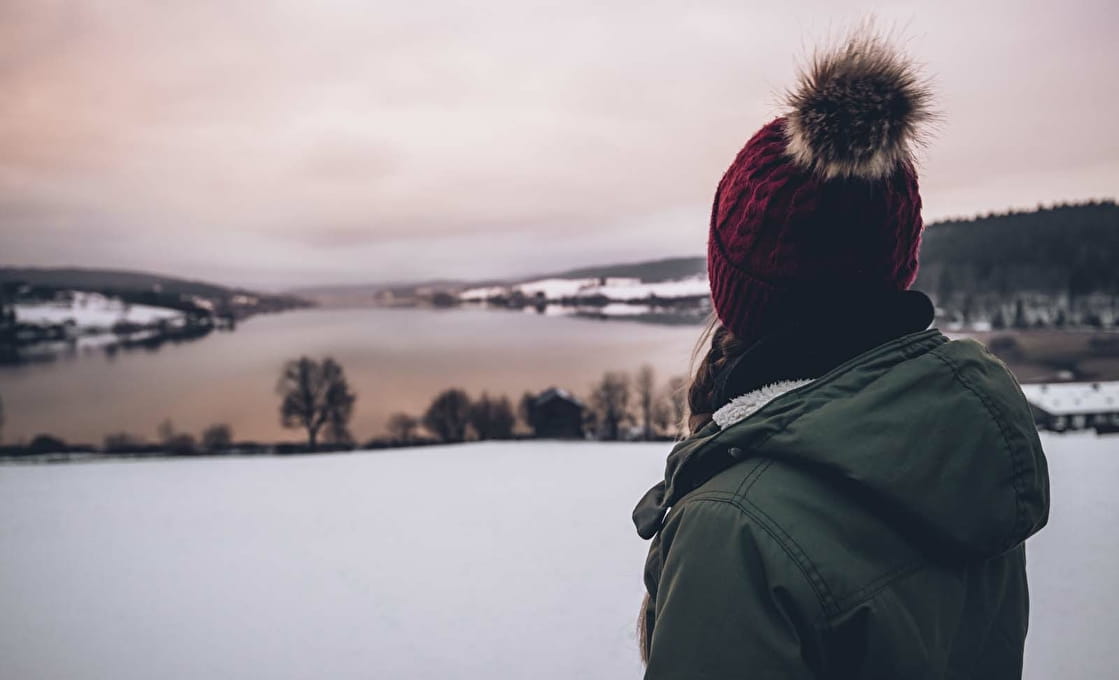 View from the Oye-et-Pallet parking area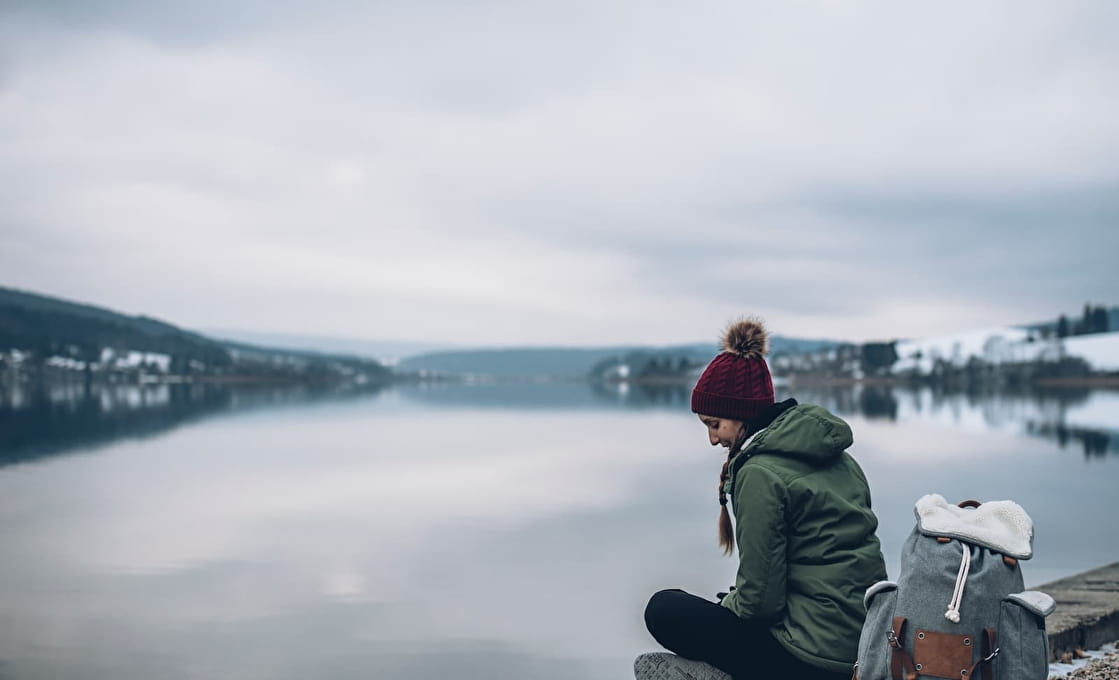 A stop at the village of Port-Titi to gaze at the scenery
Genin lake and Les Rousses lake,
... Ideal to take the family snowshoeing or cross-country skiing!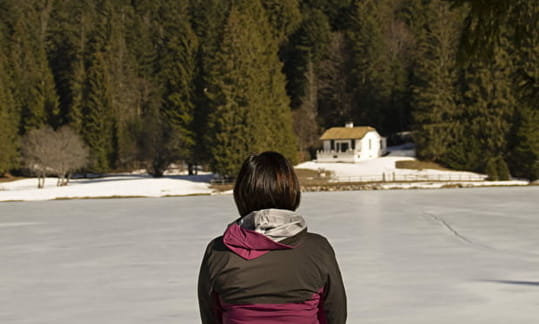 Snowshoeing at Genin lake
Attach your snowshoes and walk around this little lake wilderness surrounded by nature at its purest. . In winter, it sometimes freezes over to become an open-air skating rink. Simply magical!
Info for skaters: you can rent ice skates at the lakeside restaurant which is the place to ask whether or not skating is possible on that particular day.
Infos pratiques circuit raquettes du lac Genin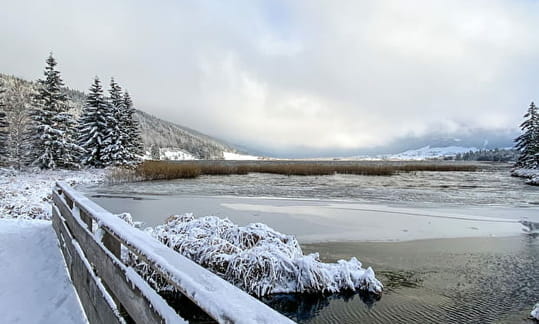 The 4 Lakes panoramic viewpoint and Pic de l'Aigle
2 essentials, with or without snow
From these 2 panoramic viewpoints (which are close to each other) reaching a maximum height of 942 mètres, the colour of the 4 lakes down below is absolutely incredible! Whether or not there's snow on the ground, the landscape here is dominated by a stunning array of shades of blue, ranging from turquoise and azure to marine and petrol blue.
Beware: when it freezes, the path gets slippery on the Pic de l'Aigle ascent. Don't hesitate to turn back! Whatever the weather, wear good walking shoes and take hiking poles.
Lakes of Bellefontaine and Les Mortes
For fans of sports in the great outdoors
In winter, both of these lakes - which look as if they come straight out of a Canadian landscape - feature in an exceptional cross-country skiing itinerary that can be reached from the village of Chapelle des Bois, deemed to be the Mecca for this sport.
There's also a snowshoe variant which is rather long with steep sections and therefore reserved for seasoned sports fans.
Whether you take the snowshoeing or cross-country skiing option, the trail takes you via a breathtaking panoramic viewpoint where nature truly rules, the only clues to human presence being a traditional Comté farm or two.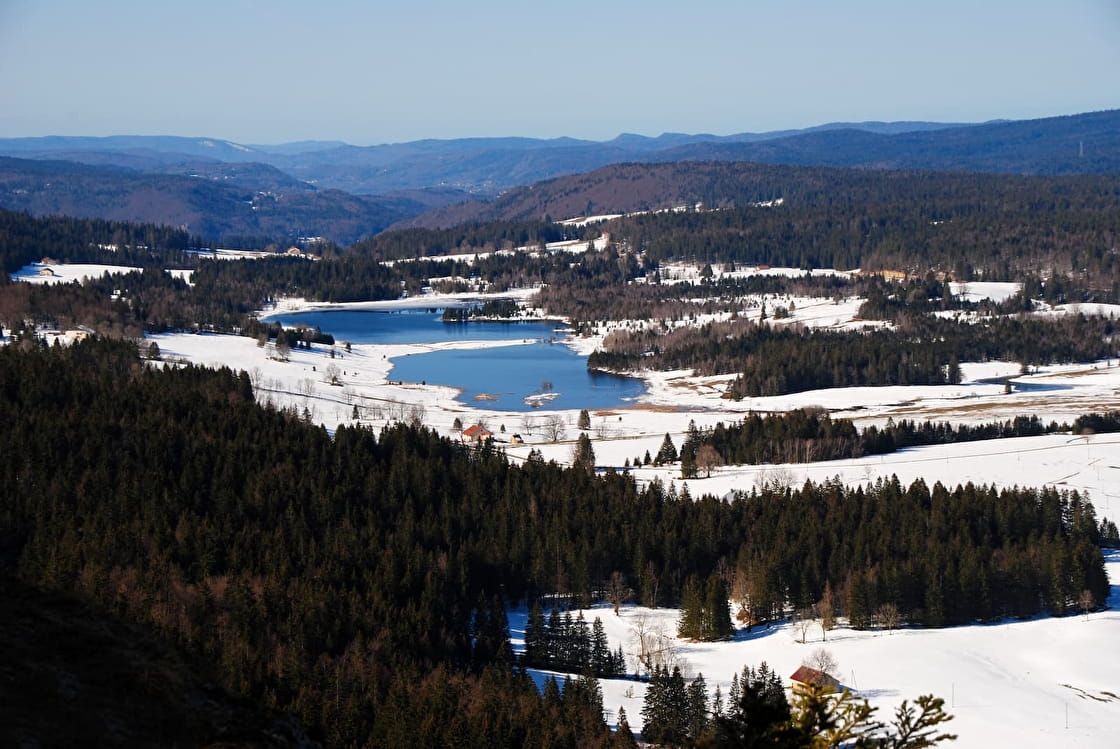 Locate these lakes on the map